Blue Jays batter Vogelsong in short start
Two errors help fuel five-run first; right-hander gives up two homers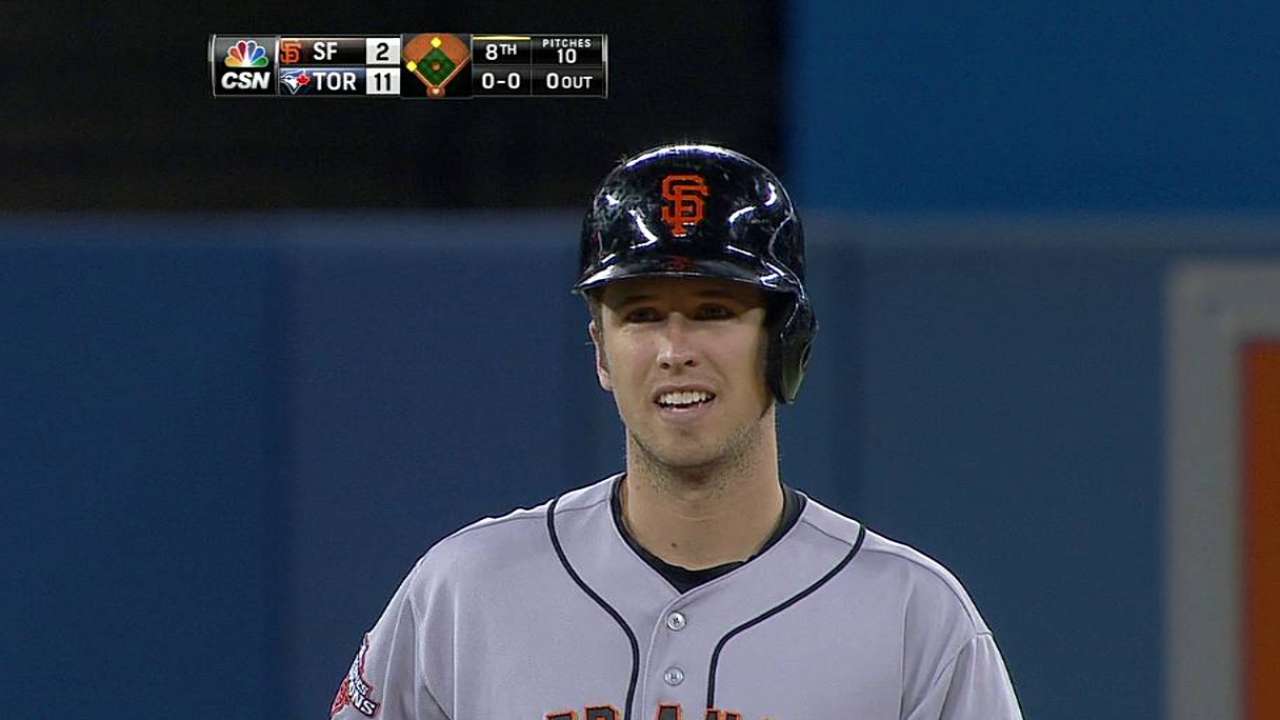 TORONTO -- The Giants experienced a case of deja vu in Wednesday's blowout loss to the Blue Jays.
A night after Toronto's six-run first-inning sealed San Francisco's fate, the club allowed five runs in the opening frame of Wednesday's rout and was once again unable to overcome the large deficit. The Giants took themselves out of both contests early after allowing a combined 20 men to the plate and 11 runs and making four critical errors during the first innings of their two-game set.
Ryan Vogelsong's rough season continued, as the right-hander turned in his shortest start of the year, lasting just two innings in an easy 11-3 victory for the Blue Jays at Rogers Centre.
"That's unlike us," manager Bruce Bochy said. "I can't think back to when we had two games, identical games, where we made mistakes there in the first inning. The big number there killed us, took us out of our game.
"It's hard to explain."
San Francisco surrendered 21 runs over the two-game sweep after allowing just four runs in its previous three contests. It was an uncharacteristic performance for the defending World Series champions, who allowed double-digit runs in back-to-back contests for the first time since April 26-27, 2008, against the Reds.
Vogelsong retired Tuesday's hero Melky Cabrera to start the game, but things fell apart for him immediately after that. The Blue Jays batted around in consecutive first innings for the first time since 1994, Wednesday's big blow Adam Lind's two-run homer. None of the five runs that Vogelsong allowed, however, were earned, as errors by Marco Scutaro and Angel Pagan helped open up the floodgates.
But the second inning wasn't much friendlier to Vogelsong, as he gave up three more runs, including two on a mammoth homer by catcher J.P. Arencibia, his 10th of the season, to make it an 8-1 game.
Vogelsong, who needed 64 pitches to get through two innings, forced Bochy's hand with his high pitch count. Bochy didn't want him throwing that many pitches over such a short duration and yanked him early.
The 35-year-old Vogelsong allowed six hits and eight runs (three earned), walked two and hit a batter.
"It's not always sunshine and roses out there," a visibly upset Vogelsong said.
Things have not gone in his favor this year.
Vogelsong hasn't earned a victory in six starts, with his lone win of the season coming in an April 11 outing against the Cubs.
Wednesday's outing marked the sixth time this season that Vogelsong has allowed five or more runs in a start, and his numbers continue to trend in the wrong direction. He has the highest ERA among qualified starters at 8.06, his 11 home runs are tied for the Major League lead and his .333 opponents' batting average is tied for the highest mark in the National League.
Vogelsong, who was out of the Majors from 2007-10, has overcome adversity before and said he needs to remind himself of that to get through his current misfortunes.
"That's what you have to lean on when things are going rough," said Vogelsong, who has one quality start in eight outings. "You have to look at how things have gone in the past and continue to grind.
"Things have got to turn in my favor here eventually."
Bochy insists Vogelsong's stuff is not the problem and that he's simply falling victim to poor command. But he didn't exactly give him a vote of confidence when asked if his starter will take the ball his next turn in the rotation.
"I'm not going to guarantee anything right now," Bochy said. "We'll talk about this internally. I don't have much to say right now about what we may do, our options or whatever. He's fighting, I'll say that. I know he's taking it hard."
Chad Gaudin, who relieved Vogelsong in the third, lasted 3 1/3 innings, allowing four hits and three runs while walking three and striking out two.
The Blue Jays, meanwhile, continue to roll, scoring 10-plus runs in three consecutive games and winning a season-high four straight.
San Francisco had no answer for Toronto's Ramon Ortiz, who made his second start of the season and surrendered one run on six hits over seven innings to earn his first win as a starter since 2007.
"I'm so happy to be here and pitching," said the soon-to-be 40-year-old Ortiz, who has been filling in as an emergency starter due to injuries. "I know I can pitch, I know I can throw strikes, I knew I had an opportunity to come back here."
One of the few bright spots for the Giants came in the ninth inning when Scutaro hit a single to extend his hitting streak to 14 games.
San Francisco will continue its six-game road trip Thursday night at Coors Field against the Rockies.
Chris Toman is a contributor to MLB.com. This story was not subject to the approval of Major League Baseball or its clubs.