No support for Sanabia in Marlins' seventh shutout
Miami has chances, strands 12; righty allows four runs in six frames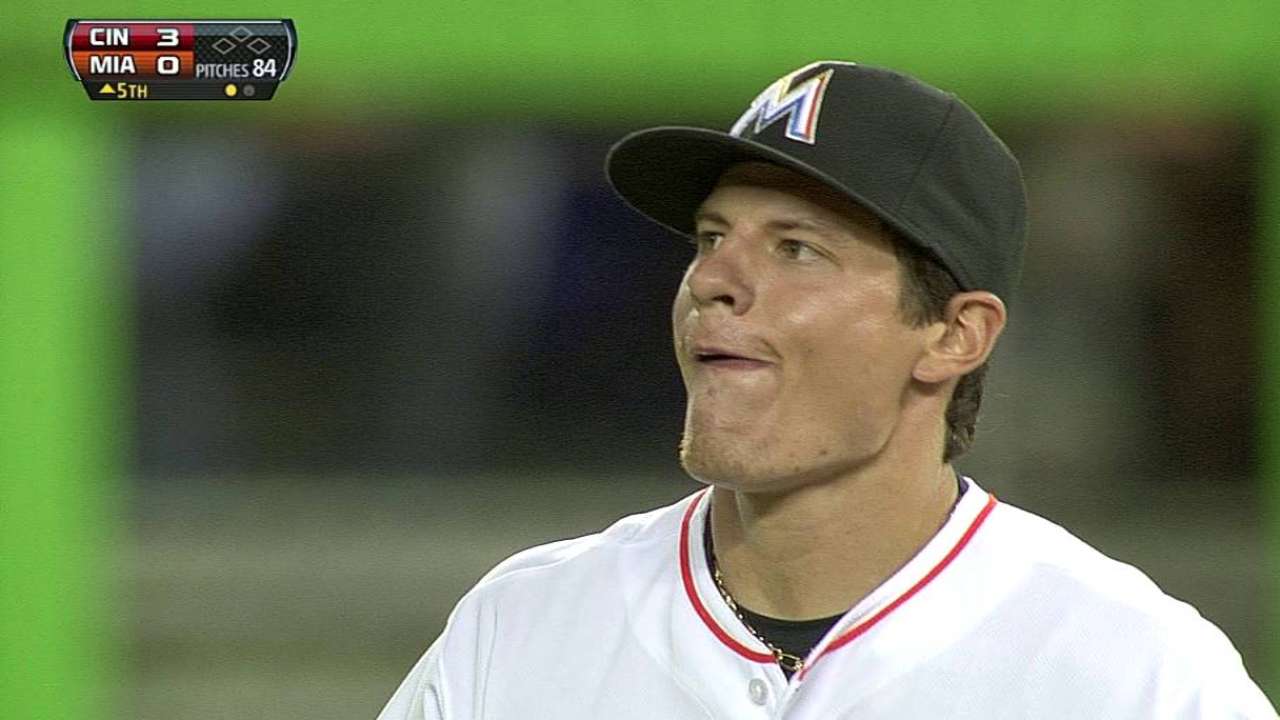 MIAMI -- Miami's hottest batter entering Wednesday night -- rookie Derek Dietrich -- recorded his third consecutive multi-hit game by the fifth inning.
Yet during two key at-bats with runners in scoring position, Dietrich couldn't produce the clutch swing for a struggling offense.
That's just the way things have gone so far this season for the Marlins, who were shut out for a league-leading seventh time in a 4-0 loss to the Reds in front of 14,866 at Marlins Park.
At least one baserunner reached in every inning but the sixth for Miami, which couldn't capitalize, stranding 12 and grounding into a pair of double plays on 11 hits.
"It's the same stuff, same story," Marlins manager Mike Redmond said. "Somebody's got to step up in there. I've been trying to be patient -- I am patient -- but at the end of the day, somebody's got to step up and get a hit with guys in scoring position."
Right-hander Alex Sanabia (2-6), who has dropped four straight decisions, gave up four runs on nine hits over six innings, including a pair of solo home runs to Shin-Soo Choo.
Sanabia ran into trouble in the first inning, but limited the damage to just one run.
The first two batters reached -- Choo with a single to center and Cesar Izturis via a walk -- before Joey Votto flied out to left. Brandon Phillips sent a fly ball to the warning track in left-center that sailed just over Juan Pierre's glove for an RBI double.
Jay Bruce struck out swinging and Xavier Paul walked to load the bases for Jack Hannahan, who grounded into a fielder's choice to end the frame.
"I battled through the game pretty much -- you saw from the beginning it was a grind," said Sanabia, who struck out three batters and walked another three. "My job is to pitch. That's all I worry and focus on. Anything else is outside of my control. Those situations when they had runners in scoring position, I just had to bear down and battle and get through it."
Miami squandered a chance to tie it in the second with runners at first and second and no outs against right-hander Mike Leake (3-2).
Following Justin Ruggiano's leadoff walk and Greg Dobbs' single to left, Adeiny Hechavarria grounded into a double play and Rob Brantly struck out swinging.
The Marlins failed to cap a two-out rally of three consecutive singles when Ruggiano flied out to right with the bases loaded in the third.
Cincinnati extended its lead to 3-0 in the fourth.
Choo blasted his eighth homer of the season -- an opposite-field solo shot on a 1-2 pitch from Sanabia -- and Votto drove in Izturis, who doubled to left, with a single.
Choo belted another dinger -- this one to right field -- on a full count with two outs in the sixth for his ninth career multi-homer game. He is 5-for-5 in his career against Sanabia.
"It's been pretty tough over the last two weeks," said Choo, who entered the game with one hit in his previous 11 at-bats. "Tonight I hit the ball on the barrel of the bat. Last night, I had some swings that I missed on because I was a little bit out in front. Tonight, I was able to fix that. Opposite field is my approach, but I just reacted tonight and put the barrel on the ball and hit it in the sweet spot."
After back-to-back singles by Brantly and pinch-hitter Chris Coghlan to open the seventh, Pierre struck out swinging and Placido Polando popped out to second.
Left-hander Sean Marshall relieved Leake to face the left-handed-hitting Dietrich. A wild pitch advanced both runners, but Dietrich struck out swinging on a 3-2 pitch.
In the ninth, with closer Aroldis Chapman on in a non-save situation, pinch-hitters Miguel Olivo and Matt Diaz walked and singled, respectively. After Polanco popped out to second, Dietrich battled during a 10-pitch at-bat, but struck out looking to end the game.
Miami dropped to 0-10 when the roof has been open this season.
"The pitchers today made their pitches," said Dietrich, who became the 11th Miami rookie to record a hitting streak of four or more games to start a career. "Took the count deep and they just didn't fall for us tonight. Just keep grinding and grinding and we're trying to get better each and every day. Tomorrow's a new day. Hopefully we can get things rolling."
Christina De Nicola is a contributor to MLB.com. This story was not subject to the approval of Major League Baseball or its clubs.