Hughes' short start opens Yanks' long night
Righty chased during seven-run first; Marshall, Adams debut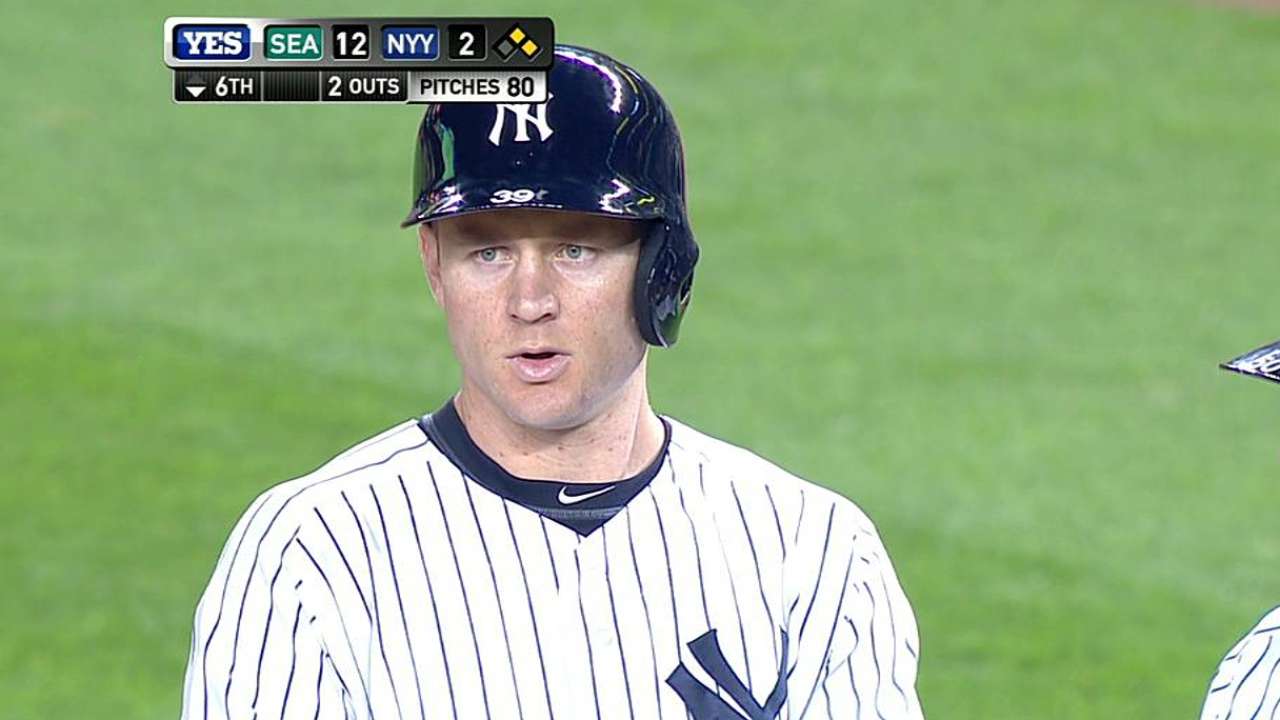 NEW YORK -- There were still paying customers filtering into Yankee Stadium's seating areas by the time Phil Hughes slumped onto the dugout bench, his night's work cut short and the top of the first inning still incomplete.
The Yankees right-hander spent all of 17 minutes frantically trying to adjust to his situation on Wednesday, but it wasn't to be. The Mariners batted around for seven runs and chased Hughes in the first inning, coasting to a 12-2 blowout victory in the Bronx.
"It seems to go by pretty quick," Hughes said. "Everything kind of speeds up. You're just trying to find something, and next thing you know, you've got two outs and seven runs are in. It's tough."
Raul Ibanez homered twice and collected six RBIs, including a grand slam off Hughes in a disastrous first inning that saw 11 Seattle players come to bat, 10 of them against Hughes. Kyle Seager later slugged a three-run homer off rookie Brett Marshall as the Mariners set a new season high in runs scored.
Hughes was left holding the bag after his shortest career outing, lasting just two-thirds of an inning. Generally a fly ball pitcher even on his good days, Hughes was constantly up in the zone while hitting the fat part of the plate, and the Mariners gleefully took advantage.
"Obviously there too many balls in the middle of the plate, and he didn't locate enough pitches," Yankees manager Joe Girardi said. "And he got hurt."
The start was the shortest by a Yankee since Bartolo Colon allowed six runs and also recorded two outs on July 14, 2011, against the Blue Jays in Toronto. Hughes said that he tried his changeup, slider and curveball, to no avail.
"Hopefully, this is a 1-in-100 type thing," Hughes said. "I remember I've had bad nights where I'd get 12 outs or something, but I don't think I can remember having an outing like this before.
"It's tough to swallow, but it happens to everybody. No one's going to feel sorry for you, so I have to throw my bullpen in two days and move on."
Yankees catcher Chris Stewart said that the pivotal at-bat was Ibanez's; if Hughes could've coaxed a double-play grounder in that spot, he might have escaped with just two runs on the board and then settled in to provide a decent outing.
"I think it happens to a lot of guys," Stewart said. "They struggle the first inning, come in and settle down and figure out what they were doing out there and make a change. But we couldn't get him through that."
For Ibanez, the display conjured memories of his sensational hot stretch last September and October in pinstripes; even in a different uniform, Yankee Stadium's dimensions still agree with the professional hitter.
"You can't help but to think of that," Ibanez said. "That was obviously a great moment as a team over there and something I'll never forget, so I definitely remember that. But at the same time, last year is over and you've got to move on. My job is to try to help this team win, so I try to just have good, quality at-bats."
Vernon Wells and Stewart hit home runs off Seattle starter Hisashi Iwakuma, who limited New York to two runs and eight hits over seven innings as he logged his third consecutive victory.
For the Yanks, Preston Claiborne hurled 2 1/3 innings of scoreless relief before Marshall made his Major League debut, walking five and surrendering five runs over 5 2/3 frames but earning praise for saving the bullpen with a 108-pitch outing.
"He did a good job for us," Girardi said of Marshall. "I'm sure he would've liked to pitch a lot better, but he saved our bullpen."
With two outs in the ninth, Girardi opted not to burn another reliever and instead moved Alberto Gonzalez from shortstop to the mound, while sticking Wells at second base. Robert Andino flied out to right field against Gonzalez.
"A shortstop usually has pretty good command of where he's throwing the baseball all the time," Girardi said, "so I figured that he's the guy."
Hughes said that it would be difficult to sleep for days until he is able to throw his next bullpen session, but one silver lining from the lost evening was that two Yankees rookies got their feet wet in the big leagues.
Marshall was told to prepare to come into the game when Hughes was lifted in the first inning, and David Adams logged his first Major League hit, a single off Iwakuma in the sixth inning.
Adams had his contract selected from Triple-A Scranton/Wilkes-Barre earlier on Wednesday, getting a big league start at third base on his 26th birthday.
"I wasn't as nervous as I thought I was going to be," Adams said. "Coming in, I was thinking I was going to be freaking out with all the people in the stands. For me, I was trying to do way too much. I don't know why. I wasn't as nervous as I thought I was going to be."
Bryan Hoch is a reporter for MLB.com. Follow him on Twitter @bryanhoch and read his MLBlog, Bombers Beat. This story was not subject to the approval of Major League Baseball or its clubs.