Ibanez's homers help Mariners torch Yankees
Bronx return continues to spark vet's revival; Iwakuma wins No. 5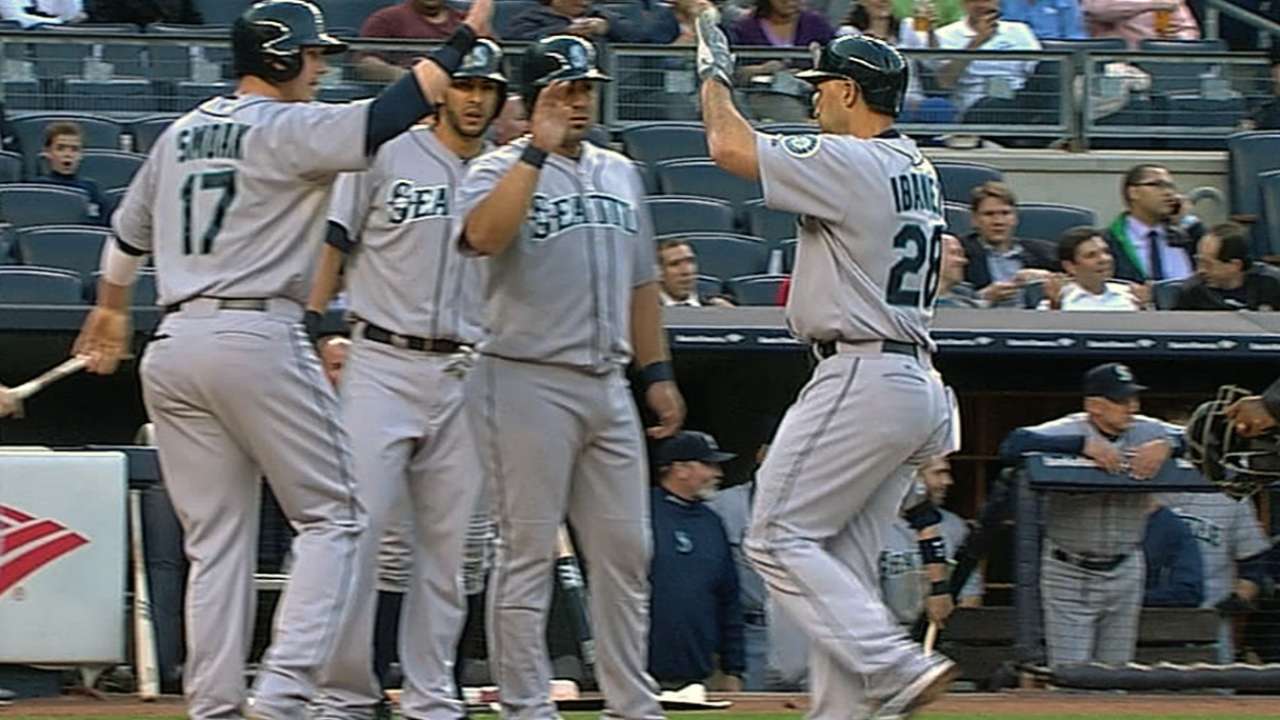 NEW YORK -- Raul Ibanez clearly has something going at Yankee Stadium; just don't ask him to explain his batting barrage in the Bronx.
Ibanez hit two home runs and recorded six RBIs on Wednesday to lead the Mariners to a 12-2 victory over the Yankees, giving the veteran outfielder nine homers in his last 11 games at the Stadium dating back to last year's postseason run when he was wearing the pinstripes.
So what gives for a guy who has hit .500 (18-for-36) with 20 RBIs in those last 11 games at Yankee Stadium, including Wednesday's 2-for-5 night?
"I try not to think about that very often," said the mild-mannered Ibanez. "It's not a silly question; I just try not to think about it. I just ignore it. I've been feeling better at the plate coming into this series, and I try not to make too much of it. I just go out and try to grind out at-bats."
In the process, Ibanez and his teammates ground up Yankees starter Phil Hughes, knocking the right-hander out after just two outs in the first inning en route to a season-high 12 runs behind 16 hits and seven walks against four New York hurlers.
Every Mariners starter had at least one hit, and the last man on board, shortstop Brendan Ryan, was grinning ear to ear after his infield single in the ninth let him join the hit parade.
"I would have risked being on crutches the rest of my life for that hit," said Ryan, who is struggling at .133 for the season. "This was great, especially here in New York. I don't know what it is -- silliness just seems to happen here. It's just never an easy win, so to explode like that in the first, especially the kind of game Raul had and how everybody feels toward him, just makes it feel that much better."
Ibanez's grand slam highlighted a seven-run first inning, and the left fielder added an opposite-field two-run drive in the fifth as the Mariners erupted for their biggest scoring output against the Yankees since a 15-11 win on May 4, 2007, at the old Yankee Stadium.
Kyle Seager also hit a three-run homer in the runaway win for Seattle, which pulled into a second-place tie with Oakland in the American League West at 19-21.
Right-hander Hisashi Iwakuma was the beneficiary of the offensive outpouring, improving to 5-1 while allowing two runs in seven innings to put his ERA at 1.84.
"Big appreciation," Iwakuma said through translator Antony Suzuki. "That's a big gift. That's all I can say."
The seven runs were the most scored in a first inning by the Mariners since a nine-run outburst on July 30, 2003, against the Tigers.
"Getting the big lead and those seven runs, the big swing by Raul," Seager said, "that was big just to give Kuma a little breathing room and let him settle in and be able to attack the hitters and not be as fine, necessarily."
Seven Mariners had two hits each, but Ibanez was clearly the key with his two home runs, giving him three over the past two nights. He now has five home runs and 17 RBIs this season and has raised his batting average to .224 after a slow start had him hitting just .158 coming into May.
"He's a guy that, it's not for lack of effort when it's not happening," Ryan said. "I don't think he ever really gets away from the game, whether he's in the shower or eating lunch. There's an obsession there. But he's been around long enough and been one heck of a player for a long time. So he knows what he needs to do."
Ibanez became the third player aged 40 or over to record a game with two home runs and six or more RBIs over the past 10 seasons, joining Jason Giambi (2011) and Barry Bonds (2004 and '07).
The Mariners cranked out six hits and walked twice against Hughes, who was finally knocked out by an RBI double from Michael Saunders that made it 7-0 with just two outs in the first. All nine Mariners starters reached base in some fashion in the inning, with Kendrys Morales and Michael Morse hitting RBI singles before Ibanez's slam.
It was the 11th grand slam of Ibanez's career and his seventh with Seattle, putting him in a tie for sixth all time on the Mariners list. He's now had 17 multihomer games in his career.
Iwakuma, who has been one of the top pitchers in the AL this season, gave up home runs to Vernon Wells in the first and Chris Stewart in the fifth but otherwise breezed with the lead, scattering eight hits while striking out four and walking none.
"I just wanted to be aggressive and throw strikes with that lead," Iwakuma said. "Strike one is always important in a situation like that. Getting ahead in the counts, all that. I wasn't worried about the home runs."
On the flip side, Hughes wound up with the shortest outing of his career as his ERA jumped from 4.43 to 5.88 while he got just two outs.
"This is a hard game," said Yankees manager Joe Girardi. "I think sometimes people want to make this seem like you've got to have a Nintendo controller in your hand and you can control the baseball. It's not that simple.
"Phil's a guy that pitches up. We know that. Today there were obviously too many balls in the middle of the plate and he didn't locate enough pitches. He got hurt."
Greg Johns is a reporter for MLB.com. Follow him on Twitter @GregJohnsMLB as well as his Mariners Musings blog. This story was not subject to the approval of Major League Baseball or its clubs.