Gallardo solid in six, but bats cold vs. Bucs
Brewers' starter gives up two runs, and Milwaukee lacks answer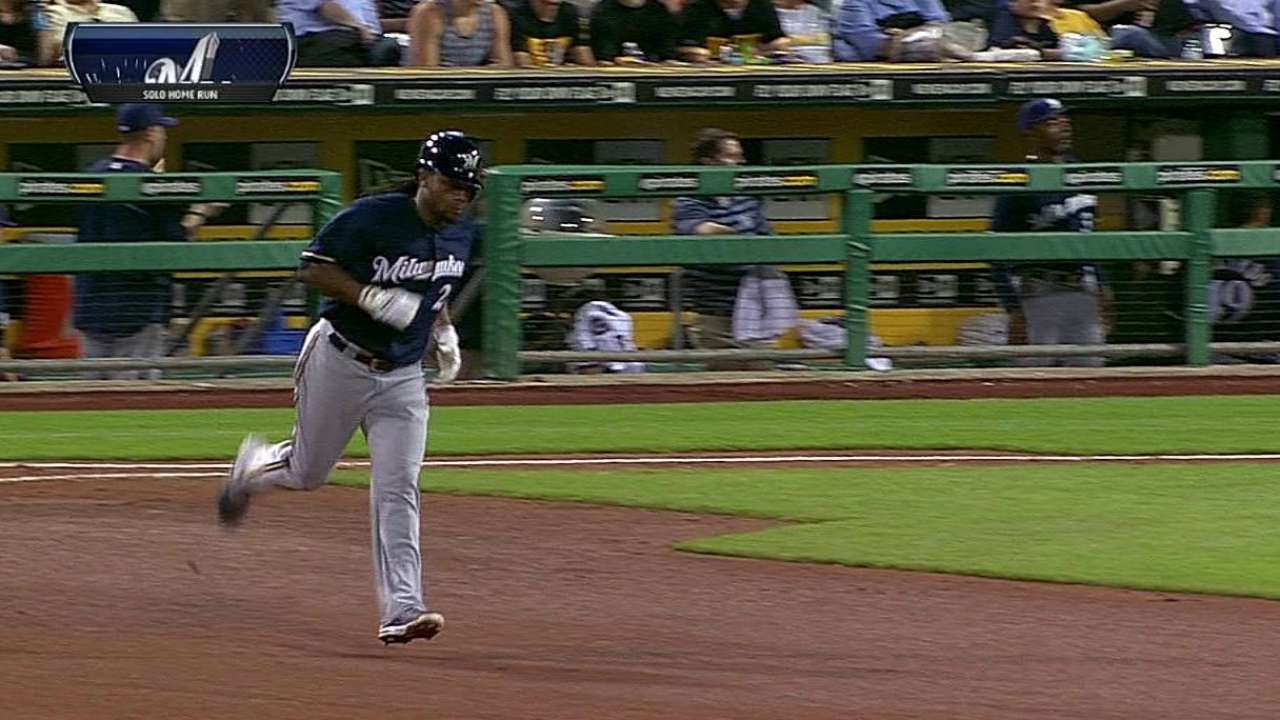 PITTSBURGH -- Brewers right-hander Yovani Gallardo and Pirates lefty Wandy Rodriguez hooked up in a classic pitching duel Wednesday night at PNC Park, and the Pirates prevailed, 3-1.
It was the second consecutive loss for the Brewers but a solid outing for Gallardo, who had just three quality starts in eight outings leading to this game.
"I thought he threw a good ballgame," Brewers manager Ron Roenicke said. "He commanded his pitches well, mixed up his pitches well. My gosh, what did they get three hits off him? I liked the way he threw the ball."
Gallardo hurled six innings and surrendered two runs on three hits. But he also absorbed the loss, dropping his record to 3-3 on the season.
"I definitely felt a lot better," Gallardo said. "I think my command still got away from me there in certain situations, but I made some pretty good pitches overall. I was able to keep the ball down.
"Mechanics-wise I'm not all there yet. It just gets from me in certain innings, and it's just a matter of limiting that and falling back into the rhythm and release point."
Rodriguez tossed seven innings and allowed one run on six hits. He notched the win, upping his record to 4-2.
"Rodriguez was good," Roenicke said. "When we saw him in Houston he threw a lot of good ballgames against us. A good fastball, great curveball, mixed in the changeup well. He did a nice job."
The Pirates broke through against Gallardo in the bottom of the sixth inning. Starling Marte led off with a double and advanced to third on a wild pitch. Andrew McCutchen walked with one out and stole second. Gaby Sanchez drew a walk to load the bases, and Neil Walker stroked a two-run single to center field, giving the Pirates a 2-0 lead.
"It was actually a pretty good pitch," Gallardo said of Walker's hit. "I came in and took a look at it, and it was off the plate away and below the knees. Sometimes you've got to tip your hat to a hitter. I threw it where I wanted to throw it."
Walker discussed his approach against Gallardo.
"(Gallardo) usually does a pretty good job against everyone, not just us," Walker said. "So it was another one of those games where we had to scratch and claw and take advantage of whatever opportunities we had.
"The biggest thing I've learned as you get older and accumulate some at-bats [is], sometimes less is more. Trying to do too much is counterproductive. I tend to feel more comfortable anyway with men in scoring position. You know you got the guy on the ropes with the bases loaded, especially with less than two outs. He's got to come at you and throw strikes."
The Brewers nicked Rodriguez in the top of the seventh inning, when he gave up a solo home run to Rickie Weeks, slicing the Pirates' lead in half.
"It was nice to get a run; it's been awhile," Roenicke said. "Hopefully that gets him going. You never know."
The Brewers were 0-6 with runners in scoring position.
"We haven't been getting the big hits when we need to," Roenicke said. "Certainly had a great opportunity after [Jonathan] Lucroy's triple, but we've got to swing it better. We played a well-played game, well-pitched game, and we didn't hit."
The Pirates tacked on an unearned insurance run off reliever Burke Badenhop in the eighth inning when McCutchen scored on a throwing error by Weeks, making it 3-1.
The Pirates' bullpen sealed the deal. Right-hander Mark Melancon pitched a scoreless eighth, and right-hander Jason Grilli had a scoreless ninth inning to pick up his 16th save.
The Brewers are now 1-5 on their 10-game road swing.
"It's been tough, obviously the three games in Cincinnati and then the game last night was a tough loss, but we've got to get over it," Gallardo said. "We've got to get past it. We're struggling a little bit right now, and we've just got to work through it. Turn it around as soon as possible."
George Von Benko is a contributor to MLB.com. This story was not subject to the approval of Major League Baseball or its clubs.