Wandy outlasts Gallardo as Bucs top Brewers
Pirates' starter scatters more hits, but Walker lifts Pittsburgh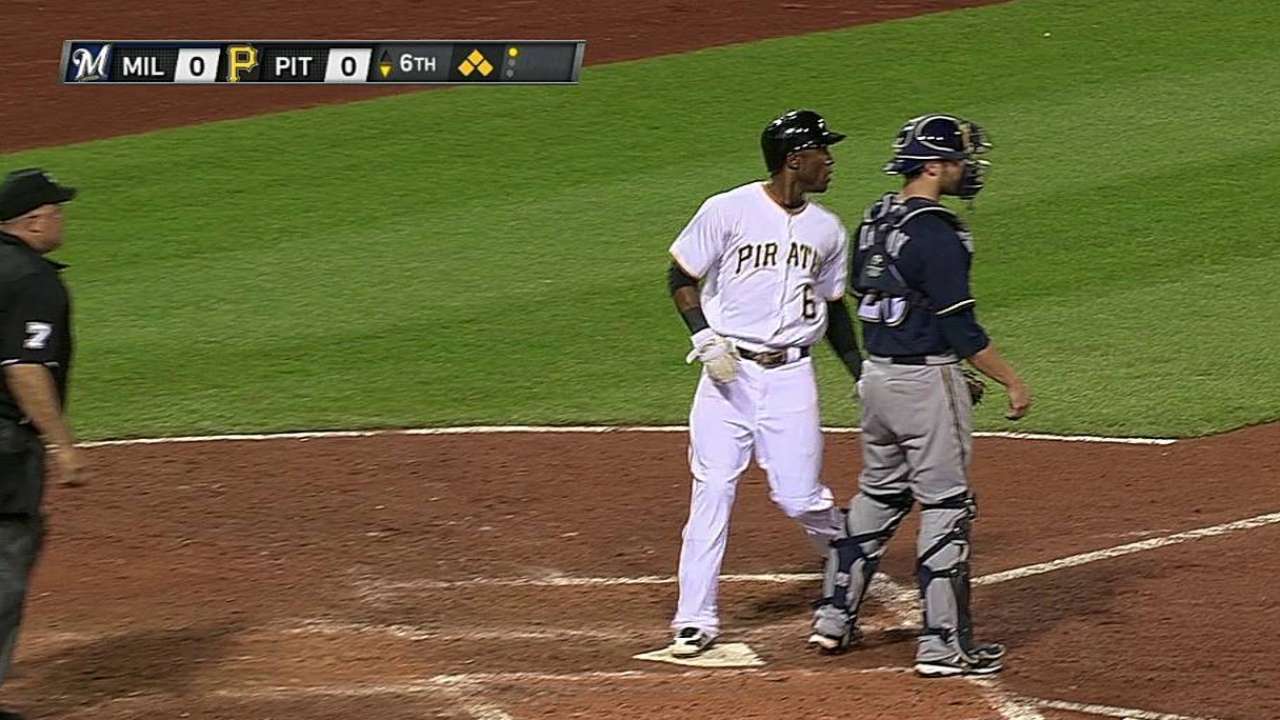 PITTSBURGH -- It's early: Clint Hurdle's favorite caveat. Even the season's quarter-pole is still a few innings away.
However, make no mistake, the tables have turned. For years, the word around the National League was: Stay close to the Pirates, and, in the end, they will give it up. Too green, too thin, too insecure to know better.
That line, and the attitude and approach that go with it, now belongs to the Pirates. They wait for an opening for the upper cut, then they stick it to you.
It served them well again Wednesday night, when left-hander Wandy Rodriguez stuck to Yovani Gallardo long enough for the Bucs to get enough of an upper hand for a 3-1 victory over Milwaukee at PNC Park.
That's right: the Bucs edged the Brewers for the second straight night. Please be wary of flying pigs. The Pirates (23-17) also edged six games above .500 for the first time this season.
"Gallardo usually does a pretty good job against us, but Wandy was terrific," said Neil Walker, who ultimately provided the difference between the two stubborn veterans.
Gallardo was sharp for six. Rodriguez outlasted him by one inning, meaning he reached the Pirates' promised land of seven: That called for an inning of Mark Melancon, who has allowed one run in 20 appearances, and another inning of Jason Grilli, who is now 16-for-16 in saves.
"He gets us to where we're going to turn the ball over to Melancon and Grilli -- and everybody's been feeling pretty good about that," Hurdle said.
"I'm fine with seven. Lot of confidence in the bullpen," echoed Rodriguez, somewhat of an understatement.
Gallardo had the Pirates in his usual grip through five innings, allowing them only one hit. And his shutout string in PNC Park reached 23 innings before the home boys said, "enough."
The ultimate home boy, Walker, got the Pirates on the board in the sixth inning with a two-run single after they got the bases loaded on Starling Marte's double and walks of Andrew McCutchen and Gaby Sanchez.
"Bases loaded" being the operative phrase there. Walker's video-game career numbers in that situation improved to 17-for-34 with the single that accounted for his first RBI since April 17 and gave Rodriguez a 2-0 lead.
"You know you got the guy on the ropes with the bases loaded, especially with less than two outs," Walker said. "You know he's got to come to you and throw strikes. So if you don't go chasing pitches, you're gonna, more often than not, at least barrel a ball. The biggest thing I've learned as you get older and accumulate more at-bats [is], sometimes less is more. Trying to do too much is counterproductive."
"That bases-loaded thing has worked for him pretty well," Hurdle said. "Right spot, right guy."
Walker's liner produced the Bucs' first hit of the series in 24 at-bats with men in scoring position.
"It was actually a pretty good pitch," Gallardo said of the first-pitch delivery. "It was off the plate away and below the knees. Sometimes you've got to tip your hat to a hitter. I threw it where I wanted to throw it."
"Tonight, we were fortunate to push two across," Walker said. "And two were plenty enough."
Rodriguez made sure of that, resorting to throwing more changeups and better breaking balls than he had in Milwaukee two weeks ago, when the same Brewers lineup had subjected him to seven runs in 3 2/3 innings.
His only uh-oh moment came on a high changeup in the seventh, which Rickie Weeks impressively deposited just to the left of PNC Park's faraway North Side Notch, making it 2-1. Weeks would give that run back in the eighth with a throwing error that charged an unearned run against reliever Burke Badenhop.
Rodriguez finished that seventh inning, though, and was finished. He allowed six hits and the one run, with one walk and five strikeouts, to become the Bucs' first four-game winner.
He basically earned it long before he had a lead, back in the fourth inning, when the Brewers had the optimum situation to draw first blood.
But Rodriguez was unfazed by Jonathan Lucroy's leadoff triple. He calmly retired both Carlos Gomez and Weeks on infield popups, then got Alex Gonzalez on a grounder to short.
His explanation of that escape was equally calm: "I threw some breaking balls good enough to get two pop ups."
"That was a great push for us, not letting them score," Hurdle said. "I thought we gained some momentum right there. It was a feel-good for us coming off the field. A big shot in the arm."
Jordy Mercer, the recent and once-again Pirates infielder, had the team's only hit through five innings -- a bouncer up the middle for a single to lead off the third.
Tom Singer is a reporter for MLB.com and writes an MLBlog Change for a Nickel. He can also be found on Twitter @Tom_Singer. This story was not subject to the approval of Major League Baseball or its clubs.