Nats fall short against Dodgers, Greinke
Detwiler, Ramos leave with injuries as offense continues to struggle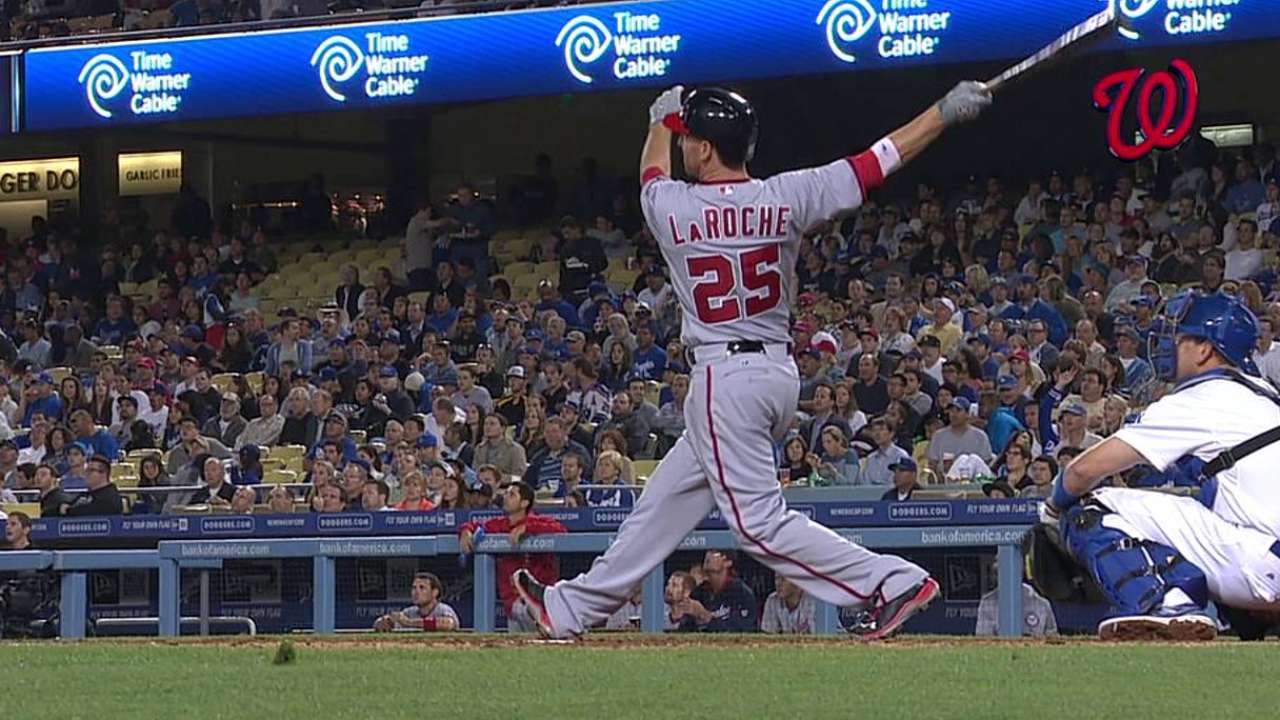 LOS ANGELES -- The Nationals continue to have problems on offense. This time, their troubles were caused by Dodgers right-hander Zack Greinke, who helped Los Angeles edge Washington, 3-1, at Dodger Stadium on Wednesday night.
It was Greinke's first game since April 11, when he fractured his left clavicle in a fight with Padres outfielder Carlos Quentin. Greinke didn't miss a beat against the Nationals, lasting 5 1/3 inning and allowing one run on five hits. The lone run was scored in the fourth inning, when Adam LaRoche hit a monster home run over the center-field wall to make it a one-run game.
"I thought my stuff was pretty good," Greinke said. "My stamina needs to grow a little bit, but that could be the next start. It was close this time, but it needs to be a little bit stronger throughout the game. I was feeling pretty drained after five."
Left-hander Ross Detwiler started for Washington and allowed two runs in three innings before leaving with tightness in his lower back. The first run was scored in the bottom of the first inning. Detwiler got two quick outs, but Matt Kemp doubled to right field and Adrian Gonzalez singled to center, scoring Kemp to make it a 1-0 game.
An inning later, Greinke helped himself with a single to right field, scoring Andre Ethier to make it 2-0.
Suddenly, the Nationals were hit with injuries.
Detwiler suffered tightness in his lower back in the top the third inning, when he hit a sacrifice to advance Roger Bernadina to second base. Detwiler had problems running the bases. The back would get worse in the bottom of the inning.
It was believed that Detwiler hurt his back while catching a wide throw from shortstop Ian Desmond in the bottom of the third, but Detwiler said he felt fine, but the pain would get worse.
Detwiler had problems throwing pitches after that, and pitching coach Steve McCatty, head athletic trainer Lee Kuntz and manager Davey Johnson came to his aid. Detwiler stayed in and allowed a single to A.J. Ellis and walked Ethier to load the bases. He got out of the inning when Scott Van Slyke lined out to third baseman Ryan Zimmerman. Detwiler was then replaced by Craig Stammen, who pitched three shutout innings and struck out three batters.
It's not known if Detwiler will make his next start in San Francisco next week.
"It's not all that great now. Hopefully, tomorrow morning, it will feel a lot better," Detwiler said.
An inning later, catcher Wilson Ramos re-injured his left hamstring, the same hamstring that put him on the disabled list last month. Ramos hit a two-out single to left field and ran gingerly to first. Once he reached the bag, he slammed his helmet to the ground and was replaced by Kurt Suzuki. Ramos felt something was wrong with the hamstring when he doubled in the second inning. Johnson believes Ramos will go on the DL.
"I'm not too hurt, but I talked to Lee and tell him that I don't want to be hurt again, so they took me out the game. I don't want to be on the DL again," Ramos said. "But it's a little bit sore. ... I was working hard with my hamstring and trying to get my hamstring stronger. But I don't know what happened today. I was feeling good before I felt it today."
The Nationals had a chance to at least tie the score in the eighth inning against right-hander Kenley Jansen. They had runners on first and third with no outs, but couldn't get the tying run home. LaRoche flied out to Van Slyke in left field, but it wasn't deep enough for Eury Perez to score. After Desmond struck out, Suzuki flied out to Ethier in right field to end the threat.
"We had the right guys up there," Johnson said. "I don't know if we are trying to do too much instead of just hitting the ball and putting it in play. I don't know, but we'll figure it out."
Dodgers manager Don Mattingly was impressed with the way Jansen was able to get out of the inning.
"But then Kenley does his thing and gets out of that," Mattingly said. "He gets that pop up, Slyker [Van Slyke] makes a nice play and in a sense gets behind that ball and comes up throwing. Then he gets the big strikeout there to get to [Desmond]."
The Dodgers got an insurance run off Drew Storen in the bottom of the inning. Kemp led off with a single and stole second, and a walk to Gonzalez and an intentional walk to Ethier loaded the bases before pinch-hitter Carl Crawford plated Kemp with sac fly to center field.
The Nationals have lost two straight games and dropped their record to 21-19.
"It was a tough night, tough night," Johnson said.
Bill Ladson is a reporter for MLB.com and writes an MLBlog, All Nats All the time. He also could be found on Twitter @WashingNats. This story was not subject to the approval of Major League Baseball or its clubs.