Game-winner comes in wild fashion for Cards
Miller denied victory, but St. Louis claims 12th win in last 14 contests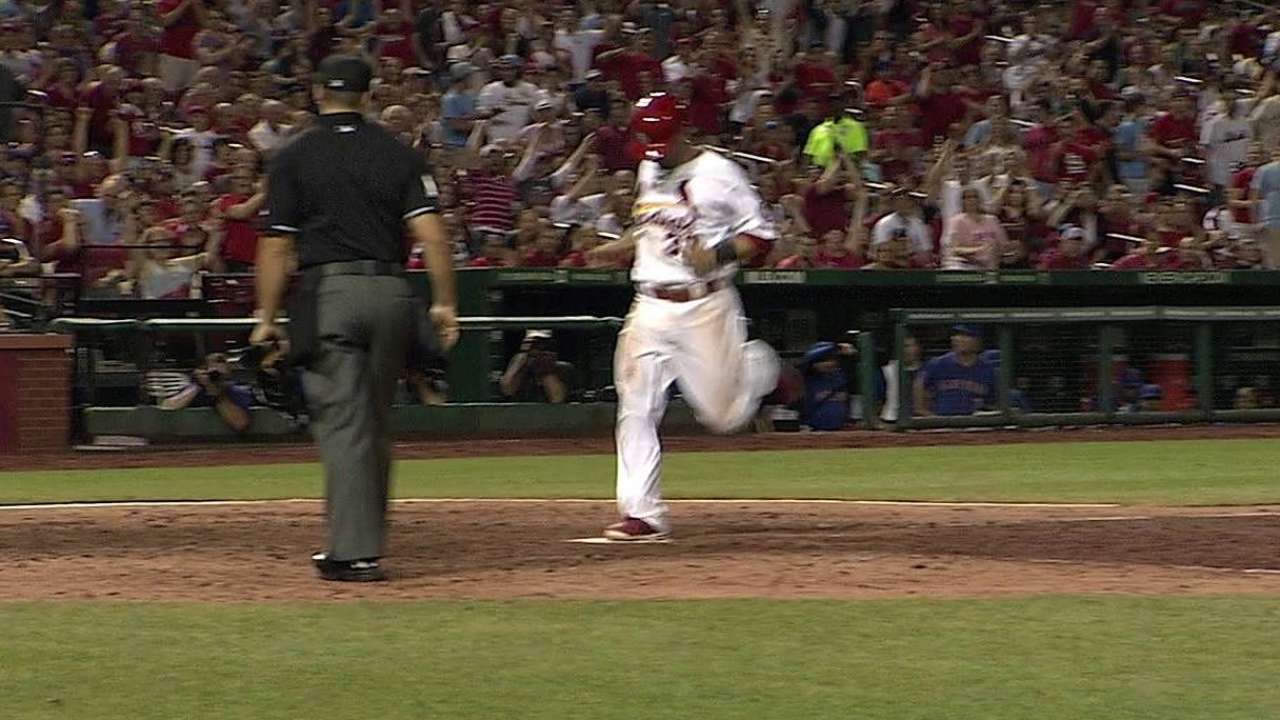 ST. LOUIS -- The Mets pieced together some of the best at-bats of the evening, extending rookie starter Shelby Miller early so that they wouldn't have to face him late. But it was the Cardinals who were opportunistic, taking advantage of three New York blunders en route to snagging a 4-2 victory on Wednesday.
On a night in which the first four in the lineup combined for only one hit, the bottom half of the Cardinals' order keyed a pair of two-out, run-scoring opportunities to push the Cardinals toward their 12th win in 14 games. This one came in front of 38,143 fans at Busch Stadium and sets St. Louis up for a potential four-game sweep.
Trending the other direction are the Mets, who have lost six straight.
"They've got good pitching. Don't let anybody kid you," New York manager Terry Collins said. "They've got real good pitching, and they come out of that bullpen roaring. So they're tough to beat. And when they're swinging like they're swinging, they're real tough to beat."
The Mets certainly didn't do themselves any favors, though, as the three innings in which the Cardinals scored were each compounded by a miscue. The game-changing one came in the seventh, when reliever Scott Rice uncorked a wild pitch to allow Daniel Descalso to score the go-ahead run from third.
Descalso had walked with two out against starter Shaun Marcum and aggressively taken third when Pete Kozma followed with a single. After a pitching change and two announced pinch-hitters, Ty Wigginton watched Rice throw a pitch to the backstop.
"You take whatever you can get," said Jon Jay.
It was Jay who had driven home the game's first run on a two-out, fourth-inning single and then extended the inning when he dislodged the ball from David Wright's glove as the third baseman went to tag him. That error allowed the inning to continue and scarcely-used catcher Tony Cruz delivered an RBI hit to push the Cardinals ahead, 2-0.
"Any of our guys who don't get to play very much, if they come in and contribute and don't look like fish out of water, it's 100 percent effort and how they're doing their extra work," manager Mike Matheny said. "You just have to fight and find a way and he's doing that."
Miller would hand that two-run lead over to the bullpen only to watch his chance at a sixth win dissolve with one seventh-inning swing by Rick Ankiel. The former Cardinal drove the seventh pitch he saw from rookie Seth Maness over the wall in center to tie the game.
Maness took the blown save but was also credited with a win, giving the Cardinals' rookie pitchers nine already this season. The lead was padded for closer Edward Mujica when Yadier Molina delivered a two-out RBI single to drive home an insurance run in an eighth inning that featured another error.
The Mets' best work all night came against Miller, though they had nothing in the run column to show how well they battled him. This would be no encore masterpiece for Miller in his first start since retiring 27 straight in a one-hit shutout. Yet he'll carry a scoreless innings streak of 14 2/3 innings into his next start.
"It was a battle out there for me," Miller said. "The fastball command wasn't nearly as good as it was the last start. I was leaving it up in the zone, which raised my pitch count up through the first three innings. I got away with some mistakes."
The right-hander's pitch count escalated to 63 by the end of the third. That was only 50 fewer pitches than Miller had thrown in his nine-inning outing on Friday.
Though the Mets weren't making solid contact against Miller's fastball, the repeated foul balls forced he and Cruz to alter the game plan as the night progressed. That included having Miller throw more changeups -- a pitch he had thrown sparingly this year -- in order to compensate for the so-so fastball command.
"Those guys on the other side, you have to give them credit," Cruz said. "They're out there competing, and they fouled off some good pitches. His command of the fastball wasn't quite what it's been, so we tried to get them off [of it] a little bit."
Though the volume of pitches quickly became a concern, Miller did not actually deal with much basepath traffic. He scattered three singles over the first five innings before allowing his first extra-base hit of the night in the sixth. Miller answered that with a strikeout of Wright, the last batter he'd face in his 96-pitch effort.
Randy Choate closed the inning with a runner on third, preserving Miller's scoreless outing. Taking into account that Miller had thrown 113 pitches his last time out, Matheny had no intention of pushing him nearly that deep on Wednesday.
"As we got into the 90s, we were really keeping our eye open," Matheny said. "When he strikes out Wright the way he did with a good strong fastball, he looks strong. But those at-bats where they keep fouling balls off, they get very little rest. Those can wear you out in a hurry. He was laboring today."
The challenge moving forward for Miller is to make his pitches go a little further. He is now averaging more than four pitches per plate appearance and 16.2 pitches per inning. That's one of the main reasons why Miller has finished seven innings only twice in eight starts.
Regardless, he continues to be as dominant as anyone else in the league. Over his last three starts (20 2/3 innings), Miller has allowed one run. His season ERA is down to 1.40, tying him with the Dodgers' Clayton Kershaw for the lowest of any National League starter.
"I feel really strong," Miller said. "I feel really good. I feel like I'm where I need to be."
Jenifer Langosch is a reporter for MLB.com. Read her blog, By Gosh, It's Langosch, and follow her on Twitter @LangoschMLB. This story was not subject to the approval of Major League Baseball or its clubs.