Hamels unable to find form vs. Tribe in sixth loss
Veteran left-hander can't escape high early pitch count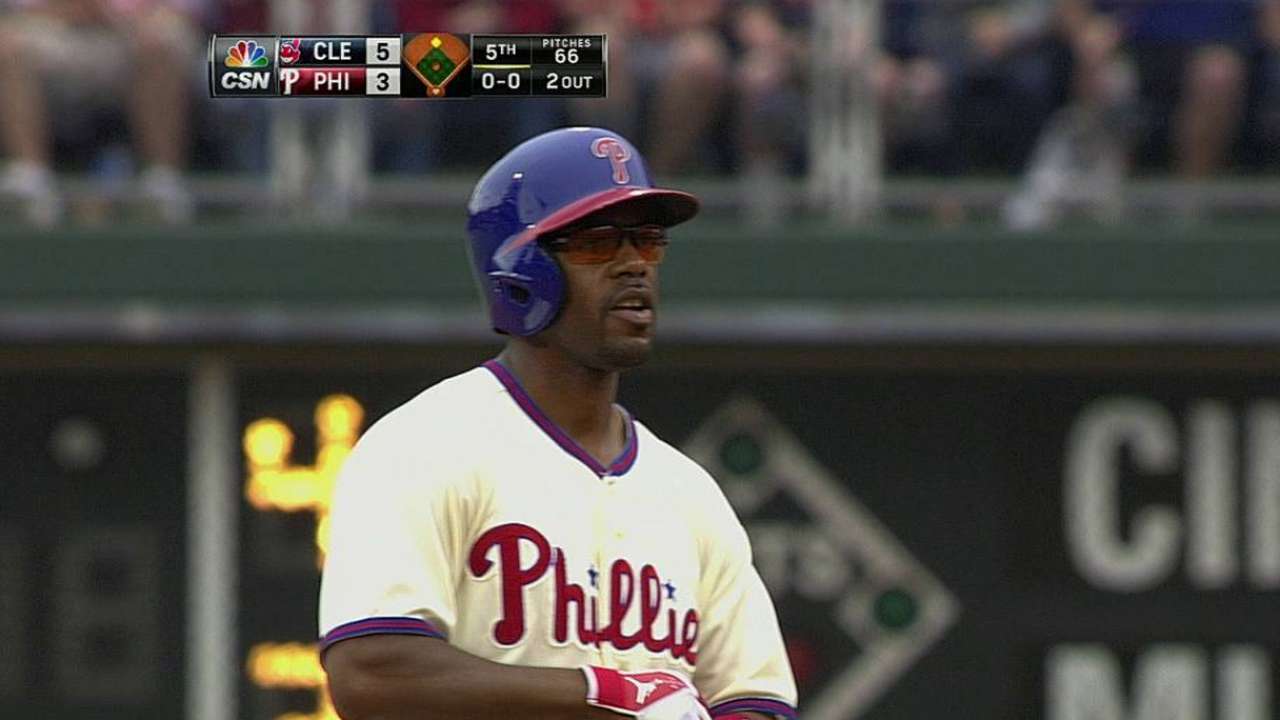 PHILADELPHIA -- Ryan Howard is one of the optimistic ones. He remains hopeful about the Phillies despite some maddening inconsistencies through the first quarter of the season.
He believes things will get better.
"I wouldn't even say we've played lukewarm baseball," he said.
The proof of that appeared everywhere during Wednesday's 10-4 loss to the Indians at Citizens Bank Park, which left the Phillies 19-22 and third in the National League East. Phillies left-hander Cole Hamels became the NL's first six-game loser as he battled season-long command issues. The Phillies have lost eight of his nine starts, a troubling figure considering his pedigree.
The middle relievers continued to turn small deficits into insurmountable ones, something that can't go on much longer.
"For some reason we seem to win a couple, get within one or two games of .500, then all of the sudden we fall back three, four, five," Phillies manager Charlie Manuel said. "Then we win a couple more, and we're yo-yoing back and forth. We definitely need to put a streak together, play sound baseball and run off a six-to-10 game winning streak."
It won't happen without Hamels. He allowed six hits, five runs, two walks, two home runs and struck out four in five innings. He is 1-6 with a 4.61 ERA.
He simply has not been himself since the start of the season. Hamels finished the afternoon leading the league with 24 walks. He entered the day averaging 3.83 walks per nine innings, which ranked 94th out of 107 qualifying pitchers in baseball. That would be alarming for anybody, but it is especially disconcerting for somebody like Hamels because walks are not in his nature.
He averaged just 2.14 walks per nine innings from 2007-12, which ranked 12th out of 89 pitchers.
He also had a career-best 4.41 strikeout-to-walk ratio in 2011 and a 4.15 strikeout-to-walk ratio last season, which was the second-best mark of his career. But that ratio has plummeted this season to 1.95, easily the worst mark of his career.
Something is not right.
Hamels reassured everybody a couple times, saying he is healthy. He said it is a mechanical issue with his delivery.
"That's kind of what I've been tinkering with in between every start, just trying to get things so they're rock solid," he said. "Obviously, it hasn't shown because of the walks that I've made and a lot of 3-2 counts, 3-1 counts, 3-0 counts."
Hamels threw 24 pitches in the first inning, 27 in the second and 26 in the third as the Indians built a 2-0 lead.
"We drove his pitch count early," Indians manager Terry Francona said. "We made him earn every out and then we scored also. It's great to work the count and everything but when you have something to show for it, especially in a National League game, where when you're behind and you have to pinch hit, and we did a very good job of that."
The Phillies found themselves in a 5-1 hole in the fifth. They tried to make it a game when Jimmy Rollins doubled to score two runs in the fifth to make it 5-3, but Chad Durbin and Jeremy Horst combined to allow two more runs in the sixth to make it 7-3. Those runs came with two outs and nobody on when Durbin walked Indians pitcher Corey Kluber. Raul Valdes then allowed a three-run homer to Jason Kipnis in the eighth inning to turn the game into a rout.
Durbin has a 7.30 ERA in 12 appearances. Horst has a 5.29 ERA in 17 appearances. Valdes has a 7.65 ERA in 10 appearances.
"That kind of works itself out," said Manuel when asked about any remaining leeway for his relievers. "You have to stay with them a while and give them a chance, but then I think like Walter Alston and those chances run thin sometimes. Eventually the rope runs out."
Eventually the Phillies are going to need to get on a good run, too. The loss snapped a three-game winning streak, which had tied a season high. It is going to be difficult to catch the Braves and Nationals and NL Wild Card contenders if they cannot win more than three in a row.
"Trust me, it's fun to watch this team, because we are getting there," Hamels insisted. "I know everyone, especially the younger guys are pulling through, and that's awesome. It's just a matter of time for some of the veteran guys. We're so close."
Todd Zolecki is a reporter for MLB.com. This story was not subject to the approval of Major League Baseball or its clubs.