Tribe cranks three homers behind sharp Kluber
Indians notch series split as right-hander delivers efficient outing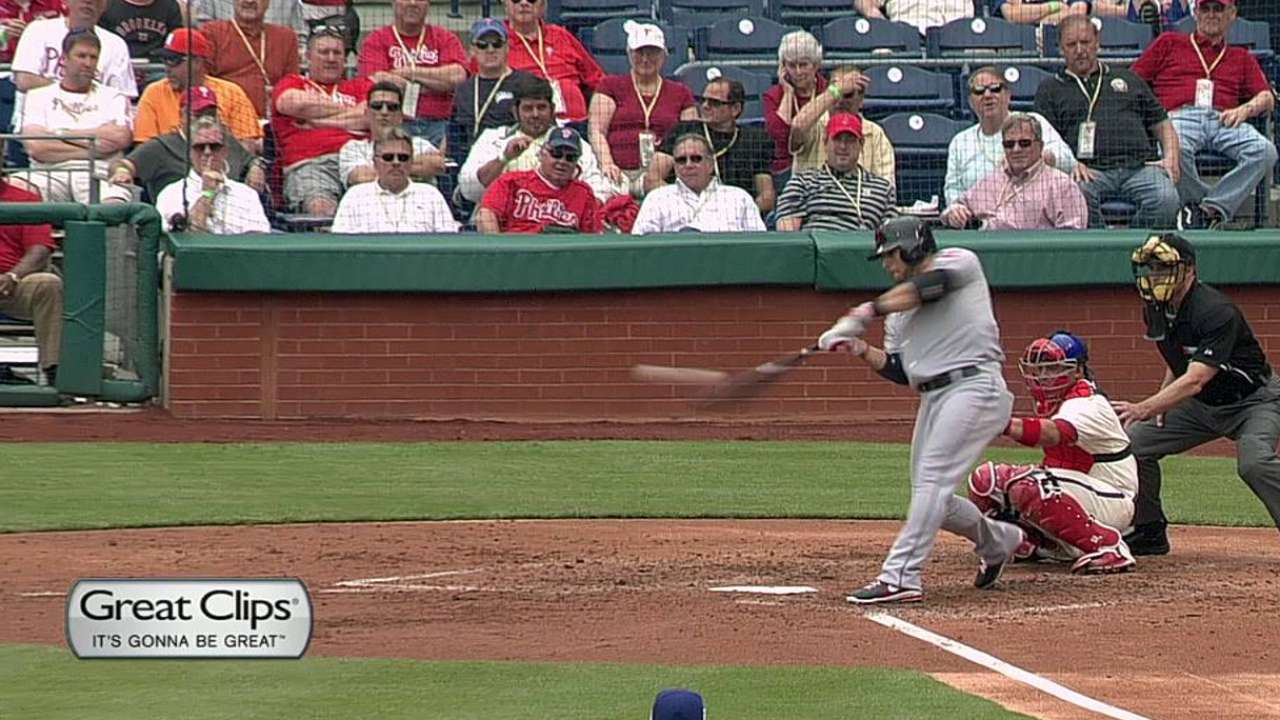 PHILADELPHIA -- The fact that Indians starter Cory Kluber did his job on the mound Tuesday afternoon at Citizens Bank Park opened the door for plenty of talk about his hitless day at the plate.
"I thought Cory Kluber set the pace," second baseman Jason Kipnis said with a smile. "He set the tone with quality at-bats. He woke us up with the best at-bat [a flyout to left] of the first couple of innings."
Kluber, who has not hit since 2010 in Double-A, went six innings in which he allowed three runs on six hits and did not issue a walk in a 10-4 win over Cole Hamels and the Phillies. The Indians finished a pair of two-game series against Philadelphia with three wins over starters Roy Halladay, Cliff Lee and Hamels.
After three games in which the Indians managed to score a total of three runs in a doubleheader against the New York Yankees and this series opener on Tuesday, the offense made Hamels work hard for each out and ended the afternoon with 11 hits against five Phillies pitchers, three of which were home runs by Mike Aviles, Nick Swisher and Jason Kipnis. Kipnis' sixth home run of the year was his first that did not come in the first inning and a product of an offense that battled all day long.
"We drove [Hamels'] pitch count early," said Tribe manager Terry Francona, who noted Hamels threw 24, 27 and 26 pitches in the first three innings respectively. "We made him earn every out, and then we scored also. It's great to work the count and everything, but when you have something to show for it, especially in a National League game, where when you're behind and you have to pinch hit, and we did a very good job of that."
The Indians opened a 5-1 lead after their half of the fifth inning on the strength of Aviles' solo shot in the fourth, Swisher's two-run home run in the fifth and Kipnis' two runs scored after he doubled in the third -- he later scored on a two-run double by Mark Reynolds -- and again in the fifth to score on Swisher's home run.
After the Phillies scored a pair of runs in the fifth, the Indians held just a 5-3 lead. Depending on your point of view, the Indians were now in a Phillies' bullpen that has struggled all year, or they had chased Hamels, who threw 106 pitches in just five innings of work.
As it turned out, the Indians had the Phillies right where they wanted them. With two outs, Kluber walked off of Chad Durbin. Drew Stubbs followed with a grounder up the middle that Phillies shortstop Jimmy Rollins fielded but could not make a play on, and after a walk to Kipnis, Asdrubal Cabrera bumped the score back up to four runs with a single to right that scored two to give the Indians a 7-3 lead.
"Our guys did a good job of not chasing [Hamels'] pitches where he likes to live on the corners," Kipnis said. "We made him come to us. I think we did a good job today."
As much as Hamels had to work, Kluber proved to be the opposite, striking out five and allowing three runs in six innings of work.
"He was more aggressive," Francona said. "His angle on his fastball was more downhill which made his cutter, slider more crisp. I felt he attacked a lot better. He left a changeup up to Rollins when it was close that cost him a run. And he looked like he had a pretty good idea at the plate."
Kluber, who went 0-for-2 with a walk, a run scored and a long fly out to left in his first at-bat, allowed just four runners to get into scoring position on the afternoon. More to the point, he threw 92 pitches in six innings of which 63 were for strikes.
"Obviously, I threw more strikes," Kluber said. "I was more aggressive in the strike zone and I didn't fall behind too many guys. I didn't carry the last game into this one at all. It makes your job a lot easier when you get ahead of hitters.
"Give our offense credit, it definitely makes things easier when you score some runs and get a lead. You also know if you give up a couple of runs, they'll come right back and score more."
Michael Radano is a contributor to MLB.com. This story was not subject to the approval of Major League Baseball or its clubs.