Pelfrey takes step back in loss to White Sox
Escobar's homer, Willingham's two RBIs not enough in rubber game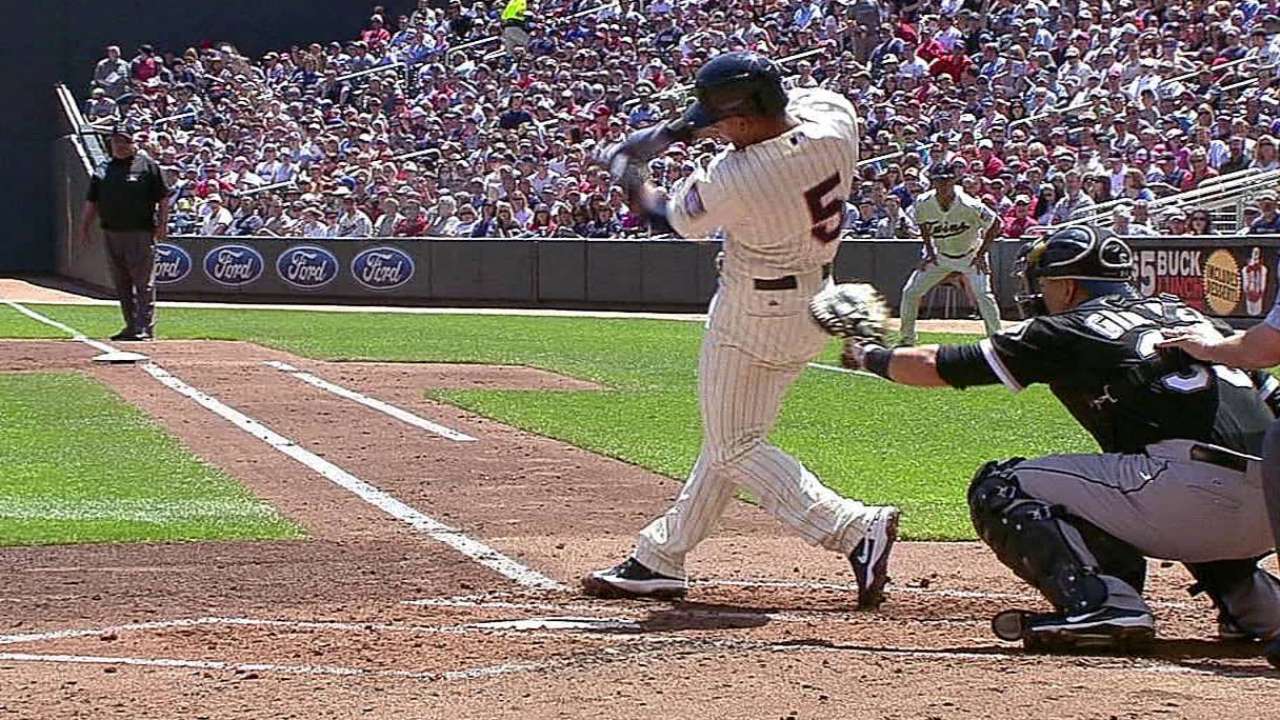 MINNEAPOLIS -- When Mike Pelfrey registered his first quality start of the year on May 5 against the Indians, he was hoping it would be the turning point for him coming off last May's Tommy John surgery.
Pelfrey gave up just one run on six innings that day, and his stuff looked improved. He hit as high as 95 mph on the radar gun and struck out seven. He followed that up with another quality start last Friday against the Orioles, giving up three runs over six innings.
But on Wednesday afternoon, Pelfrey showed he hasn't quite finished that turnaround yet. The right-hander saw his streak of quality starts end at two, as he struggled against the White Sox during the Twins' 9-4 loss at Target Field.
Pelfrey reverted to his early-season struggles against the White Sox. He lasted just four-plus innings, giving up five runs on eight hits and two walks.
"It's an ongoing process," Twins manager Ron Gardenhire said. "Sometimes he gets on top and the ball is sinking good, and other times the ball is kind of flat across the zone. And when that happened, they end up making him pay for it. So we'll just keep running him out there and see if he can get better as we go along here."
Pelfrey now has a 6.57 ERA with 57 hits allowed in 38 1/3 innings pitched, and it's been frustrating for the right-hander who joined the club on a one-year deal worth $4 million this offseason.
"I put the bullpen in a bad spot," Pelfrey said. "To get a two-run lead and not be able to hold it stinks. It's frustrating. I didn't pitch very well today. I'll just try to get better. But like my last outing, I wasn't as sharp as I'd like to be, so I'll have to figure something out."
The right-hander had trouble keeping the ball in the park, serving up a two-run blast to Adam Dunn in the third and a solo shot to Dayan Viciedo in the fourth. It marked the second straight game with homers from both Dunn and Viciedo for Chicago.
The wheels came off for Pelfrey in the fifth, when he allowed back-to-back singles to Alexei Ramirez and Alex Rios to lead off the inning before giving up an RBI double to Dunn on the 10th pitch of his at-bat.
"It was kind of the same thing as last start, with my secondary stuff not where I wanted it to be," Pelfrey said. "One guy in their lineup, Adam Dunn, I felt like he had three eight-pitch at-bats off of me. He kept fouling pitches until he got one he could handle, and he handled it."
Dunn's double knocked Pelfrey out of the game after 91 pitches, and right-hander Anthony Swarzak came in to replace him. Swarzak allowed Rios to score from third on a sacrifice fly from Viciedo, but he was able to get out of the inning without any further damage.
The Twins struck early against right-hander Dylan Axelrod, scoring in the first on an RBI single from Josh Willingham and in the second on a solo shot from Eduardo Escobar. Escobar's homer was the second of his career and came against his former team, as he came over from the White Sox last year for Francisco Liriano.
Minnesota rallied to make it a one-run game with two runs in the sixth. Pedro Florimon led off the inning with a walk and stole second, causing the White Sox to remove Axelrod in favor of reliever Matt Lindstrom. Jamey Carroll scored Florimon with his third hit of the game, before Joe Mauer doubled for his third hit. Carroll scored on an RBI groundout from Willingham, but Justin Morneau hit a weak grounder on a check swing to end the inning.
The White Sox tacked on two insurance runs in the seventh against reliever Josh Roenicke, as Jeff Keppinger doubled on a hard-hit ball past Escobar at third to bring home Paul Konerko and Conor Gillaspie.
Dunn added two more runs with his second homer, off Roenicke in the eighth. He finished the afternoon with five RBIs.
"The results are good, but I'm happy with the direction where the balls went," Dunn said. "Again, I've gotten pitches to hit, and I've been fouling them off. The last couple of nights, I haven't fouled them off."
Dunn's power helped spoil strong performances from Mauer, Morneau and Carroll, who combined for eight of Minnesota's 11 hits. Mauer extended his hit streak to 14 games, while Morneau pushed his to 11 games.
"We had some offense going, but we just couldn't stop those guys," Gardenhire said. "It was a tough loss at home to lose two out of three. Those guys outplayed us, and that's the bottom line. They just outplayed us."
Rhett Bollinger is a reporter for MLB.com. Read his blog, Bollinger Beat, and follow him on Twitter @RhettBollinger. This story was not subject to the approval of Major League Baseball or its clubs.