Slump buster: Eight-run third inning snaps skid
Drew caps off Sox's rally by launching grand slam to right-center field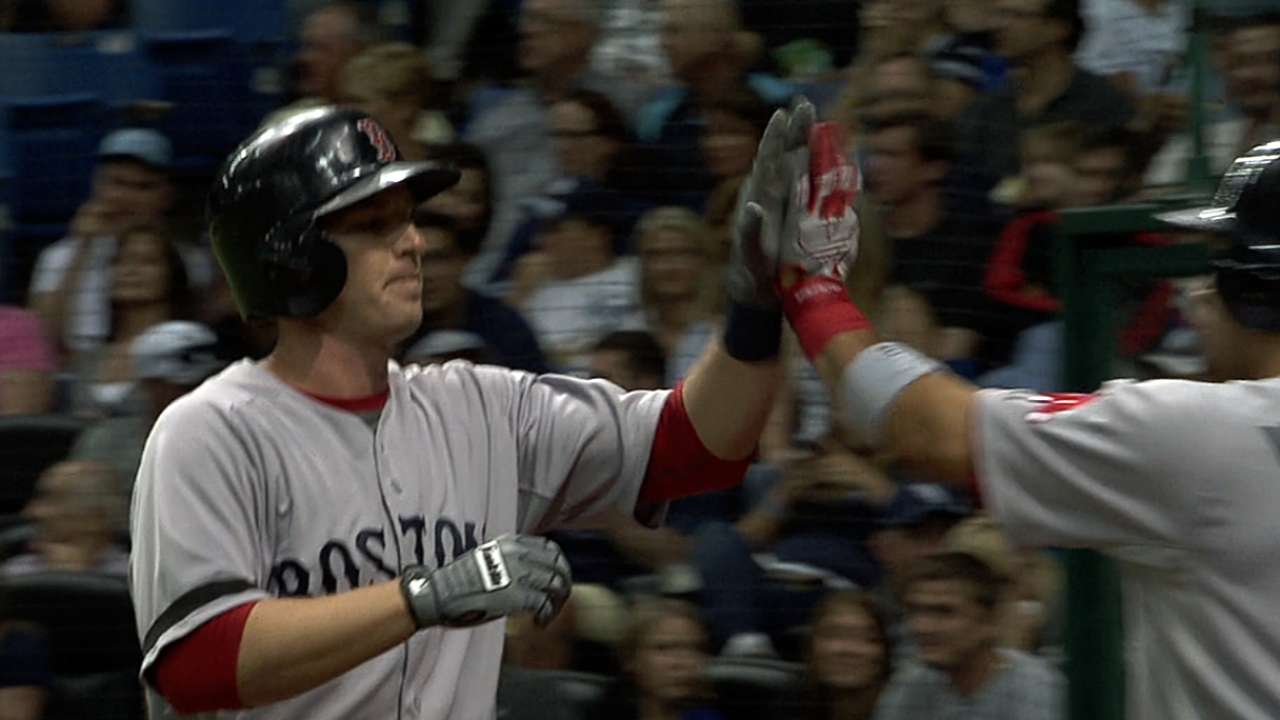 ST. PETERSBURG -- Sometimes one big hit -- and one big inning -- can change everything for a baseball team.
Just look at the Red Sox, who were mired in an epic hitting slump with runners in scoring position when they got to Tropicana Field on Wednesday.
However, an eight-run uprising in the third inning, which included four straight knocks with runners in scoring position, seemed to take the weight of the world off the shoulders of the Sox, who rolled to a 9-2 victory over the Rays.
The biggest hit of the night came later in that inning, after the four straight hits. It was a grand slam off the bat of Stephen Drew, which gave ace Jon Lester (6-0, 2.72 ERA) an 8-0 cushion.
"It goes back to us controlling the strike zone, putting up quality at-bats, and when we're right and we're kind of clicking offensively, it's when we grind deep into each individual at-bat, and I thought we did that multiple times tonight," said manager John Farrell.
The offensive outburst could not have come at a better time. Not only had the Sox stopped hitting of late, but they had stopped winning, coming into Wednesday's tilt with nine losses in the past 11 games.
"It's one of those things," said Drew. "I mean, you had the same lineup that you won all the games. It's there. It's just a matter of baseball's a funny game sometimes and things don't go your way and you've got to just keep grinding. It's a long season. I mean, it's still May. Like I said, it's a good thing that we kind of turned it around tonight and had some great ABs. Everybody did. The pitching's doing well. That's what it takes to win games."
When Dustin Pedroia stepped up with two on and one out in the third, Boston had been in a 5-for-43 skid in the RISP department. Pedroia, who has long had a habit of getting a hit when his team truly needs one, looped an RBI single into right to make it a 1-0 game.
Without question, that one hit by Pedroia was as stress reliever.
"It does, it does [relieve pressure]," said third baseman Will Middlebrooks. "Like I said, the timely hitting hasn't really been there the past week or so. It was good. Pedey's the leader on this team and he helps take us out of any hole we're in it seems like."
The team's other leader -- David Ortiz -- stepped up next and he cranked an RBI single to left. Following that hit, Rays ace David Price exited with left triceps tightness.
Reliever Jamey Wright had as much time as he needed to warm up, but it wasn't enough. Not against the suddenly resurgent Boston bats.
Mike Napoli greeted Wright with a double to right-center. Jonny Gomes followed with an RBI single up the middle. After a flyout by Middlebrooks, Jarrod Saltalamacchia drew a walk to load the bases.
Then it was Drew's turn to hit, and he belted Wright's 1-1 cutter over the wall in right-center field for his second career slam. It was Drew who started the rally with a leadoff walk against Price.
"No excuses, I just stunk tonight," Wright said. "I threw two sinkers right down the middle. One got hit for a double and one got hit up the middle. Then a cutter into Drew, I tried to go up and in and I threw it right down and in right into his swing path. He hit a home run. It was awful. I didn't do my job out there today."
For Drew, it was another sign that he is over his early-season slump.
"He threw me a cutter in, curveball away and cutter in again, and I just got to put a good swing on it, got my hands in and cleared them," said Drew, who is batting .245. "I put a good swing on it and it's a good feeling."
From there, Lester cruised to remain unbeaten in his first nine starts. The lefty scattered eight hits and two runs over seven innings. He walked none and struck out five.
"Obviously it feels good," said Lester. "The guys did a good job that inning getting to David and Wright when he came in. It's big. We haven't scored a bunch of runs lately, and it takes a lot of pressure off of us to go out and prevent runs and make pitches."
In the eighth, Middlebrooks mashed his seventh homer of the season, a solo shot to right. The third baseman had two hits on the night -- both for extra bases -- offering a sign that perhaps he's ready to break out of a slump that has lingered for more than a month.
"It felt really good," Middlebrooks said. "I stuck with my approach, and just I got a good pitch to hit twice and didn't miss it."
Ian Browne is a reporter for MLB.com. Read his blog, Brownie Points, and follow him on Twitter @IanMBrowne. This story was not subject to the approval of Major League Baseball or its clubs.