Cruz supports overpowering Ogando with bat, glove
Three-run homer and clutch catch lead the way after righty loses no-no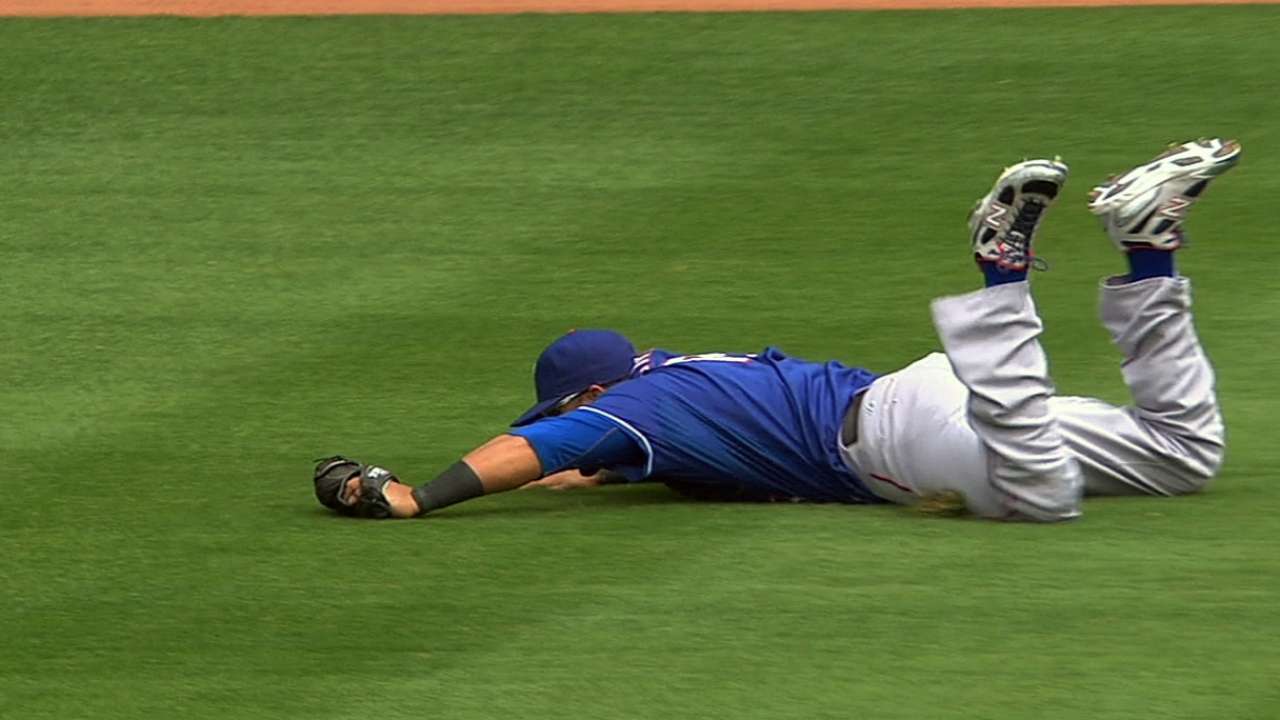 OAKLAND -- Rangers starter Alexi Ogando, suddenly struggling after chasing a no-hitter for five innings, had two on with two outs in the sixth inning when manager Ron Washington paid him a visit to the mound. The Rangers were up by five, but with Brandon Moss at the plate, the Athletics had a chance to make a serious dent in the lead.
Washington left Ogando a message.
"I just let him know that he had done too much and come too far to let it all get away from him there," Washington said. "I told him just throw the ball over the plate and let somebody make a play. I'll be darned if somebody didn't make a play."
Right fielder Nelson Cruz made a play and it was breath-taking, a highlight gem that kept the Rangers in control on Wednesday afternoon, and they held on for a 6-2 victory over the Athletics at the O.co Coliseum.
"That's one of the biggest plays he has made in a long time," Washington said. "If that ball gets by him, there's no telling what that game is going to be like. Ogando needed it, the team needed it and he just made a great play."
Cruz also hit a three-run home run off of Athletics starter Dan Straily that helped the Rangers open up a 6-0 lead in the fifth inning. But he was more thrilled with the diving catch he made in right-center to take away a possible two-run double by Moss.
"It looked like they were going to be able to come back and Ogando had been throwing well all day, so it was nice to make that catch," Cruz said.
"That's huge," Oakland manager Bob Melvin said. "That's a momentum-changer. That ball gets in the gap and it's maybe two more, and now you're looking at a completely different ballgame, a completely different bullpen mix with them. If there's one particular play in this game that had such a big effect, it was that one."
The Rangers ended up taking two of three from the Athletics at the Coliseum and left with a seven-game lead in the American League West. After going 6-3 on their nine-game road trip, the Rangers open a four-game series with the Tigers on Thursday night at the Ballpark in Arlington.
"It's definitely good to win two out of three against these guys, especially here," outfielder David Murphy said. "These guys always come to play against us and they definitely come to play us here, so it was great to win a series here."
Ogando, who allowed just a walk and a hit batter through five innings, ended up getting the win and is now 4-2 with a 3.08 ERA on the season. But he needed more than just a great defensive play to help him out.
Ogando was done after six-plus innings and Michael Kirkman stepped up for a depleted bullpen to get seven big outs. Tanner Scheppers got the final two, and the Rangers were able to stay away from using closer Joe Nathan after his 31-pitch effort on Tuesday night.
"Kirkman meant everything for us today," Washington said. "We needed him to bridge that gap, and he did exactly that."
Ogando looked like he would need no help through five with his budding no-hit bid.
"I was aware of it but was trying not to focus on it," Ogando said. "I was just trying to pitch my game. I didn't concern myself with it. Overall, I felt pretty good. I was commanding my pitches when I wanted to."
Ogando's bid for a no-hitter came to an end in the bottom of the sixth when Eric Sogard led off with a double. He went to third on Coco Crisp's grounder to the right side and scored on Derek Norris' sacrifice fly. The Athletics then got the rally going again with a pair of two-out singles by Jed Lowrie and Yoenis Cespedes.
That brought up Moss, and he drove one hard into the gap in right-center. Cruz raced over and made a tremendous backhand diving catch to save two runs, while bringing the inning to a close.
"I ran about four or five steps and I realized I had a chance to catch it if I dove for it," Cruz said. "He hit it pretty well."
Ogando's day ended when he gave up a leadoff single to Josh Donaldson in the seventh. Kirkman took over, giving up an infield single to Seth Smith. He struck out Nate Freiman, but walked Sogard to load the bases. That was probably the second biggest tense moment for the Rangers on the day, but Kirkman didn't need a brilliant defensive play.
Crisp drove home a run with a sacrifice fly to left, but Norris popped out to end the inning and the Athletics' last real threat.
T.R. Sullivan is a reporter for MLB.com. Read his blog, Postcards from Elysian Fields, and follow him on Twitter @Sullivan_Ranger. This story was not subject to the approval of Major League Baseball or its clubs.