A's offense flat behind struggling starter Straily
Oakland hitless through five innings; Norris, Crisp drive in only runs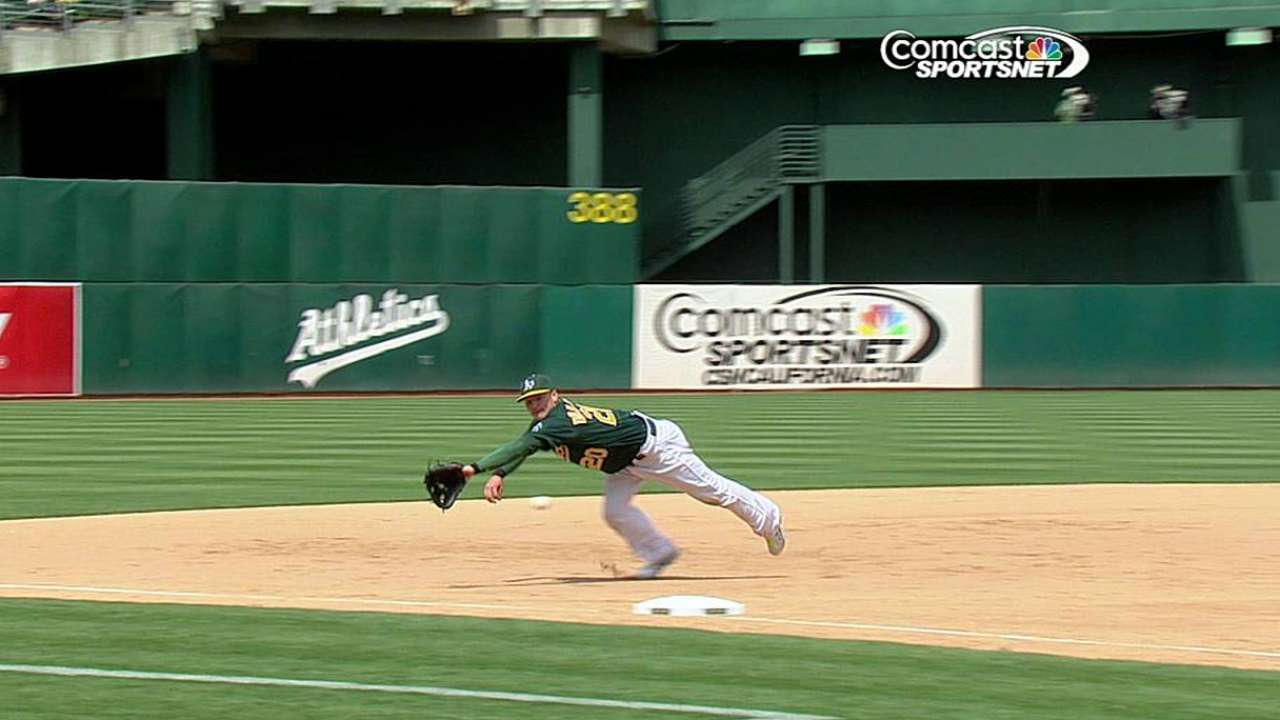 OAKLAND -- On the same day the A's learned they're still not close to getting back Brett Anderson, the lefty's replacement continued to struggle.
Dan Straily, making his fifth start with the club and fourth since Anderson sustained a sprained right ankle, failed to get out of the fifth inning for the second time, with the Rangers tagging him for five runs in a 6-2 A's defeat.
Straily's ERA is now at 7.27, and his next start with the big league club perhaps isn't so secure, despite manager Bob Melvin saying after the game, "I think what we have is what we have at this point."
"I think it's more command with him right now," Melvin said of Straily. "Certainly your first year in the big leagues, you're trying to find yourself and have some confidence, and that can go back and forth on you depending on what your results are. He just hasn't gotten to a point where he's gotten on a roll.
"He does have the stuff to do it. We expect him to be that guy."
It was Oakland's second loss in a row to the Rangers -- who claimed the series victory after squeaking out a 10-inning win on Tuesday -- and the club's 18th loss in the last 26 games, with the A's having dropped seven of their last 10 series.
That puts them two games under the .500 mark and a season-high seven games behind Texas in the American League West heading into Thursday's off-day.
"We're not playing well here, and we haven't for a period of time," said Melvin. "You have to try to power through this thing and win some games, then you get some confidence and get on a roll. Last night's game would've been a nice one to finish off with a win, then you come into a game today where we're behind early and they have the momentum.
"We lose two out of three in a situation where it could've easily been the other way around."
The A's will play three vs. the Royals this weekend before returning to action with the Rangers beginning Monday on Texas' home turf. It's there where they'll go up against the likes of not only Yu Darvish, but Alexi Ogando, who they couldn't figure out until the later innings Wednesday.
Oakland was no-hit by Ogando through five frames, before Eric Sogard opened up the frame with a double and later scored on Derek Norris' sacrifice fly. The offense was otherwise flat, never mind the return of leadoff man Coco Crisp, who went 0-for-3 with a sacrifice fly in his first day off the disabled list.
But on this day, all eyes and concern were directed to Straily, who faced the minimum over the first two innings before finding trouble in the third, hitting two batters in a row and surrendering a two-run single to Lance Berkman.
Straily walked his second and third batters of the day in the fourth, and he issued another free pass in a four-run fifth, which might not have spiraled out of control so quickly had Jed Lowrie's throw on Elvis Andrus' grounder not been offline. That could've been the second out of the inning, but instead, Berkman walked in advance of Adrian Beltre's RBI base hit that knocked Straily out of the game.
Reliever Jesse Chavez's ensuing first pitch to Nelson Cruz landed over the left-center field wall, giving Texas a 6-0 lead.
"Fastball, tried to go up and in and it didn't go high enough," said Chavez, who didn't give up another run in his 3 2/3 innings of work. "I can't make that mistake in that situation. I need to pitch the way I would had I started that inning, go for the shallow fly ball or get a ground ball."
After Norris collected a sacrifice fly in the sixth, Oakland staged a bases-loaded rally in the seventh with lefty Michael Kirkman on the mound. But Crisp's sacrifice fly was all they could muster in the frame.
"We're getting in a hole at times," Melvin said. "And our starters haven't been as consistent as they were last year."
A's starters are 2-7 with a 5.60 ERA over the last 10 games and, over the last 26 games, they are 5-17 with a 5.62 ERA.
"Consistency, that's really what's been hurting me and hurting the team," Straily said. "I just need to go out there and pitch like I'm capable of, and not what I've been doing.
"One thing [pitching coach] Curt [Young] and I noticed between starts is that I wasn't being as aggressive to home plate. That was one thing I was making sure of, that I was going to be aggressive down the hill the whole time. Sometimes it was there, sometimes it wasn't. I can't really explain it. I don't know. It was definitely not for a lack of focus. I was just missing spots."
Jane Lee is a reporter for MLB.com. Read her blog, Major Lee-ague, and follow her on Twitter @JaneMLB. This story was not subject to the approval of Major League Baseball or its clubs.