Miggy's drive offers glimmer of hope, but falls shy
Detroit has to settle for series win after Houston takes finale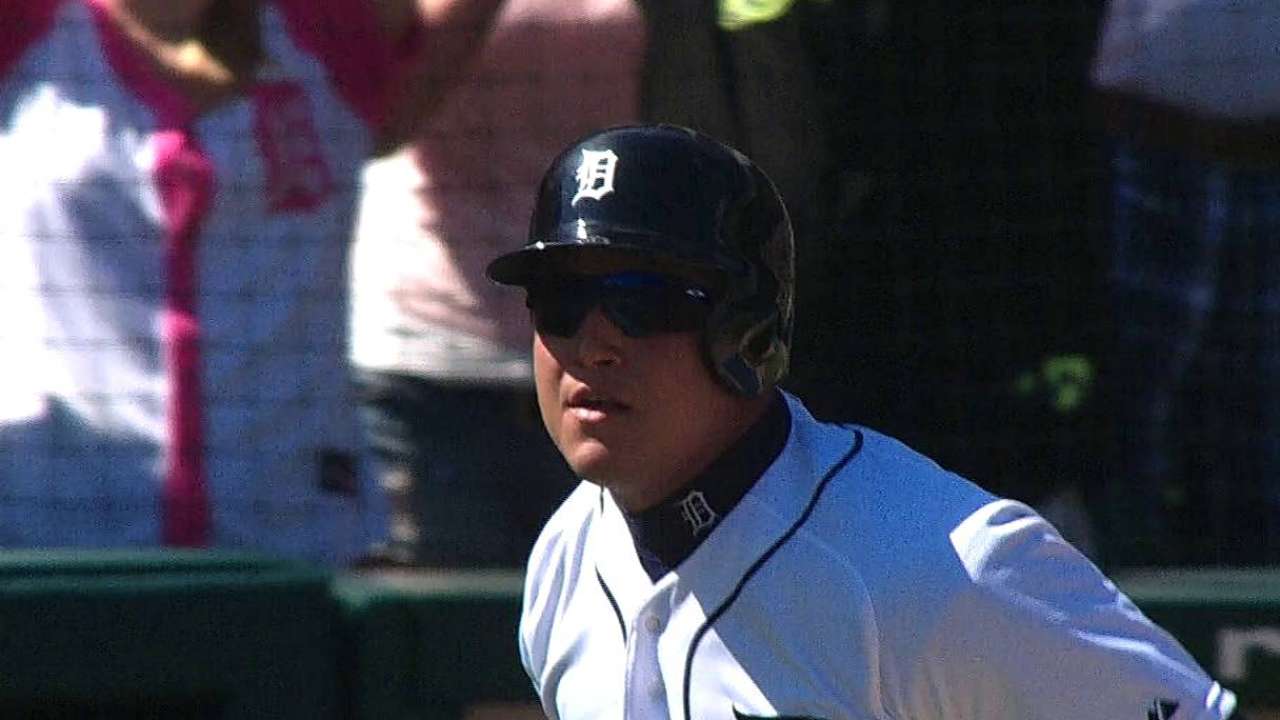 DETROIT -- Jim Leyland gave the warning Wednesday morning: Beating any team seven times in a row is tough to pull off, even the Astros.
The Tigers came within a few feet of Miguel Cabrera's opposite-field power of doing it. It would have been a walk-off grand slam if they had.
As soon as Cabrera hit the fly ball, though, most of the Tigers knew it wasn't enough. To right-center field, the part where Alex Rodriguez once said he hit a ball as hard as he possibly could and saw it bounce off the out-of-town scoreboard, it's almost impossible, even for the Yankees slugger.
"You can usually tell by the reaction of the outfielders," Leyland said after the Tigers' 7-5 loss against the Astros on Wednesday afternoon. "I could tell."
When Cabrera was asked if he thought it had a chance, he said, "In this stadium?"
Then he laughed.
"Hit it and pray they don't catch it," Cabrera said.
It was an uncomfortable feeling in both halves. As much as Leyland was hoping Cabrera's ball could somehow carry, he had hoped his matchup of lefty Phil Coke against switch-hitting catcher Carlos Corporan in the top of the ninth would work out.
He didn't have a good feeling about that one, either, as he made the change and called for the southpaw. But the way Al Alburquerque was throwing, having just walked the leadoff man, J.D. Martinez, in a tie game, Leyland felt it was better than the status quo.
Joaquin Benoit was off no matter what, Leyland said before the game. Jose Valverde had been warming up in the eighth, but Leyland didn't want to use him in a tie game with the go-ahead run on base.
Leyland knew Coke against a right-handed hitter wasn't his best matchup, but Alburquerque's command issues have cost Leyland's trust in even favorable matchups.
"By my own admission, I didn't feel real comfortable doing it because of the switch-hitters. However, you can't let [Alburquerque] walk them," he said. "I mean, that's depressing.
"If I had felt like he was going to throw the ball over the plate or had shown any signs that he was going to throw it over the plate, I would've obviously left him in. But when you're having trouble and you're bouncing the ball, that's not real comfortable."
The Tigers' comfortable feeling lasted for an inning after Avisail Garcia's first Major League home run. The demonstration of the power potential long touted in the prospect was a three-run homer into the seats in left-center during a four-run second inning to build a 4-1 lead.
It was the kind of Tigers rally that doomed the Astros the previous couple nights, and it seemed like ample run support behind right-handed starter Max Scherzer. This time, though, the Astros battled back with four runs in the fourth, three of them on a Martinez home run that nearly hit Willie Horton's No. 23 on the brick wall behind left field.
"I was missing just by a couple inches the whole day, and I had a four-batter stretch where I lost command and I didn't execute," said Scherzer, whose four-game winning streak paused with seven innings of five-run ball in a no-decision. "They did a good of taking advantage of me in that situation with fastballs over the middle of the plate, and obviously when I hung a slider, that's what cost me for a three-run homer.
"But there's other parts of the game when I was executing pitches and I did a lot of other things right. That's what kind of leads to a frustrating outing."
Houston had a 5-4 lead and starter Dallas Keuchel was in a groove, retiring six consecutive batters and inducing a Victor Martinez ground ball that should've been the seventh. When shortstop Marwin Gonzalez booted it, though, the error extended the sixth inning for back-to-back singles from Jhonny Peralta and Matt Tuiasosopo to bring in Martinez and tie the game at 5.
That's where it stood heading into the bullpen, where it eventually got uncomfortable. As well as the Tigers have played the past few weeks, the late innings remain where opponents can get them.
It's the lingering discomfort as Leyland tries to sort out the mix beyond Valverde and Benoit. Drew Smyly, a long reliever to begin the season, continued his transition to late-inning work by following Scherzer for the eighth.
With two on and two outs for free-swinging Chris Carter, Leyland saw the perfect opportunity for the high-strikeout Alburquerque, and he didn't disappoint. Carter arguably chased three pitches off the plate, fouling off one and missing two others, including a slider in the dirt for the strikeout.
But Alburquerque (0-1) could not get the same swings from J.D. Martinez.
"Their team overall is better against left-handers, and Alburquerque has pretty good numbers against righties and lefties," Leyland said. "If he was throwing strikes, obviously I would have left him in. But he was too wild today. He was just too wild. I mean, he was bouncing balls to [Carter]. He struck him out on a ball in the dirt. If the guy takes that pitch, we might have been in trouble there."
As dominant as Alburquerque looked a month ago, tossing five innings of one-hit ball with 10 strikeouts over four outings, he has been unpredictable since. He walked two batters in each of three straight appearances at the end of the April, but escaped without damage. He has given up a run in each of his past three outings, with nine baserunners over 16 batters faced.
It's not a comfortable feeling for Leyland. Neither was the fly ball.
"They say it's a game of inches," Astros manager Bo Porter said, "and the inches fell our way today."
Jason Beck is a reporter for MLB.com. Read Beck's Blog and follow him on Twitter @beckjason. This story was not subject to the approval of Major League Baseball or its clubs.