Machado tallies four hits, but O's lose second straight
Hardy, Wieters hit solo shots; Garcia struggles in shortest outing of year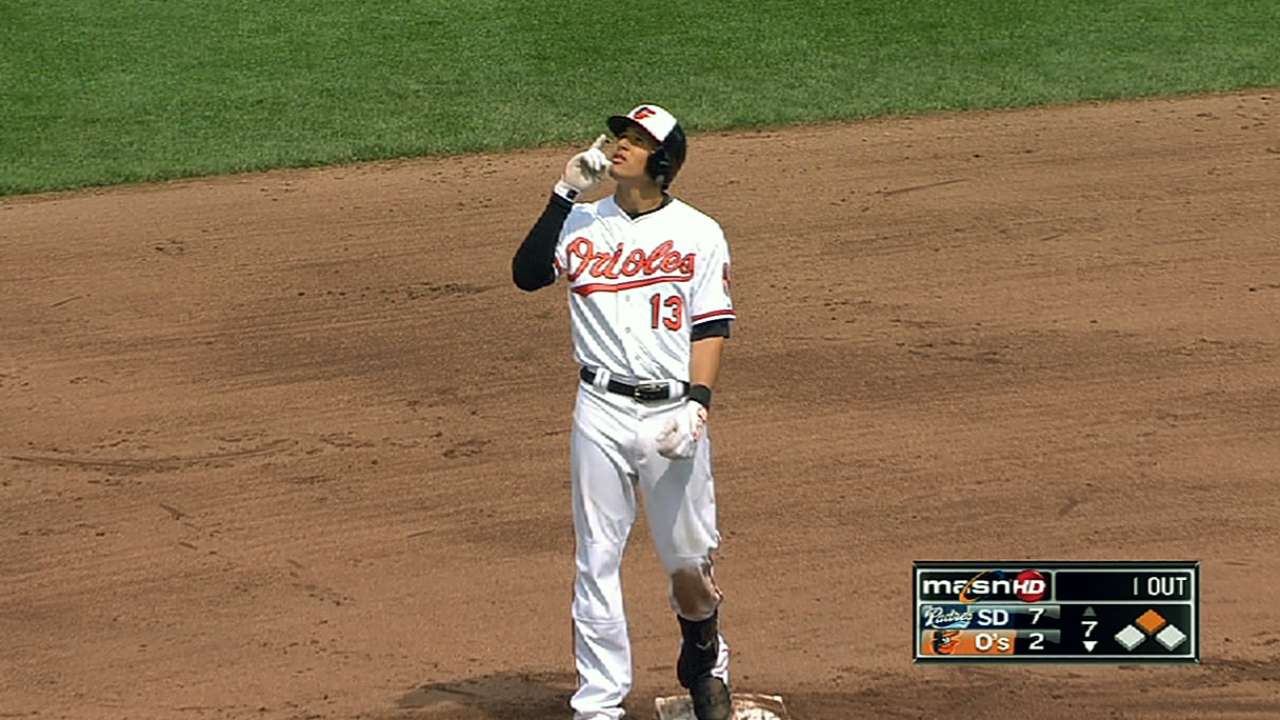 BALTIMORE -- The Orioles have used effective pitching and timely hitting to earn success throughout the first part of 2013. But they couldn't get much of either on Wednesday.
San Diego banged out 17 hits, the most the Orioles have allowed in a game this season. The Orioles finished with 11 hits themselves, but they wasted a number of scoring chances while the Padres didn't, a big reason San Diego rolled to an 8-4 victory before 32,418 in a matinee at Camden Yards.
This win gave San Diego (18-21) victories in both games of the two-game set, the first time that Baltimore's been swept in a series this season.
Starter Freddy Garcia (0-2) pitched well in his first two games but lasted only 3 2/3 innings this time. He gave up four runs on seven hits and needed 75 pitches to get that far. Troy Patton threw a scoreless eighth, but every other pitcher -- T.J. McFarland (one run, four hits), Tommy Hunter (two runs, three hits and a key error) and Pedro Strop (one run, two hits) -- gave up at least one run.
"[Garcia was] not quite as crisp. He wasn't the only one," Orioles manager Buck Showalter said. "We just didn't pitch well today. It wasn't just Freddy. They hit a lot of balls hard, too. They came in here and swung the bats well. We've got to pitch better. It was certainly a hiccup pitching-wise today."
The Padres were very aggressive and scored runs in five innings and got runners on base in eight of the nine.
Leadoff hitter Everth Cabrera got the game-winning hit in Tuesday's 3-2 win and went 4-for-5 on Wednesday. But the Padres got lots of help from the bottom third of their lineup. Kyle Blanks (batting seventh, 1-for-5, home run, RBI), Alexi Amarista (batting eighth, 3-for-5, home run, two RBIs) and John Baker (batting ninth, 1-for-4, two RBIs) gave the Padres lots of punch.
"Those guys want to be a part of the contribution and today they were," Padres manager Bud Black said. "You have to use your whole roster. Those guys today did a nice job. It takes all 25. It's a good team win."
The Padres finished 4-for-11 with runners in scoring position, but the Orioles (23-17) also had chances. They just couldn't come through the way San Diego did.
The Orioles went 3-for-12 with runners in scoring position. They stranded 10 and twice grounded into inning-ending double plays and left runners in scoring position in four of the nine innings.
They could have made some noise in the first when Matt Wieters came up with the bases loaded and two outs in a scoreless game, but he grounded into a force play to let starter Jason Marquis (5-2) escape.
"We had some chances to score and couldn't quite get it done," said Wieters, who hit a solo homer. "I could have broken the game open in the first and just couldn't quite get the big hit there. But it's going to happen, and we'll have to be ready to go when we come back on Friday."
Manny Machado continued his recent hot streak. He went 4-for-5 with three doubles and improved his average to .343. He moved into first place in the American League with 59 hits, one ahead of Detroit's Miguel Cabrera. But the 20-year old said he's not going to worry about the numbers.
"You've got to play baseball," Machado said. "That's the main thing. We don't think about the stats. Go out there and play baseball and win games. That's the main goal."
The Padres just had too much solid hitting. Baker's two-run single gave San Diego a 2-0 lead in the second before J.J. Hardy's solo homer cut the lead in half later that inning.
The Blanks solo homer helped the Padres to a 4-1 lead in the fourth. Wieters added his solo shot in the bottom half before San Diego broke things open in the sixth and seventh. The Padres got a run when Carlos Quentin's pop fly to short right appeared ready to end the sixth, but second baseman Ryan Flaherty lost it in the sun, and the ball fell, letting one run score.
Amarista got a two-run homer in the seventh, and Cabrera pitched in with an RBI single in the ninth. Adam Jones (RBI single) and Nick Markakis (RBI double) got the other two Orioles runs, but it was too little, too late.
Jeff Seidel is a contributor to MLB.com. This story was not subject to the approval of Major League Baseball or its clubs.