Chavez gets better of buddy Hudson in Braves' loss
Starter can't contain former teammate; club drops five of six to end trip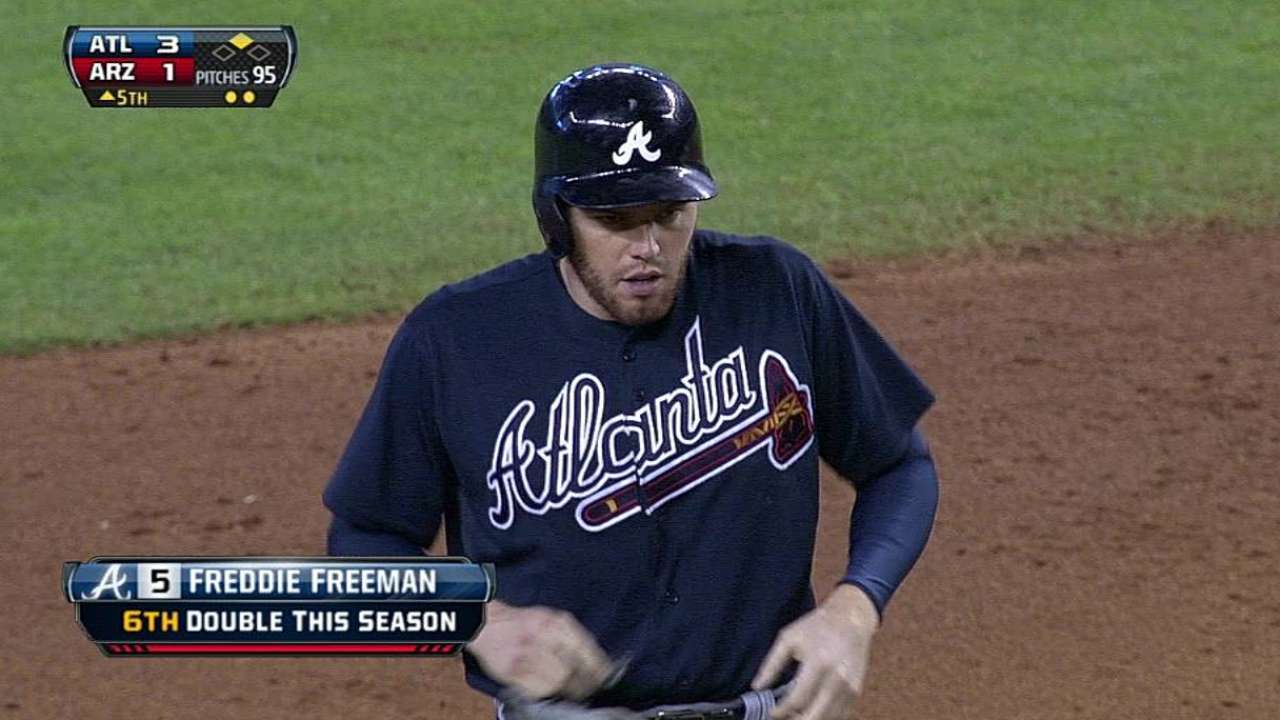 PHOENIX -- Tim Hudson was disappointed his good friend Eric Chavez had to bail on their plan to meet for lunch on Tuesday. The two have maintained a strong friendship that dates back to 1998, when they played together at the Double-A level in the A's organization.
Few people know Hudson as well as Chavez.
Unfortunately for Hudson, this proved to be a detriment on Wednesday afternoon at Chase Field. Chavez drew first blood with a first-inning RBI single and then delivered a two-out, two-run double in the four-run fifth that sunk the Braves in a 5-3 loss to the D-backs.
"His approach was not really what the scouting report showed," Hudson said. "That's the thing with guys that know me or know how I throw, you can throw that scouting report and defensive placements and all of that out the window."
Based on the reports and the six years (1999-2004) they played together during the "Moneyball days" in Oakland, Hudson approached Chavez in the manner he would many pull hitters. The left-handed-hitting third baseman took advantage with his first-inning RBI single that got through the infield's left side with shortstop Andrelton Simmons shaded toward second base.
"He was throwing me a lot of sliders today," Chavez said. "I'm really not sure why, maybe they picked something up on video. I've hit the ball good the other way, so I tried to stay with that approach."
Chavez's crushing blow was delivered after Freddie Freeman provided the Braves a short-lived 3-1 lead with a two-out, two-run double in the top of the fifth inning. Pinch-hitter Jason Kubel drew a five-pitch walk with one out in the bottom of the fifth and then was fortunate Simmons was unable to get the baseball out of his glove after he made a diving stop of Gerardo Parra's sharp grounder.
Didi Gregorius cut Arizona's deficit to one run with an RBI single before Hudson righted himself with a strikeout of the always-dangerous Paul Goldschmidt, who ended the day with three doubles. But this simply set the stage for Chavez to hit a backdoor cutter to the left-center-field gap for a two-run double that gave the suspect D-backs bullpen a lead it would not squander.
Hudson surrendered four hits and four earned runs during the decisive fifth inning. He had allowed a total of four earned runs while compiling a 0.94 ERA in his previous five career starts in Arizona.
"I felt like I had [Chavez] right where I wanted him," Hudson said. "It might have been that we got to the backdoor cutter a little too much in that at-bat. Looking back on it, I could have wasted a pitch somewhere else and then gone back to it. But hindsight is always 20-20."
There are certainly many things the Braves would like to change about this 10-game road trip that began with three wins through the first four games and ended with five losses in the final six games. They opened a four-game set in San Francisco with a win and then began a three-game slide when Hudson surrendered a number of soft hits in Friday's 3 1/3-innings effort.
After opening this three-game series in Arizona with former D-back Justin Upton producing four hits in a 10-1 win, the Braves totaled three runs and lost the final two games. With four wins on this trip, they have combined to go 7-13 during the two 10-game road trips they have already completed this season.
"We're not down on the way we swung the bats," said Upton, who went 5-for-10 during his first series back in Arizona. "We just didn't put any runs across. A lot of the balls we squared up didn't fall for us."
The Braves were certainly fortunate in the third inning, when Ian Kennedy surrendered consecutive two-out infield singles before issuing consecutive four-pitch walks to Upton and Freeman.
After drawing the bases-loaded walk in the third inning, Freeman delivered again in the fifth inning with a two-run, opposite-field double off Kennedy, who allowed three runs and needed 100 pitches to complete five innings.
But that would be it on the offensive end for the Braves, who stranded 12 runners and went 1-for-11 with runners in scoring position. Their fifth inning could have been more productive had A.J. Pollock not been able to run down the long drive Simmons hit to the center-field warning track.
"When you play against good teams, there's going to be games that are tough to handle," Hudson said. "There's going to be games determined by one or two instances in a game. Today, it just happened to be one pitch to one guy."
Mark Bowman is a reporter for MLB.com. This story was not subject to the approval of Major League Baseball or its clubs.