Chavez leads clutch D-backs to series victory
Third baseman drives in three as club goes 5-for-8 with RISP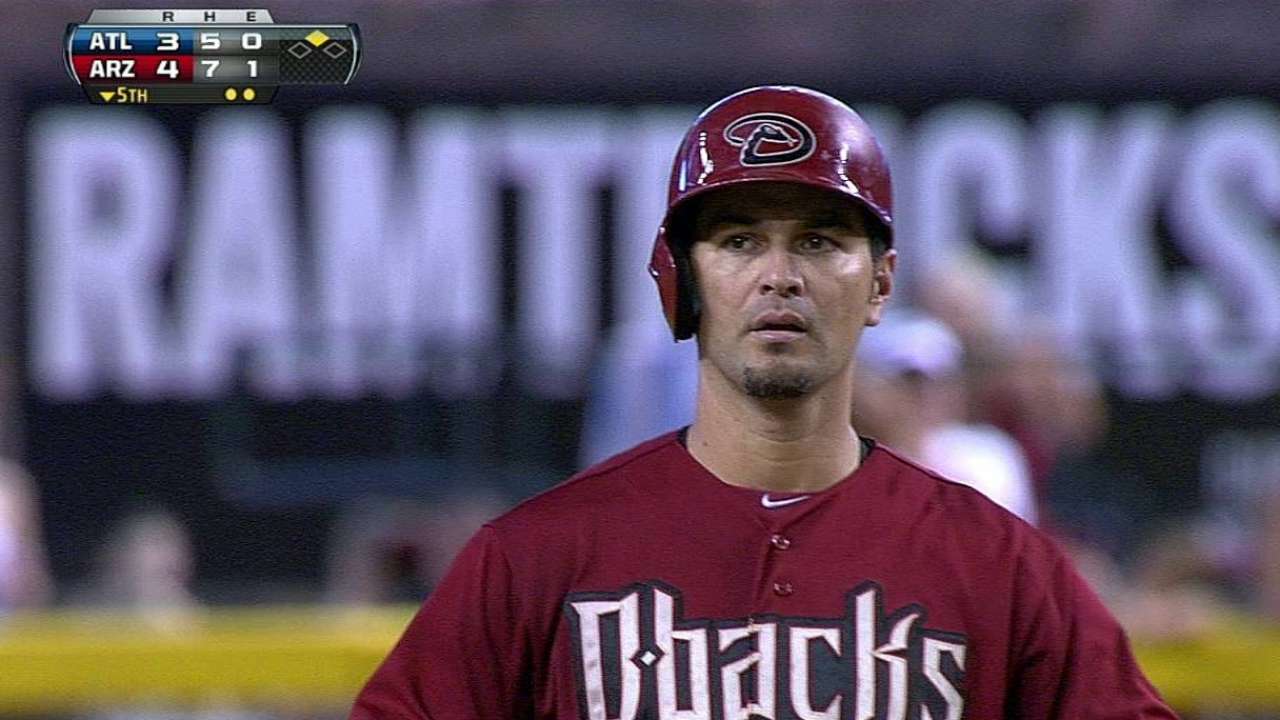 PHOENIX -- Entering Wednesday's series finale with the Braves, the D-backs were hitting an abysmal .079 (3-for-38) with runners in scoring position during their homestand.
Things got so bad that even after the club won on Tuesday night, D-backs manager Kirk Gibson called out his offense for its lack of production.
"That's unacceptable," Gibson said. "I love these guys, but they've got to be better than that."
Well, it didn't take long for Arizona to answer its manager's challenge.
Coming up with five hits with runners in scoring position, including three with two outs, the D-backs rallied to take down the Braves, 5-3, securing a series victory and finishing off their seven-game home swing at Chase Field with a 4-3 record.
"We were hoping it would get better, and today was much better," Gibson said. "I just saw better approaches."
Riding a 7-for-16 streak at the plate dating back to May 7, Eric Chavez stayed hot Wednesday, inflicting most of the damage while collecting a pair of hits, driving in three runs and scoring one. Once down to .192 in mid-April, Chavez's batting average now sits at .310.
"He had a great day for us," Gibson said. "I was a little surprised, actually. I thought they might pitch around him a bit, but they didn't, and he hit some balls that were over the plate."
Also driving in runs Wednesday were Didi Gregorius and Cody Ross, while Paul Goldschmidt tallied a trio of doubles, becoming the first National League player this season to record 10 homers and 10 doubles.
"Sometimes you get on a roll," Goldschmidt said. "Just tried to get a good pitch to hit, luckily I was able to hit a few mistakes."
Even with the much-improved output on Wednesday, the D-backs still rank last in the Majors in batting with RISP and two outs, but Chavez doesn't think it'll stay that way for very long.
"We haven't been hitting well, but the numbers change," he said. "We worry about winning ballgames. For some reason we weren't pushing a lot of runs across, but that'll change."
Facing Braves starter Tim Hudson, who came into the game with a 4-0 record and a 0.94 ERA at Chase Field, the odds appeared stacked against the D-backs from the get-go. But in scoring five runs for the first time since May 8, all off Hudson, the club finally took down the veteran on its home turf.
Chavez, who played with Hudson in Oakland from 1999-2004, said facing someone he knows so well didn't factor into the results, but it made them all the more sweet.
"I love Huddy like a brother, so it was good to do battle with him," Chavez said. "But, really, as a hitter, it comes down to approach, regardless whether if you know the guy."
Benefiting from the offense's resurgence was D-backs starter Ian Kennedy, who again struggled with his command at times. Lasting only five innings, the right-hander gave up three runs on five hits, striking out seven but walking three. Over his last seven outings, Kennedy has issued 21 free passes.
"He was being very careful, not trying to make mistakes," Gibson said. "This is a really good team we played, they have a potent lineup."
Still, even without his best stuff on the mound, Kennedy earned his first win since Opening Day.
"You'll take every single one of these wins," Kennedy said. "You want to throw deeper into the game, but you'll take every single one of these. Just happy the team picked me up today."
Making his final appearance back at Chase Field this year, at least during the regular season, Justin Upton went 1-for-3 on Wednesday, but with the loss, the Braves left town a half-game worse than the D-backs on the year.
On a sour note, Arizona's defense, which has been terrific throughout the year, turned in a sloppy performance Wednesday, committing a pair of errors. Martin Prado threw wildly to first on a bunt attempt for the first, then Gregorius fumbled a ball at second base trying to turn two. Chavez also dropped a line drive at third base, but it was ruled a hit.
"We made a couple foolish errors today, we're going to clean that up," Gibson said. "There is no reason to do that, you just have to take the outs."
Down by two in the fifth inning, the D-backs scored more runs in their half of the frame than they had in any of their previous seven games, putting up a four-spot on Hudson highlighted by an opposite-field, two-out, two-run double from Chavez.
"It is frustrating," Hudson said. "I felt like I made some decent pitches, especially the one to Chavez. It was a backdoor cutter. He just stayed with it and hit it the other way. It was just a good piece of hitting."
Once Kennedy exited the game, Matt Reynolds, Brad Ziegler, David Hernandez and Heath Bell combined to toss four shutout frames to secure the win. Bell's save was his fifth in six opportunities since J.J. Putz was injured.
Tyler Emerick is an associate reporter for MLB.com. This story was not subject to the approval of Major League Baseball or its clubs.