From start to finish, Dunn powers White Sox
Slugger homers early and late in rubber game; Viciedo adds solo shot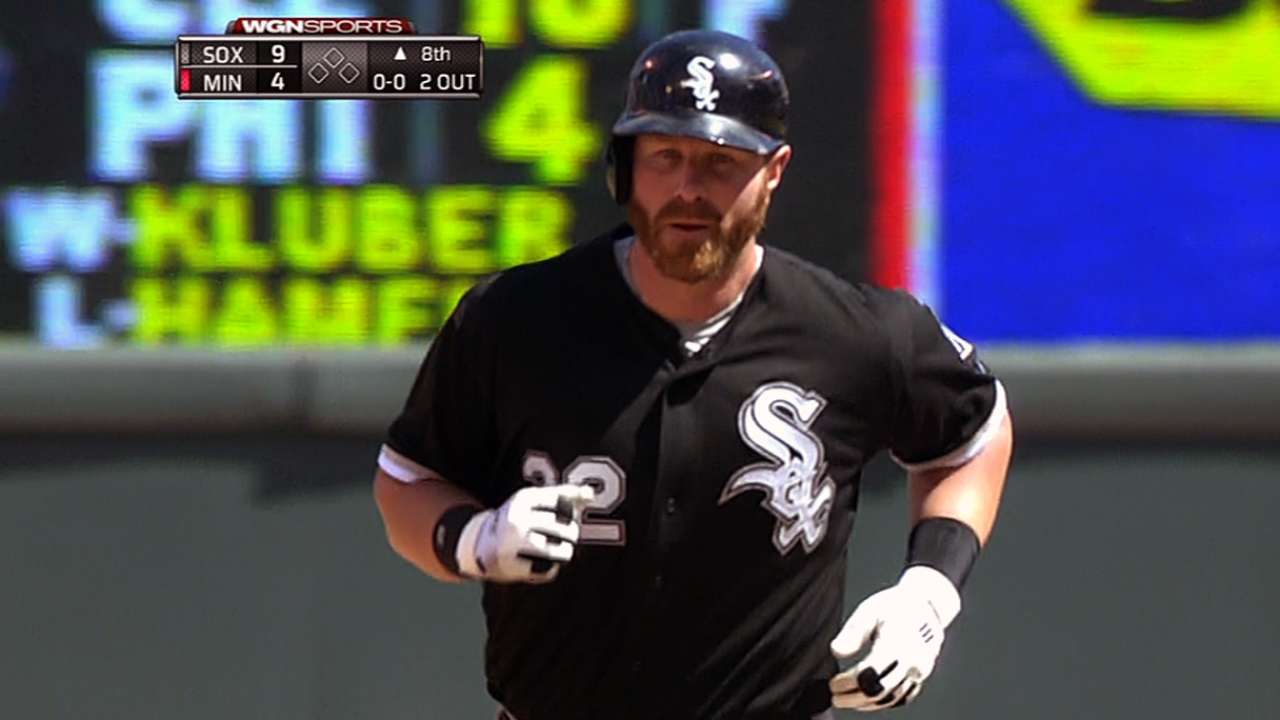 MINNEAPOLIS -- White Sox slugger Adam Dunn stood at his locker Wednesday afternoon after a 9-4 rubber-game victory over the Minnesota Twins with a controlled but obvious sense of relief on his face.
It was a fitting attitude for Dunn, who -- at least for the moment --has broken away from the hitting struggles that have hindered him early in the season.
One day after snapping an 0-for-14 streak with his seventh homer of the season, Dunn belted two more home runs and collected five RBIs to help the White Sox score more than seven runs for the first time this season.
Though he had been putting together better swings at the plate in the past week, Dunn didn't have much to show for it, with his batting average stalled out as low as .133. But the ill effects of his slump were nonexistent Wednesday.
"I have nothing to blame," Dunn said. "I feel great. My body feels great. Everything feels like it's supposed to. I just haven't been able to get the results.
"It was good to see that at least for a couple games now, that the little tweaks and changes I've made in my setup … we're getting some results out of them."
Dunn's first two-run homer of the afternoon sailed into center field and erased an early 2-0 deficit. It also set up the White Sox to score five unanswered runs. Dunn's fifth-inning RBI double, which came on the 10th pitch from Twins starter Mike Pelfrey, gave Chicago a 5-2 lead.
"I put the bullpen in a bad spot. To get a two-run lead and not be able to hold it stinks," Pelfrey said. "It's frustrating. I didn't pitch very well today. I'll just try to get better. But like my last outing, I wasn't as sharp as I'd like to be, so I'll have to figure something out."
Despite struggling with his control, White Sox starter Dylan Axelrod worked out of several jams to hold the Twins to three runs. Axelrod was pulled in the sixth inning with one out, two batters after an on-field delay in which his right leg started to cramp up. The 27-year-old wanted to finish out the inning, but manager Robin Ventura opted to call for reliever Matt Lindstrom with one runner left on base.
"It was a real tough game, leaving guys on base seemingly every inning," said Axelrod, who picked up his first win of the year. "I tried to limit the damage and make pitches when I had to. My command wasn't really there. I was just trying to battle through it. Our offense came alive today."
Lindstrom couldn't bail Axelrod out, allowing the Twins to draw within a lone run. However, left-hander Matt Thornton kept Minnesota from tying the game in what proved to be its last legitimate scoring opportunity.
Dunn put an exclamation mark on his afternoon by launching a fastball from Josh Roenicke, one of four relievers used by the Twins, into the stands in the eighth inning for another two-run homer.
The change in momentum for Dunn started to show Monday, when he was robbed of a home run by Twins center fielder Aaron Hicks. Since that point, his comfort level at the plate has continued to rise.
"Once it happens, you start having good at-bat after good at-bat," Ventura said. "All of a sudden, there is a better sense going to the plate thinking that something good is going to happen, instead of hoping for it to happen. There might be a slight adjustment that is there, but it's more mental -- a feeling going to the plate."
Dunn was far from the only positive for Chicago's offense. No. 3 hitter Alex Rios extended his hitting streak to 10 games by providing Chicago with three of its 14 hits. He scored three times.
Second baseman Jeff Keppinger put an end to a stretch of 16 at-bats without a hit, finishing 2-for-5. Keppinger's seventh-inning double brought in two runs to pad Chicago's lead to three.
Heading into a four-game series in Anaheim against the Angels, the White Sox have moved within four games of the .500 mark at 17-21.
Nate Sandell is a contributor to MLB.com. This story was not subject to the approval of Major League Baseball or its clubs.