Garland takes loss, wishes he could've gone deeper
Nearing 100 pitches, he exits after allowing three runs in five innings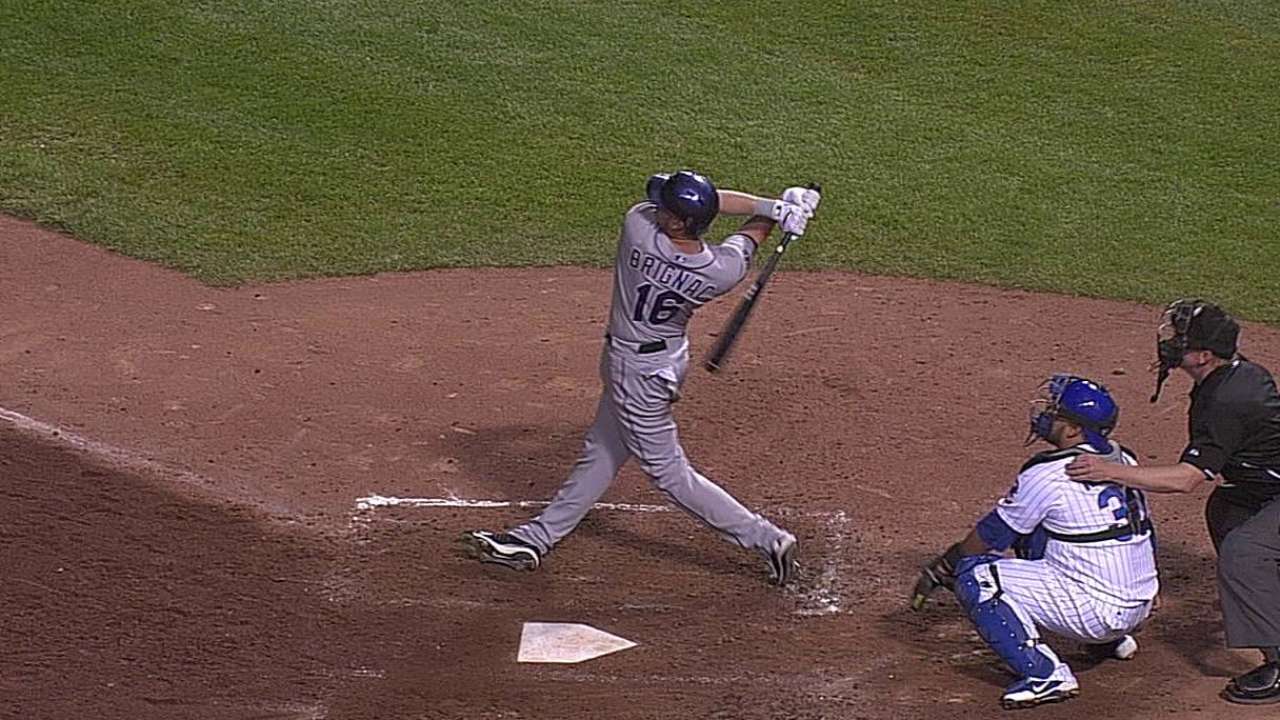 CHICAGO -- Rockies right-hander Jon Garland pitched five innings and watched four Wednesday night. That was way too much time as a spectator, as far as he was concerned.
Garland gave up three runs and two home runs, including a two-run shot to Cubs pitcher Jeff Samardzija, and took his fourth loss in five starts, 6-3, at Wrigley Field in front of 38,083.
"I don't want to come out of these games," said Garland (3-4). "It's not my choice. I'd like to keep going and see if I can continue to give the team a chance. I don't know.
"It almost seems like I'm hurting the team rather than helping the team when I'm going five."
Colorado dropped two of three in the series and went 2-4 on a road trip to St. Louis and Chicago. The Rockies will need to build their own momentum as they begin a stretch of 10 games against the two National League West teams ahead of them in the standings -- the Giants and the D-backs.
The stretch starts with four games at Coors Field against the Giants beginning Thursday night.
"It's always important when you're playing against the division and we need to get back to dominating at home -- the things that we talked about in spring," Rockies first baseman Todd Helton said.
Garland, who yielded the other homer to David DeJesus to open the bottom of the first, came out after five innings and 93 pitches, with a 3-1 deficit. The decision did have its benefits. Reid Brignac began the sixth with his first home run of the season, and first career pinch-hit homer. But Garland expressed frustration with the pitch counts, which Colorado watches closer than other clubs.
The Rockies were able to push across a third run, on Josh Rutledge's second RBI single of the game in the ninth. Rutledge went 3-for-4 and is 5-for-11 in his last three games. But reliever Josh Outman had given up three runs in the seventh. Garland clearly believed he could have held the game closer.
However, manager Walt Weiss has explained on several occasions that the Rockies have four pitchers -- Garland, Jhoulys Chacin, Jorge De La Rosa and Juan Nicasio -- who missed significant portions of last season because of injuries. Garland did not pitch in 2012 after undergoing right shoulder surgery in '11.
Also, Rockies statistics over their 21-season history suggest that pitchers are less effective the more times they go through the lineup, even more so at Coors Field, and the team has a difficult injury history. They're not going to go much over 100 pitches with anyone.
The pitch count is in its second season as a club issue. Last June, when the rotation was dealing with injuries and inexperience, the Rockies went to a four-man rotation with a plan to limit pitches to around 75 to avoid going through the order a third time. Then-manager Jim Tracy didn't like it, and after the season he would resign. The plan didn't work and was was scrapped late in the year, but the statistics that led to it helped shape the strategy Weiss is using.
Before Garland expressed his issues to the media, Weiss said, "The bottom line is I felt like he gave us a chance. It probably wasn't his 'A' game, but I thought he pitched well enough to keep us in good striking distance. He did a nice job."
Garland countered by saying the strategy leaves him with the mindset that he only has 80 pitches. After being held to 75 in his successful first start of the year, he has been kept between 81 and 99 pitches. He believes the limitation affects his strategy because he can't work around certain hitters to set up advantageous matchups.
Garland, signed late in Spring Training to provide veteran leadership, also discounted the injury concern.
"I'm almost two years out of surgery, the same with De La Rosa," said Garland, who said he has not taken up his position with management and doesn't expect the policy will change. "At some point you just have to say, 'Go.' That's my personal feeling about it, but I'm not the one in charge.
"I've got to go out there and try and get through innings with the least amount of pitches that I can, even if it goes against what I'm trying to do."
Samardzija (2-5) struck out seven and held the Rockies to two runs and four hits in eight innings, throwing 105 pitches.
"He used the whole four corners of the plate," Cubs manager Dale Sveum said. "He pitched up, he pitched in, he pitched away, used his slider, used his split, used a lot of cutters tonight. He used his whole repertoire tonight. He knew what he was doing tonight; he was pitching."
After the Cubs' Darwin Barney doubled with two out in the second, Samardzjia -- who shows up on scouting reports as a good hitter even though he is 9-for-80 career -- clubbed a first-pitch cut fastball into the bleachers.
""He's a good athlete, a pretty good player," Garland said. "It was a cutter out over the plate. It was the first pitch and I was trying to get it over the plate. He was looking offspeed and got it."
Thomas Harding is a reporter for MLB.com. Read his blog, Hardball in the Rockies, and follow him on Twitter @harding_at_mlb. This story was not subject to the approval of Major League Baseball or its clubs.