Samardzija homers, earns first win since Opening Day
Cubs righty whiffs seven Rockies over eight innings of two-run ball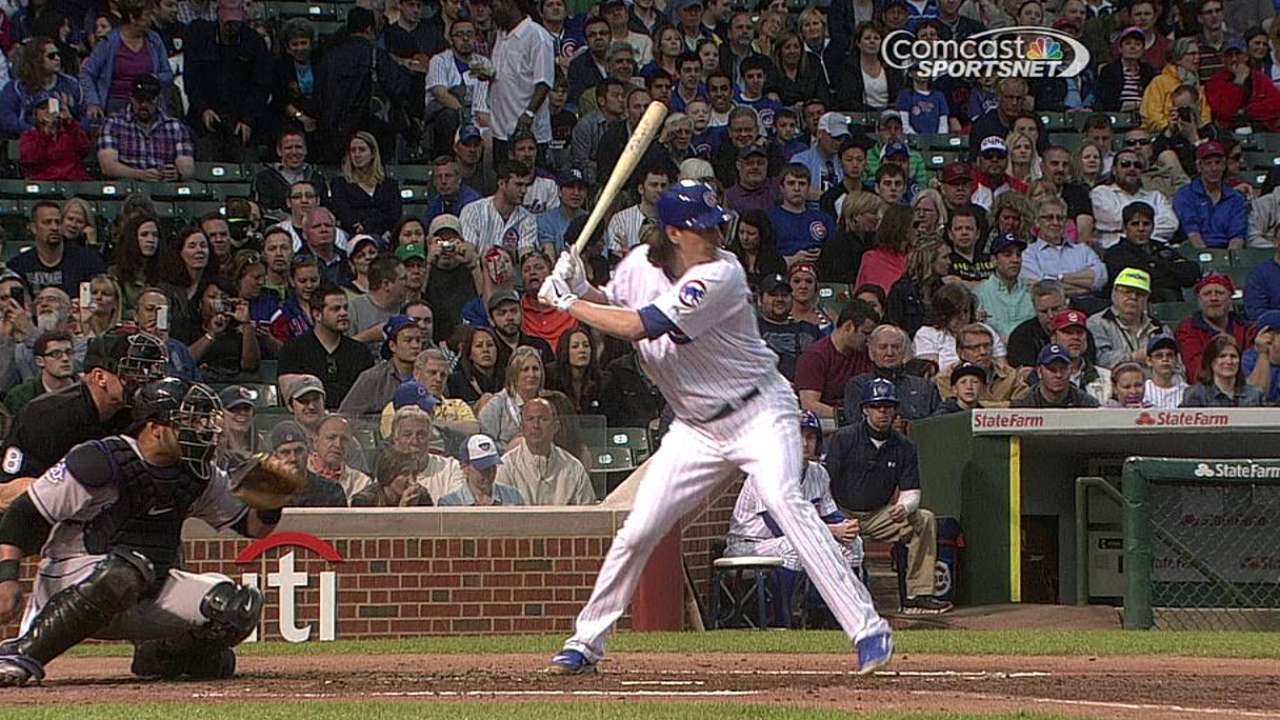 CHICAGO -- Jeff Samardzija hadn't won a game since Opening Day and he took matters into his own hands on Wednesday.
Samardzija smacked a two-run home run and struck out seven over eight innings to pick up his first win since April 1 and lead the Cubs to a 6-3 victory over the Rockies at Wrigley Field.
David DeJesus hit a leadoff homer in the first to help the Cubs take the series and back Samardzija, who raised his season strikeout total to 64, which ranks among the top five in the National League.
Samardzija needed a win. This is the right-hander's second full season as a starter, and he's still going through some growing pains.
"He's a velocity guy who can get carried away with trying to blow people away," Cubs manager Dale Sveum said. "He's learning the hard way and understanding, 'I still better locate my fastball.' He's going to give up the hanging split [sometimes] -- that's just the way that goes with a power split, you're not going to throw every one of them to the earth, you are going to hang them sometime.
"That game against Pittsburgh on Opening Day, he pitched inside incredibly, and we have to get back to pitching to both sides of the plate and not letting guys get comfortable."
He did just that against the Rockies, retiring 10 in a row at one point.
"He used the whole four corners of the plate," Sveum said. "He pitched up, he pitched in, he pitched away, used his slider, used his split, used a lot of cutters tonight. He used his whole repertoire tonight.
"He knew what he was doing tonight; he was pitching."
Samardzija got off to a good start, needing just nine pitches to get through the first. He got some more help from DeJesus, who opened the Chicago half with his fifth home run and 14th career leadoff homer.
The Rockies tied the game with one out in the second on Josh Rutledge's RBI single. Samardzija answered in the second. With two outs, Darwin Barney doubled and Samardzija launched the first pitch from Jon Garland into the left-field bleachers for his second career home run and a 3-1 lead.
"That was huge at that time," Sveum said. "For him to come through and pick us up like that was huge."
"He's a good athlete, a pretty good player," Garland said. "It was a cutter out over the plate. It was the first pitch and I was trying to get it over the plate. He was looking offspeed and got it."
Samardzija's other home run was Sept. 23, 2009, against the Brewers.
"I need to slow down around the bases and enjoy it a little bit," Samardzija said of his fast-paced trot. "It doesn't happen too often. We work a lot on hitting. [Pitching coach Chris] Bosio has us out there hitting every day in the cages. In the National League, it's an important at-bat. There in the [seventh], when I got that bunt down, those are important plays in the game and we ended up putting up a three-spot. You can't accept the out as a pitcher."
He also admitted to being a little lucky in the at-bat.
"As a pitcher, you're just trying to make good contact and not look too dumb out there," Samardzija said.
Pinch-hitter Reid Brignac made it 3-2 with a leadoff home run in the sixth, sending the first pitch he saw from Samardzija into the right-field bleachers.
Starlin Castro and Anthony Rizzo added RBI singles and another run scored on a fielder's choice by Alfonso Soriano in the seventh to open a 6-2 cushion.
The Cubs also made key defensive stops, including a Gold Glove-caliber play up the middle by second baseman Barney on Carlos Gonzalez's grounder and a perfectly executed 7-6-4 relay in the seventh to get Rutledge, who was trying to stretch his single.
"It doesn't hurt when [Alfonso Soriano] is making plays off the wall and Barney is making plays in the hole," Samardzija said. "Things like that give you momentum and give you confidence to pound the zone and use your stuff."
The Cubs are used to nailbiters this season. This is the 35th game out of 40 that has been decided by four runs or fewer. But it also is the first time they've won back-to-back series this season after taking two out of three against the Nationals.
"We're playing great baseball and not shooting ourselves in the foot and we're just looking to keep it going, keep the momentum going that we've built up in the last couple weeks," Samardzija said. "It's exciting now, it's exciting in the locker room and fun to play with these guys."
Carrie Muskat is a reporter for MLB.com. She writes a blog, Muskat Ramblings, and you can follow her on Twitter @CarrieMuskat. This story was not subject to the approval of Major League Baseball or its clubs.