Corbin improves to 6-0 as D-backs shut out Braves
Lefty deals seven innings on stellar streak, holds Upton hitless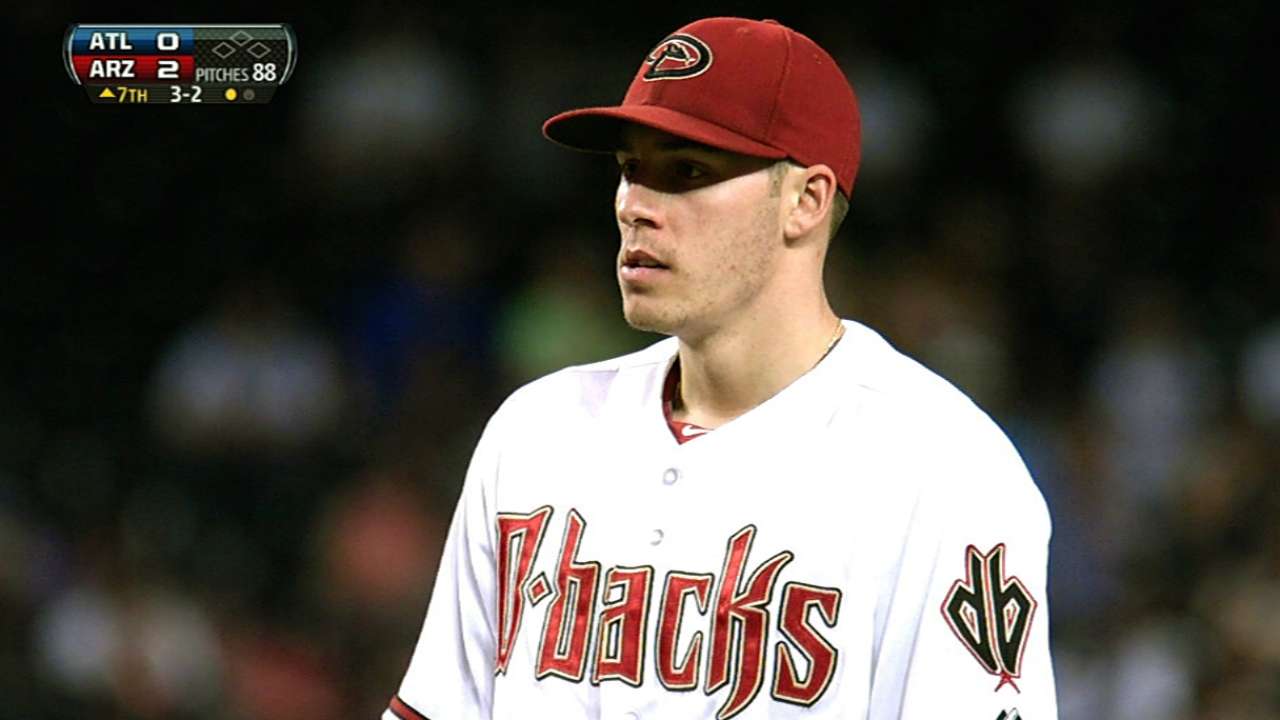 PHOENIX -- D-backs starter Patrick Corbin continued his outstanding start to the season with seven shutout innings in a 2-0 win over the Braves on Tuesday night.
It was an impressive enough performance to draw praise from not only the current cast of Braves, but one of their legends as well.
"This Corbin dude is pretty nasty!" the recently retired Chipper Jones tweeted toward the end the game.
"My buddy just texted me and said he retweeted it," Corbin said of Jones' message. "That's cool that he did that. That's awesome, as good of a player as he was."
Corbin (6-0) has been pretty good himself this year as he became the first D-backs pitcher to open a season with eight straight starts of at least six innings with two or less runs allowed in each.
There have only been two left-handers in D-backs history to open a season 6-0 or better, with Corbin joining surefire Hall of Famer Randy Johnson.
"I haven't looked at that at all," Corbin said. "Our job is to go out there and we don't want to lose. That's what I've been trying to do every time I go out."
Corbin did not have his usual pinpoint control as he walked five while striking out five. However, of the five walks, three were eventually erased on double plays and the Braves failed to get a runner to third base all game.
"That guy is tough," Braves catcher Gerald Laird said. "It seems he is effectively wild. Even on the video, it seemed like he is around the plate and then he pops you in there. He is pitching well right now. You've got to tip your cap. We had a couple good swings. We just didn't take advantage of opportunities. It seemed like he got more and more confident as the game went on."
The key was that when Corbin missed, he did so off the plate, as opposed to a spot where the Braves hitters could do some damage.
"He just battled," D-backs manager Kirk Gibson said. "He missed in the right spot and didn't get hurt."
One night after Braves outfielder Justin Upton put a hurting on his former team with a 4-for-5 night that included a double and a home run, Corbin was able to limit the damage.
Upton walked his first two times to the plate against Corbin and flied out to right in his third.
"What he did with Justin was keep it out of spots where it could hurt him," Gibson said.
According to Corbin, walking Upton was not part of the plan, though.
"We were just coming inside and trying to keep him off-balance," Corbin said. "He had a couple of walks there. I got him on his last at-bat. That's what you've got to do, keep him off-balance, as good of a hitter as he is."
The only two runs of the game came in a strange third inning.
After Cliff Pennington led off the frame with a single, Julio Teheran retired Corbin and got Gerardo Parra to hit a chopper towards first.
First baseman Freddie Freeman charged the ball and Teheran came off the mound to get it and each player thought the other was going to field it and pulled their gloves back at the last second. That allowed the ball to get by them both and when second baseman Dan Uggla slipped while trying to change directions to field the ball, it rolled into shallow right.
Pennington advanced to third and Parra was credited with the oddest double of his career.
"That's baseball," Parra said.
Didi Gregorius followed with a single to center that scored both runners.
The walks led to a high pitch count for Corbin and so he was gone after seven innings. Setup man David Hernandez struck out the first batter he faced in the eighth before allowing a bloop single to Andrelton Simmons.
Hernandez, though, got pinch-hitter Brian McCann to strike out and then threw Upton three straight curveballs, freezing him on the finale one for strike three.
"It was just dirty," closer Heath Bell said of that final pitch. "That's why he's a stud. He's got unbelievable stuff."
Bell, who blew a save Sunday, then closed things out in the ninth as he pitched around a rare error by first baseman Paul Goldschmidt.
Steve Gilbert is a reporter for MLB.com. Read his blog, Inside the D-backs, and follow him on Twitter @SteveGilbertMLB. This story was not subject to the approval of Major League Baseball or its clubs.