Teheran takes tough loss with no margin for error
Misplay on chopper proves costly in shutout vs. Corbin, D-backs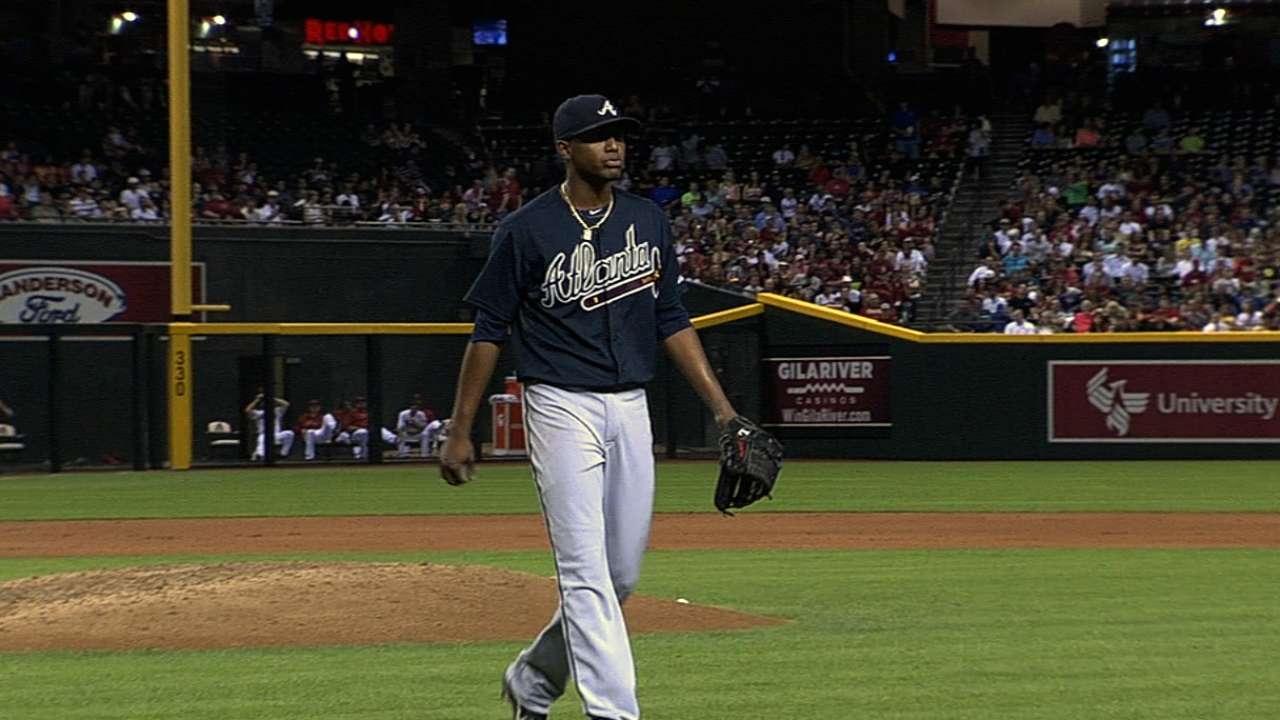 PHOENIX -- One day after matching a season-high 10 runs, the Braves encountered one of baseball's hottest young pitchers and were reintroduced to the offensive inconsistencies that have frustrated them through the early part of this season.
Patrick Corbin proved to be a little better than Julio Teheran as he completed seven scoreless innings and benefited from a soft double in a two-run third inning that proved decisive in the D-backs' 2-0 win over the Braves on Tuesday night at Chase Field.
"It's a shame that Teheran gets the loss on a night that he pitched pretty well," said Braves manager Fredi Gonzalez, who had seen his team win each of the previous six games started by the young right-hander this year.
Teheran continued to show his tremendous potential as he limited the D-backs to two runs and seven hits in six innings. But while facing Corbin, who allowed just three hits, Teheran had no margin for error or the misfortune that he experienced in the third inning.
Cliff Pennington opened the bottom of the third with a single and then raced to third base when Gerardo Parra's one-out grounder bounced between Teheran and Freddie Freeman before eluding Dan Uggla and stopping on the edge of the outfield grass. The play went into the books as one of the softest doubles ever recorded. More importantly, it set the stage for Didi Gregorius to follow with a two-run single that doomed the Braves, who have lost four of their past five games.
"[Teheran] just had that one inning where he got in a little trouble," Braves catcher Gerald Laird said. "He left a pitch out over the plate and the guy kind of fisted it out in the outfield. But other than that, I thought he threw the ball great."
Teheran might have actually been more efficient than Corbin, who pitched around Reed Johnson's first-inning double and five walks on the way to improving to 6-0 with a 1.52 ERA through his first eight starts. But the Braves hurler was not as fortunate as he fell victim to his team's sixth shutout loss and the consequences of the wacky third-inning grounder.
"I think I had my good stuff today," said Teheran, who has allowed three runs or fewer in each of his past four starts. "I had my good pitches. I was getting ahead on the counts. It was just one difficult play."
Freeman and Teheran both broke toward the speedy Parra's grounder before both gave way with the assumption the other was going to field it. The ball then got past Uggla, who slipped while attempting to redirect himself after nearing the first-base bag.
"I was going to spin and throw to second to try to get the forceout there," Freeman said. "I saw Julio come in and put his glove up. So we both pulled back at the exact same time."
If Freeman had been fortunate enough to retire Pennington at second base, the Braves might have escaped the third inning without allowing a run. But Freeman was among those who acknowledged he might not have had enough time to record that out.
"The only play for me was if Julio catches that ball and then beats Parra to the bag," Gonzalez said. "That's the only play he had. If we catch it, it's first and second and who knows what happens after. It's just a shame Julio pitched a pretty good ballgame and gets the loss on that play there."
Meanwhile, Corbin benefited from three double plays. The most unfortunate double play came after Johnson walked to begin the sixth inning and then got caught too far off the bag when first baseman Paul Goldschmidt caught Freeman's line drive.
"That guy is tough," Laird said of Corbin. "It seems he is effectively wild. Even on the video, it seemed like he is around the plate and then he pops you in there. He is pitching well right now. You've got to tip your cap."
The Braves, who have scored one run or fewer in three of their past four games, attempted to mount a threat when Andrelton Simmons snapped an 0-for-21 slump with an eighth-inning single off David Hernandez. But Hernandez responded with consecutive strikeouts against pinch-hitter Brian McCann and Justin Upton, who went hitless following the four-hit performance he had in Monday night's homecoming.
When Freeman reached on Goldschmidt's error to start the ninth, the Braves had a chance to take advantage of the D-backs' bullpen, which has endured a Major League-high 11 blown saves. But Heath Bell, who moved into the closer's role late last week, retired the next three batters he faced.
"It was a great plan of attack against [Corbin]," Gonzalez said. "We hit some balls hard. That's all you can do."
Mark Bowman is a reporter for MLB.com. This story was not subject to the approval of Major League Baseball or its clubs.