Ugly first inning too much for Giants to overcome
Two errors contribute to Blue Jays' six-run frame against Zito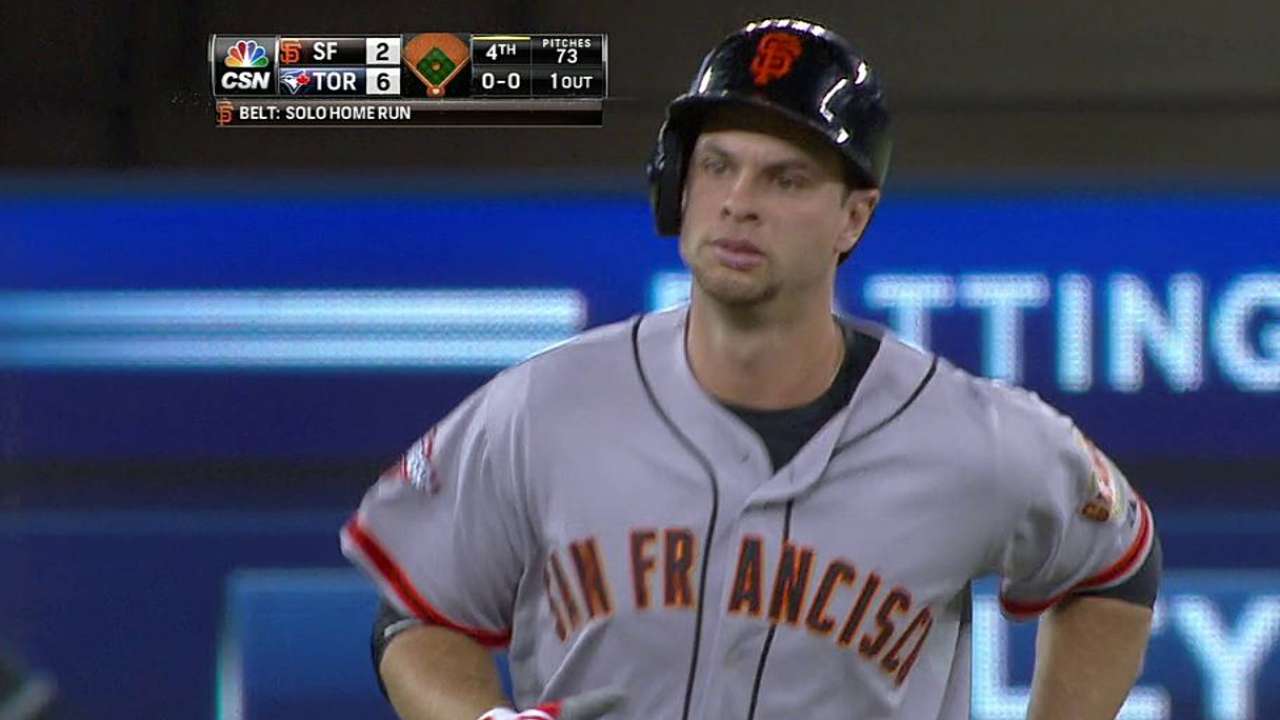 TORONTO -- The Giants entered Tuesday's contest against the Blue Jays on a three-game winning streak that was largely the result of some exceptional starting pitching. San Francisco's staff tossed quality starts in all three wins and surrendered just three runs over the 22 innings it logged.
Barry Zito, Tuesday's starter, allowed more than that in the first inning of a blowout loss to the Blue Jays in what was San Francisco's first matchup against an Interleague opponent this season.
Zito was tagged for six runs on six hits in the first inning, which was enough to guide the Blue Jays to an easy 10-6 victory over the Giants at Rogers Centre.
"In the first inning, I have to be able to pick up the guys," said Zito, who surrendered 12 hits on the night, the most by a Giants starter since Kevin Correia allowed 12 in a July 2008 outing against the Nationals. "Some of them just came out aggressive and hit them where they wanted to. A lot of balls through the infield today."
At least in the opening frame, Zito did not look like the same pitcher who entered the game having allowed just two earned runs over his last two outings, both of which resulted in Giants wins.
Toronto sent 11 men to the plate during the six-run inning, which got off to a bad start thanks to a throwing error by third baseman Pablo Sandoval that allowed former Giants outfielder Melky Cabrera to reach base. Cabrera, who recorded four of the Blue Jays' season-high 18 hits, advanced to second on the error and things continued to head in the wrong direction for Zito after that.
The six hits Zito surrendered in the first were all singles, and he thinks the AstroTurf in Toronto, which can increase the speed of balls in play, was a factor in that. He also walked one in an inning in which the Giants recorded two errors and exited trailing 6-0. Only three of the six runs Zito allowed were earned as a result of the suspect defense behind him.
The left-hander regrouped after the rough first, but left his team too big a hole to climb out of against reigning National League Cy Young Award winner R.A. Dickey.
Zito, who lasted 5 2/3 innings, left the contest with runners on the corners and was charged with two more runs after reliever George Kontos surrendered an RBI double to Edwin Encarnacion and an infield single to Adam Lind to put the Blue Jays in front 8-2.
While Zito's final line wasn't pretty, manager Bruce Bochy was impressed with the way he settled down and saved the bullpen from working overtime in the first game of a six-game road trip. Bochy had the bullpen active in the first inning but Zito showed his skipper enough to warrant staying in the game.
"Give Z credit. ... He did a great job of putting that inning behind him and pitching well," Bochy said. "He didn't cave in; he kept going."
The 35-year-old Zito fell to 3-2 on the season and has failed to pick up a win over his last four starts. Even more problematic is his drastic home and road splits so far this season.
Zito has been an entirely different pitcher this season depending on what mound he's throwing on. At AT&T Park, his home field, Zito has been dominant, posting a 3-0 record while allowing just two runs in 33 innings. On the road, however, he has been rocked to the tune of an 11.25 ERA over three starts and has suffered both his losses away from home.
Dickey, meanwhile, cruised in what was his sharpest outing as a member of the Blue Jays. The knuckeballer allowed an RBI single to Nick Noonan in the second and a solo homer to Brandon Belt, his fifth of the year, in the fourth inning, but otherwise had his way with the Giants' lineup.
Toronto's ace struck out a season-high 10 batters over six innings while throwing 74 of his 115 pitches for strikes.
Belt, who extended his hitting streak to five games, said Dickey tried to sneak a fastball by him, but he was aware that the knuckleballer will do that to hitters from time to time and was able to knock it over the wall in right.
After peppering hitters with the slow-moving knuckleball, Belt said Dickey's fastball looks a lot faster than the low-80s offering that it is.
"Yeah, it definitely does," said Belt, who also added an RBI double in the eighth inning. "The knuckleball is definitely pretty slow and when you are trying to watch it all the way into your bat, that fastball kind of sneaks up on you pretty quick and he hides it kind of well. So it's tough to pick up."
Dickey, who improved to 3-5, lowered his ERA to 4.83 and ended his start by striking out the final three batters he faced. The 38-year-old induced a season-high 15 swinging strikes and said he is starting to put a neck and back injury that he has been dealing with for most of the season behind him.
"[I] felt like I had a pretty good knuckleball today," Dickey said. "Anytime I can go six or more innings and give up two or three runs or less, it's a good outing."
Sandoval halved the deficit by slugging a three-run homer with two outs in the ninth off Blue Jays reliever Brad Lincoln.
Marco Scutaro's third-inning single extended his hitting streak to 13 games.
Chris Toman is a contributor to MLB.com. This story was not subject to the approval of Major League Baseball or its clubs.