Bullpen wilts after hobbled Felix stifles Yankees
Ace works six despite tweaking back; game slips away in seventh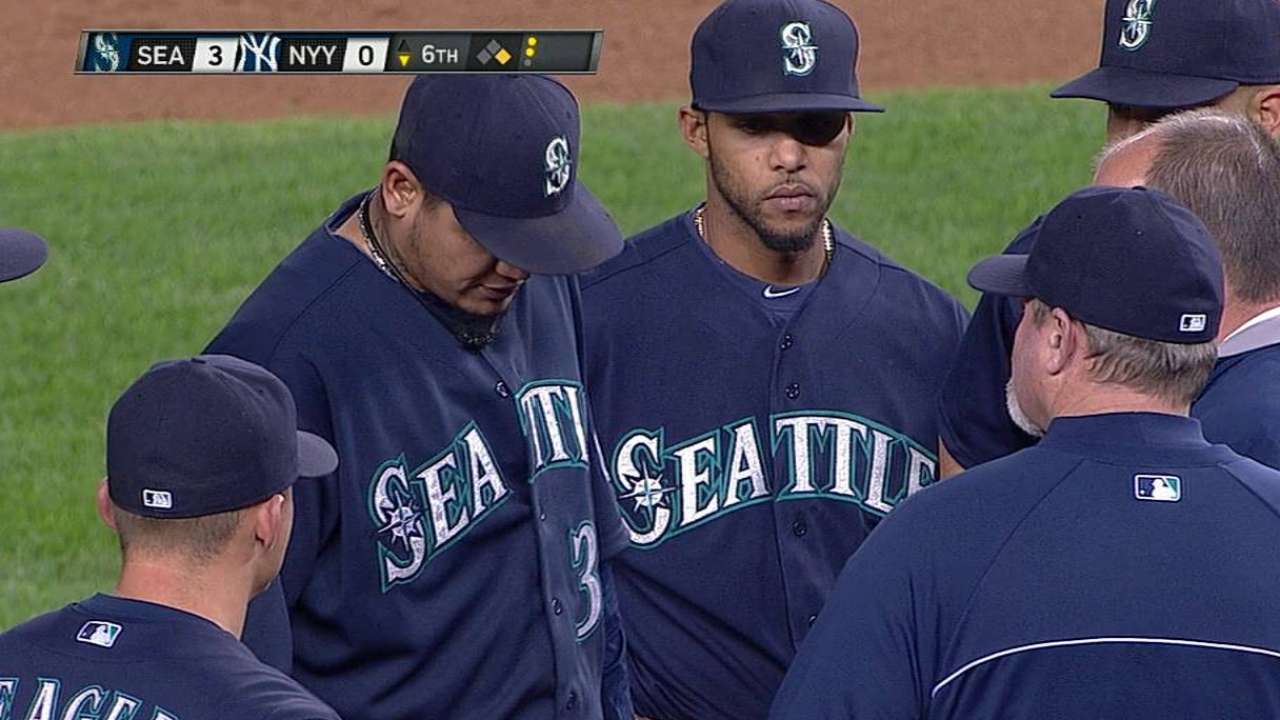 NEW YORK -- Former Yankees outfielder Raul Ibanez hit a two-run home run and longtime Yankees killer Felix Hernandez threw another gem in spite of an injury scare, but the Mariners couldn't take advantage as they dropped a 4-3 decision to New York on Tuesday in the opening game of a three-game series in the Bronx.
Mariners manager Eric Wedge followed his gut by starting Ibanez against standout southpaw CC Sabathia, and the veteran slugger drove an 0-1 fastball into the short porch in right field in the sixth inning to momentarily give Hernandez a three-run cushion.
But Hernandez wound up with a no-decision on a night when he got clipped in the back of the right leg in a fourth-inning collision at first with the Yankees' Lyle Overbay. Hernandez also had to be visited by the trainers after wincing upon fielding a ground ball and throwing to second in the sixth.
Wedge said he wanted to see Hernandez, who finished with 97 pitches, start the seventh, but the manager needed to be cautious because Hernandez's back felt tight after the sixth, when he gave up his only run.
"If he starts compromising things, then you change your delivery and you have a chance of doing something that's even more serious," Wedge said. "I wasn't going to take that chance."
Hernandez said he doesn't think his back will cause him any problems going forward, but he understood Wedge's decision.
"After I made that play, I turned around real quick and all my weight went from the right side to the left side," Hernandez said. "I felt a pinch in there -- nothing bad. Nothing serious. I'll be ready for the next one."
Hernandez said the collision and its accompanying "obstruction" call didn't affect his back. Nor did it stop the Mariners' ace from outpitching Sabathia in a duel of former American League Cy Young Award winners, though neither starter wound up factoring in the final outcome after the Yankees rallied against Seattle's bullpen once Hernandez was replaced in the seventh.
"We were kind of battling," said Overbay. "[Hernandez's] changeup is so late-breaking and it looks like his fastball. He doesn't make too many mistakes. I think we fouled [some] off and had a couple of good at-bats to get him deep into the pitch count. Some days, it's like, 'Let's see if we can get to the bullpen.'"
Hernandez remains 5-2, and his ERA stands at 1.53 after he allowed five hits and one run while walking two and striking out eight.
Sabathia, who is 4-3 with 3.19 ERA, gave up 10 hits and three runs (two earned) in 6 1/3 innings while walking two and striking out 10 on 112 pitches.
Hernandez was called for an error on the obstruction play, which occurred after Overbay had been thrown out on a grounder to second baseman Robert Andino.
When Andino double-pumped to second and then threw to first on the play, both Hernandez and first baseman Kendrys Morales arrived at the bag. Andino threw to Morales, with Hernandez jumping backward as Overbay clipped the right-hander in the back of the right leg with his knee.
"I don't know if he was going to catch the ball," Hernandez said. "Morales was in front of me. It's part of the game. The adrenaline … you've got to go out there, and I was in the middle."
Overbay was initially ruled out but was then awarded first on the obstruction.
"On the type of play like this, which was a ground ball, it doesn't matter if the runner is 89 feet away when he gets obstructed or if he's one inch away," third-base umpire Hunter Wendelstedt said. "If he is obstructed before first base, the ball is dead and he is awarded first base."
From there, Hernandez dug in and struck out the next two batters to escape that jam, just as he'd done several times already to get out of trouble.
Kyle Seager's RBI double in the third staked Hernandez to an early lead, and the Mariners provided him a little more breathing room when Ibanez rewarded his manager's faith.
Though Ibanez hasn't hit left-handers well in the last few years, he has good career numbers against Sabathia as well as good success at Yankee Stadium. So Wedge gave Ibanez the nod and the hunch paid dividends, as Ibanez's fourth home run of the season highlighted his 2-for-4 night.
"He's a great pitcher, and he bears down when he needs to," Ibanez said of Sabathia. "He's definitely not going to give you anything. He's a fierce competitor, and we were able to score three runs there, but they battled back."
The Yankees turned the tide once Hernandez departed, scoring three times in the seventh off Yoervis Medina and Charlie Furbush to take a 4-3 lead.
The Mariners threatened in the eighth with runners on first and second and one out. Pinch-hitter Justin Smoak then lined a shot up the middle, but the Yankees were perfectly positioned with shortstop Jayson Nix standing right behind the bag. Nix caught the liner and stepped on second to double off Dustin Ackley, who had walked to lead off the inning as a pinch-hitter.
"I felt like I put a pretty good swing on it, but it wasn't good enough," Smoak said. "You hit a ball hard somewhere and a guy is right there. It's baseball. We'll strap it back on tomorrow and go again."
Michael Morse went 3-for-5 with a double for the Mariners, who racked up 10 hits but stranded 11 on a night they went 2-for-11 with runners in scoring position.
"It was a tough loss for us," said Hernandez. "What are you going to do? It's baseball. We just have to go out there tomorrow and fight again."
Greg Johns is a reporter for MLB.com. Follow him on Twitter @GregJohnsMLB as well as his Mariners Musings blog. This story was not subject to the approval of Major League Baseball or its clubs.