Early wildness hurts Nolasco, Marlins
Righty walks two, hits batter in five-run second; Miami unable to rally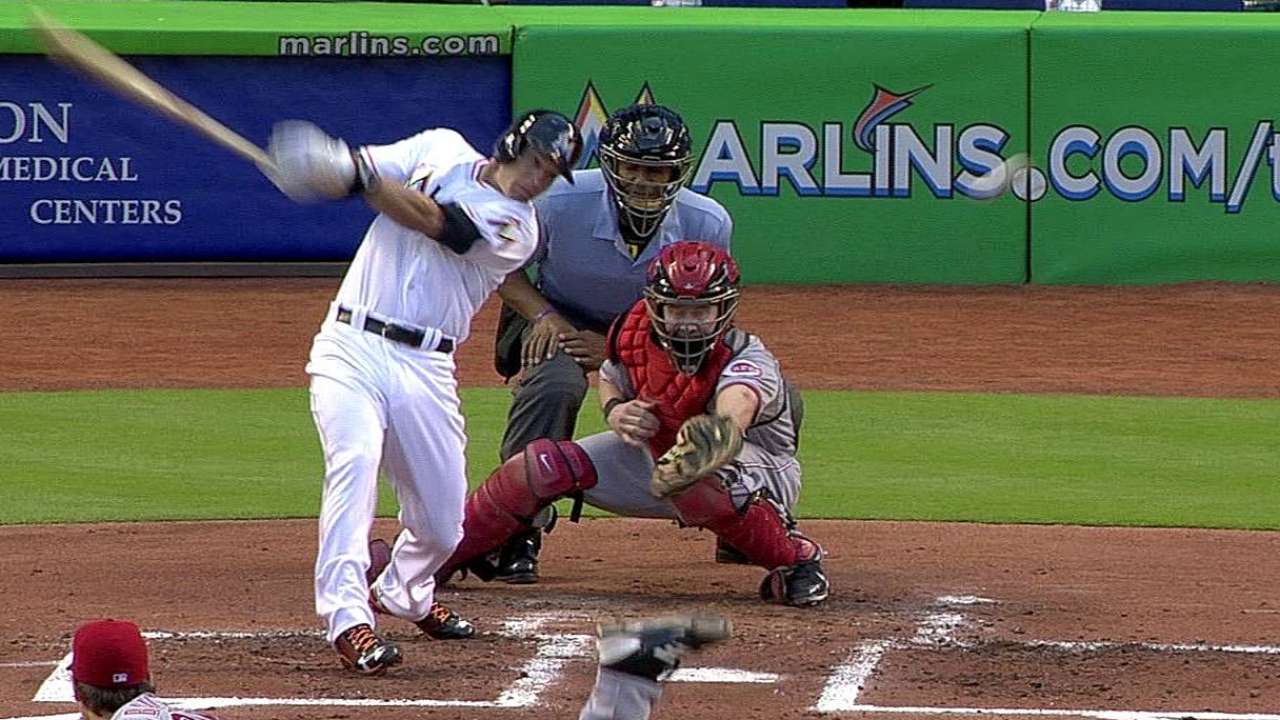 MIAMI -- Marlins right-hander Ricky Nolasco couldn't remember ever walking consecutive batters with the bases loaded.
But the eight-year veteran did just that in a decisive second inning when he surrendered five two-out runs in a 6-2 loss to the Reds on Tuesday night in front of 14,694 at Marlins Park.
Knotted at 1, Ryan Hanigan singled and advanced to second on Homer Bailey's sacrifice bunt. Nolasco (2-5) hit Shin-Soo Choo with a pitch and Zack Cozart singled sharply to load the bases. Both Joey Votto and Brandon Phillips worked walks -- the only free passes Nolasco would issue over five innings -- scoring a run apiece.
Xavier Paul cleared the bases with a double.
"One out away, frustrating," said Nolasco, who gave up a season-high six runs on 92 pitches. "Been doing a good job of staying away from the one big crooked inning all year. It got me today. Votto gave me a real good at-bat, laid off some good pitches. [I started] pulling the front side with Phillips and the next guy there puts the ball in a good spot there in left with that wind just carrying it that way.
"Game sped up. I didn't do a good job of slowing the game down. Just couldn't find my mechanics pretty much the whole beginning of the game and was rushing with the front side and couldn't get those strikes to Phillips."
Entering Tuesday night's game, the 30-year-old had walked just 11 batters over 48 1/3 frames.
Nolasco, who dropped his third straight decision, tied a season low with just five innings, but retired the final nine batters he faced.
Three Miami relievers -- Wade LeBlanc, Jon Rauch and A.J. Ramos -- combined to toss four scoreless innings.
"He helped us," Reds manager Dusty Baker said. "Ricky Nolasco usually has great control, and he was off some in that inning. He walked in a couple of runs, which I've never seen him do, and then came that big double by [Paul]. I would have liked to score some more, but their bullpen held us down. We'll take a five-run inning any time we could get."
Cincinnati jumped out to a 1-0 lead in the first when Nolasco allowed three straight one-out hits.
Cozart doubled to left and Votto singled to center to put runners on the corners. On a 3-2 pitch, Phillips produced an RBI single past a diving Placido Polanco at third.
Miami evened it in the bottom half against Bailey (2-3) with a one-out RBI single by Derek Dietrich, who made his Marlins Park debut in the third spot of the lineup.
Juan Pierre led off with a double and moved to third on Polanco's groundout to first. With the infield drawn in, Dietrich lined a shot to left, bringing home Pierre.
An inning after wasting a scoring opportunity with runners at the corners and one out, the Marlins trimmed the deficit to 6-2 in the seventh.
Rob Brantly's sac fly drove in Adeiny Hechavarria, who tripled to center with one out. Hechavarria's headfirst slide into home beat Hanigan's tag on a throw from right fielder Donald Lutz.
Bailey, however, collected his first complete game of the season, striking out 10 batters and scattering six hits. Miami's fourth, fifth and sixth hitters combined to go 0-for-12 against him.
"Homer Bailey pitched a great game," said Dietrich, who posted his second consecutive multi-hit game. "I feel like he got stronger as the game went on. He battled well. We put some good at-bats together against him, but they just didn't fall in our favor.
"Later in the game, he was throwing his offspeed pitches where he wanted to and just kept the hitters off balance."
The Marlins' offense struggled in the opening matchup of a nine-game homestand, the same way it ended a season-long road trip. Over six games in San Diego and Los Angeles, it manufactured just 10 runs.
Entering Tuesday's game, Nolasco had received just 15 runs of support this season, which was tied for the third-lowest total among pitchers with at least eight starts.
Miami has scored a Major League-low 110 runs through 39 games, 13 fewer than the next team, the White Sox.
"It all kind of stems from our offense," Marlins manager Mike Redmond said. "We're going out there and [Nolasco] knows he can't give up much. He's trying to be perfect and trying to make too good of pitches and ends up walking a couple guys.
"Obviously you just look at the numbers and you go, 'Hey, I've got to be pretty good as a starting pitcher to win a ballgame.' You can tell those guys, 'Don't worry about that stuff, go out and pitch your game,' but at the same time too, they want to see some results in that win column. We've got to keep fighting offensively and get the most out of our at-bats and score some more runs."
Christina De Nicola is a contributor to MLB.com. This story was not subject to the approval of Major League Baseball or its clubs.