MLB.com Columnist
Matt Yallof
Story of Hamilton, Angels turning into a bad movie
Club has no shot at postseason unless its star begins to play like one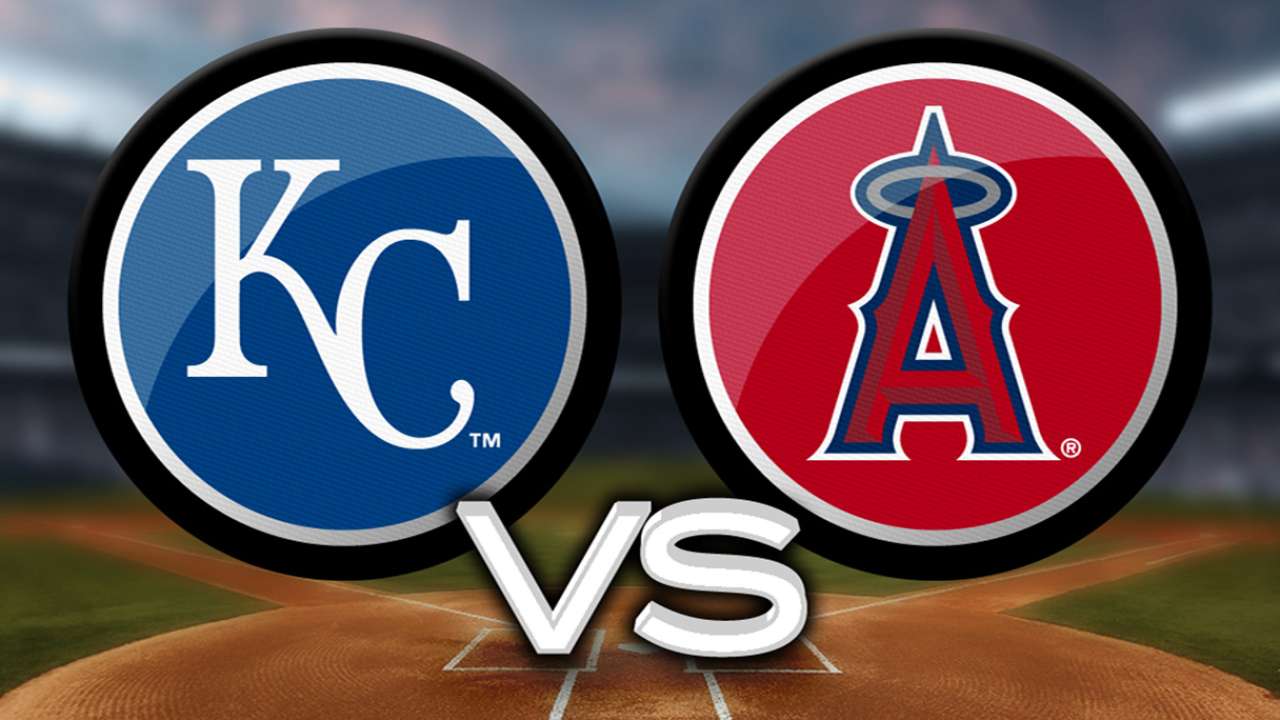 Hollywood. It's the land of make believe. The place where nothing is what it appears to be. The best performers in the world make millions of dollars faking it, using skill along with smoke and mirrors to make their audience believe the impossible is reality. Unfortunately, for the millions of baseball fans in Southern California, there are no special effects fancy enough to make them buy into the Angels as World Series contenders. Not now. Perhaps a script doctor will swoop in before it gets too late. The clock is ticking.
After a six-game road trip, fans in Anaheim on Monday got to see their team up close and personal. At some point, this $138 million roster complete with incredible individual talent has to perform up to snuff, right?
Not Monday. It didn't happen.
Instead we were reminded that this club, with World Series aspirations, performs like one of the worst teams in baseball. In movie terms, this club has all the makings of "Ishtar," the 1987 comedy that featured Dustin Hoffman and Warren Beatty. It flopped. More accurately, it redefined the word "flop." The budget was roughly $55 million. It grossed about $14 million, and decades later the mere mention of the film brings more laughs than the movie itself.
You get it.
While mid-May is way too early to classify the Angels as failures, a few things became perfectly clear Monday.
This club will not make any kind of run at the playoffs unless Josh Hamilton gets his head out of the clouds. The Halos' new $125 million man not only appears lost at the plate much of the time, but worse, he also looks on television to be disinterested in playing a game for ungodly amounts of money.
For whatever reason, this failure to perform up to his abilities just raises the level of intrigue surrounding a leading man who possesses as much talent as any athlete to ever play the game. He's still such a curiosity that there's an actual movie in the works about his life. His journey is a roller-coaster ride filled with drama, sadness, fame and fortune.
And confusion. On the part of the fans.
We giggled last season after hearing his claims that his blue eyes affected his ability to hit in day games. We rolled our own eyes when he said that kicking his caffeine habit required a few days off. And by the time his marriage with the Rangers went south, many fans had tuned Hamilton out and didn't want to hear his side of the story. His once charming quirkiness has become a background noise.
As a supporter of Hamilton's for quite some time, what we saw Monday night turned me off like never before. Hamilton sauntered after a catchable fly ball with the same energy as a retiree going to the mailbox after lunch.
He missed it.
Then he left the game after six innings.
Plot twist: Around the same time and just a few miles away in Los Angeles, Nationals star Bryce Harper left the game because he ran into a wall chasing a fly ball. He needed 11 stitches to close a gash on his neck. Tuesday, Harper vowed to never change his style of play. Refreshing.
Back to Anaheim.
The Angels were crushed by the Royals. And after the game, Hamilton claimed he was sick and his "equilibrium wasn't quite where it needed to be." (I wonder where Bryce Harper's equilibrium was when he walked off the field with blood dripping down his neck.) Anyway, maybe Hamilton was sick. But whatever happened to saying, "I was horrible and the fans and my teammates deserve better."
But instead, according to a report in the L.A. Times, the right fielder suggested the climate change from Chicago -- where the Angels played on Sunday -- to Anaheim may have worsened his condition.
This all sounds like lines from a bad movie script. But it really happened.
But wait, there's more. Manager Mike Scioscia defended his star player by telling reporters that Hamilton left the game because he was lightheaded. Hamilton couldn't resist correcting the skipper.
"I wasn't lightheaded, I was just sick," Hamilton said.
So let me get this straight. In addition to alienating many fans in his new city with lackluster play, he's playing word games with one of the most respected managers in the game after the manager tried to give him an out?
Enough. Make it stop. Please.
If this was a real movie, you'd walk out of the theater or just change the channel.
Matt Yallof is the co-host of The Rundown on MLB Network from 2-4 p.m. ET. Follow him on twitter @mattyallofmlb. This story was not subject to the approval of Major League Baseball or its clubs.