Denorfia, Cabrera stun O's with comeback in ninth
Cashner gives up one earned run in 7 1/3 frames; Street converts save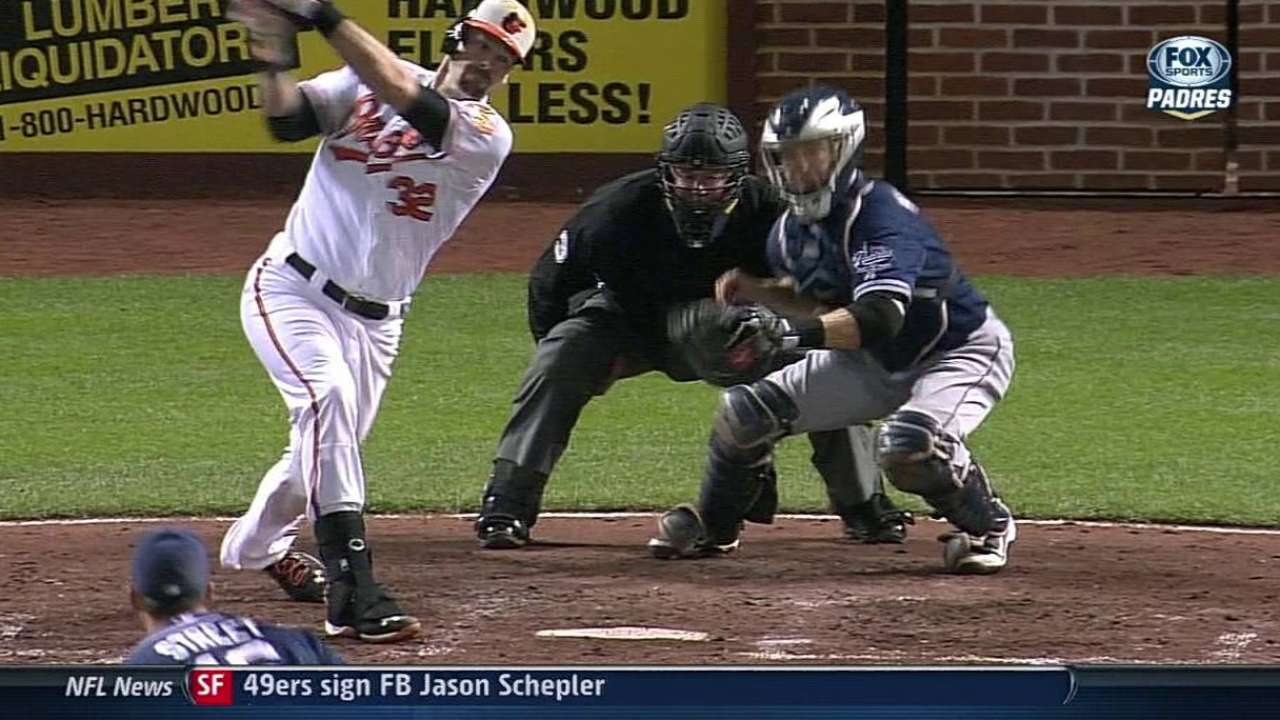 BALTIMORE -- It's not like Huston Street has never blown a save before. It's not like he won't do it again.
But there was something particularly disconcerting about the one he let get away during a miserable, ninth-inning sequence against the Rays on Saturday, which he considered among the most unsettling of his 40 blown saves over a nine-year big league career.
"The one in Tampa the other day, that frustrated me about as much as any blown save in my life. I took a lot of responsibility for not making those pitches," Street said. "Tonight was one I wanted. That's what this game is about...bouncing back."
Faced with nearly an identical circumstance that he encountered just three days ago, Street pitched his way out of trouble as the Padres stunned the Orioles with two runs in the top of the ninth inning before holding on for a 3-2 victory before a crowd of 19,096 at Camden Yards.
"We deserved it," said Padres first baseman Yonder Alonso.
Not only did the Padres touch Orioles closer Jim Johnson -- who had the club record with 35 consecutive saves -- for two runs on four hits in the ninth inning, but the Friars won for the first time this season in 19 tries when trailing after eight innings.
"You don't want Jim Johnson in the game," said catcher Nick Hundley. "You don't get big league hitters out 35 times in a row by accident. It happened fast, too. You look up and we've got two runs. ... We were able to put the barrel on the ball a few times in that inning."
Alonso and Mark Kotsay began the ninth inning with consecutive singles off Johnson (1-3). Jedd Gyorko then scorched a ball to shortstop J.J. Hardy, who started a 6-4-3 double play to take some steam out of the Padres' comeback.
But not all of it.
With Alonso at third base, Chris Denorfia lined a fastball into center field to tie the game. Johnson then hit Hundley with a pitch. Everth Cabrera followed with a single of his own, this one allowing the Padres to take the lead.
"It's about execution," said Johnson. "At this level the talent is too good. You have to execute, and tonight I didn't and wasted a good effort from a lot of guys on this team."
Then it was hang-on time for the Padres (17-21), as Street got two quick outs before walking Chris Davis. The situation was eerily similar to Saturday's 8-7 loss to the Rays, when Street walked Ben Zobrist with one out only to allow a walkoff, two-run home run to Evan Longoria.
With the count 1-2, Matt Wieters fouled off the next two pitches. Street missed with a changeup, but then came back with a fastball down in the zone that Wieters swung through, ending the game.
"To see him bounce back like he did was great," Padres manager Bud Black said of Street. "That's the sign of an experienced closer."
And one, Hundley said, who has an uncanny knack for not getting too rattled when things go awry. Remember, Hundley has worked with some good closers, first Trevor Hoffman and then Heath Bell.
"His perspective on the game is unmatched in terms of his toughness," Hundley said. "He's as focused as anyone I've been around when it's his time to work. [Failure] doesn't seem to wear on him. I think that's something we can all learn from."
San Diego pitcher Andrew Cashner didn't factor in the decision, but he was a big reason why the Padres had a chance at the end.
"I felt my change was really good tonight," Cashner said.
Cashner, coming off a start last week against Miami in which he tossed 7 1/3 scoreless innings, got plenty of mileage out of his mid-90's fastball, changeup and slider on Tuesday. He worked quickly, and got a lot of balls in play early in the count. All told, he allowed one earned run on five hits in 7 1/3 innings.
"A good change and as the game went on, he threw some good elevated fastballs," Black said. "But the change has great action. It's a good pitch."
The Orioles (23-16) took a 2-1 lead in the eighth inning when one of the few changeups that got away from Cashner was hit softly into left field by Steve Pearce, allowing pinch-runner Alexi Casilla to score. Casilla had stolen second and advanced to third on an errant throw from Hundley, so his run was unearned.
The Padres, who played well at times despite being swept by the Rays over the weekend, didn't have a whole lot of offense to show for the first eight innings, as Orioles pitcher Chris Tillman shook off a rusty start and settled in nicely. Carlos Quentin hit a home run in the second inning, but that was about it.
"Those [wins] are great on the road," Black said. "This was a great accomplishment for us."
Corey Brock is a reporter for MLB.com. Keep track of @FollowThePadres on Twitter. This story was not subject to the approval of Major League Baseball or its clubs.