Johnson snaps save streak at 35 as O's fall
Tillman allowed just one run, fanned seven in seven strong frames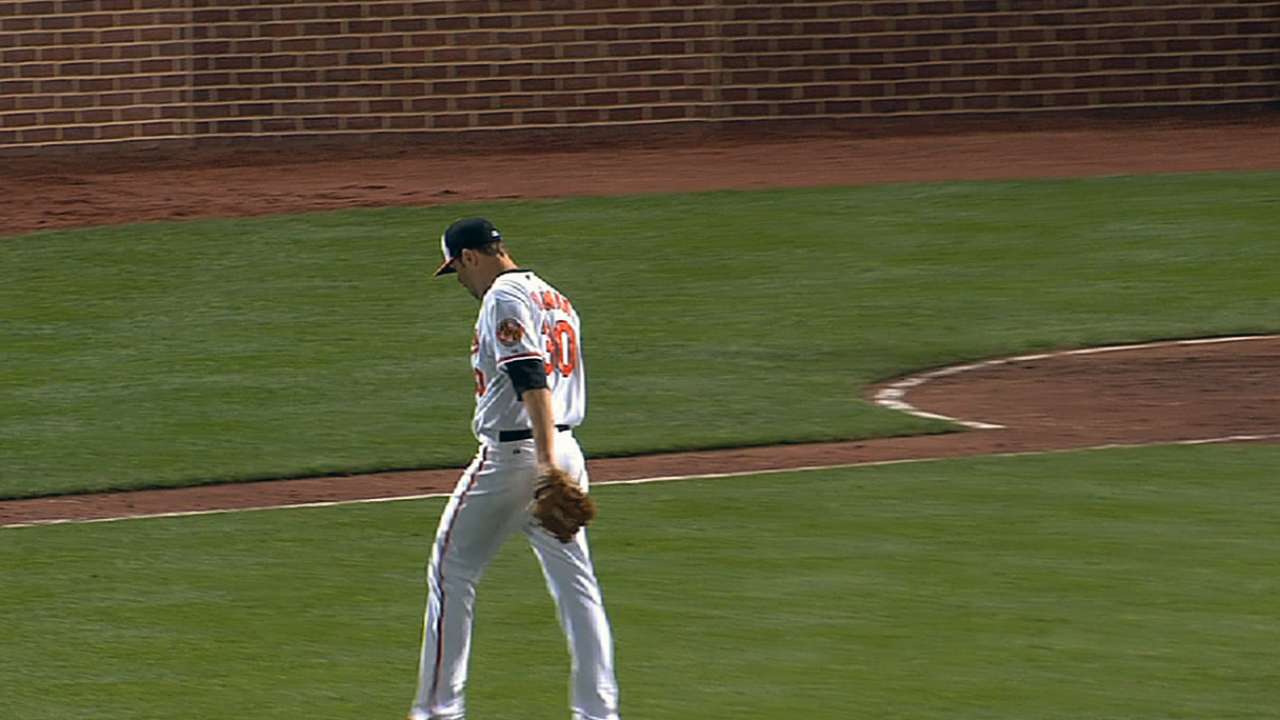 BALTIMORE -- Shortly after blowing his first regular season save opportunity in 36 attempts, there was Orioles All-Star closer Jim Johnson on the stationary bike, getting his work in and already looking ahead.
Yes, Johnson was responsible for the two runs that led to San Diego's 3-2 ninth-inning comeback win. But in assessing the sentiment following the Orioles' series-opening loss Tuesday night, it was more a mixture of awe and admiration for No. 43, one of the biggest reasons for Baltimore's recent success.
"Jimmy is remarkable," said Orioles manager Buck Showalter, who last watched Johnson fail to convert a regular season save on July 27, 2012. "He's got a strong mentality, and we're real lucky to have him. It's an honor to watch him pitch, and I look forward to hopefully getting a chance to watch him tomorrow."
"It was the first time I'd ever seen it happen," Orioles second baseman Ryan Flaherty said of Johnson's blown save. "That [streak] was incredible. He comes in the game and it's 1-2-3, and the game's over and everyone goes home. So, you get accustomed to that."
"It's fun to go out there and watch Jim pitch every night," said starter Chris Tillman, who battled to go seven strong innings in the no-decision effort. "He is great at what he does, and it is what it is. I think everybody knows how good he is, and that's why everyone is saying it's unusual, because of that, because he is so good."
Johnson, who allowed four hits and hit a batter in the loss, said the only bright side was he made the Padres "work for it."
The right-hander allowed a pair of hits to start the ninth, and a double-play helped the O's cling to a one-run lead. But Chris Denorfia lined a sharp grounder into center field to tie it up, and Everth Cabrera followed with the decisive RBI after Johnson hit Nick Hundley.
"It was location," Johnson said of the issues in the 13-pitch inning. "As soon as I got off the field, I looked and pitches were in different spots than they're normally at. It's about execution. At this level, the talent is too good. You have to execute and tonight I didn't and wasted a good effort from a lot of guys on this team."
Johnson entered after Brian Matusz and Darren O'Day combined on a scoreless inning, and the O's closer -- who led baseball with 51 saves last season -- has been the anchor of an imposing Orioles bullpen.
"You don't want Jim Johnson in the game," said Hundley. "You don't get big league hitters out 35 times in a row by accident. It happened fast, too. You look up and we've got two runs. ... We were able to put the barrel on the ball a few times in that inning."
It was just enough to hand the Orioles the loss, which came in front of a crowd of 19,096 and marked the O's (23-16) first home series-opening loss (5-1) this season. The game marked the first meeting between the two clubs since 2010.
The Orioles' high-powered offense went unusually quiet in the middle of the order, and the bottom guys -- a much-maligned group through the season's first six weeks -- were able to chase Padres starter Andrew Cashner from the game.
Flaherty, who entered the game batting .131 with one home run, went yard in the third inning off Cashner, and it was the club's only mark off the righty until Flaherty got things going again in the eighth. Cashner retired 12 straight before Flaherty worked a one-out walk and was replaced by the speedy Alexi Casilla.
Casilla, perfect in four previous steal attempts this season, swiped second and advanced to third as Hundley's throw skipped into center field to put the go-ahead run 90 feet away. No. 9 batter Steve Pearce delivered, punching Cashner's 2-1 changeup into left field to give Baltimore its first lead of the game and force the Padres to go to their bullpen.
"There's not going to be too many nights when Adam [Jones], Nick [Markakis] and Nate [McLouth] aren't going to be on base, and tonight was one of those nights," said Flaherty, who has been working hard to get on track offensively. "It was good to help out. Just came up a little bit short at the end."
Tillman carried his weight in the losing effort, helping an Orioles rotation hit hard by injury stay on track and not overtax the 'pen. The 25-year-old overcame a rocky beginning to go seven innings and allowed only one run -- a second-inning homer from Carlos Quentin -- in an impressive 112-pitch performance.
Tillman struck out seven -- allowing four hits and a pair of walks and hitting one batsman -- and worked out of several jams, coming up with the big pitch when necessary. He also got an assist from his defense when Jones robbed Quentin at the wall on a possible home run -- at the very least, an extra-base hit -- to open the sixth.
"In the early part of the season, I struggled with [making in-game adjustments] a little bit," Tillman said. "It was one of my strong points last year, and I think it is starting to come around a little bit. Being able to make adjustments within the game is probably the biggest jump from Triple-A to the big leagues. Being able to make the adjustments now instead of in between starts is huge. I think if you do make the adjustments, you give your team a chance to win."
Tillman retired the final 11 Padres he faced before handing the ball off to lefty Matusz, who struck out Cabrera to open the eighth inning. Padres manager Bud Black inserted pinch-hitter Jesus Guzman and Showalter countered with O'Day, who struck him out. After hitting Chase Headley with a pitch, O'Day got Quentin to fly out to keep the score tied before handing the ball off to Johnson.
Brittany Ghiroli is a reporter for MLB.com. Read her blog, Britt's Bird Watch, and follow her on Twitter @britt_ghiroli. This story was not subject to the approval of Major League Baseball or its clubs.