Tigers come alive in fifth to back sharp Fister
Bench shines as club erases two-run deficit with two-out rally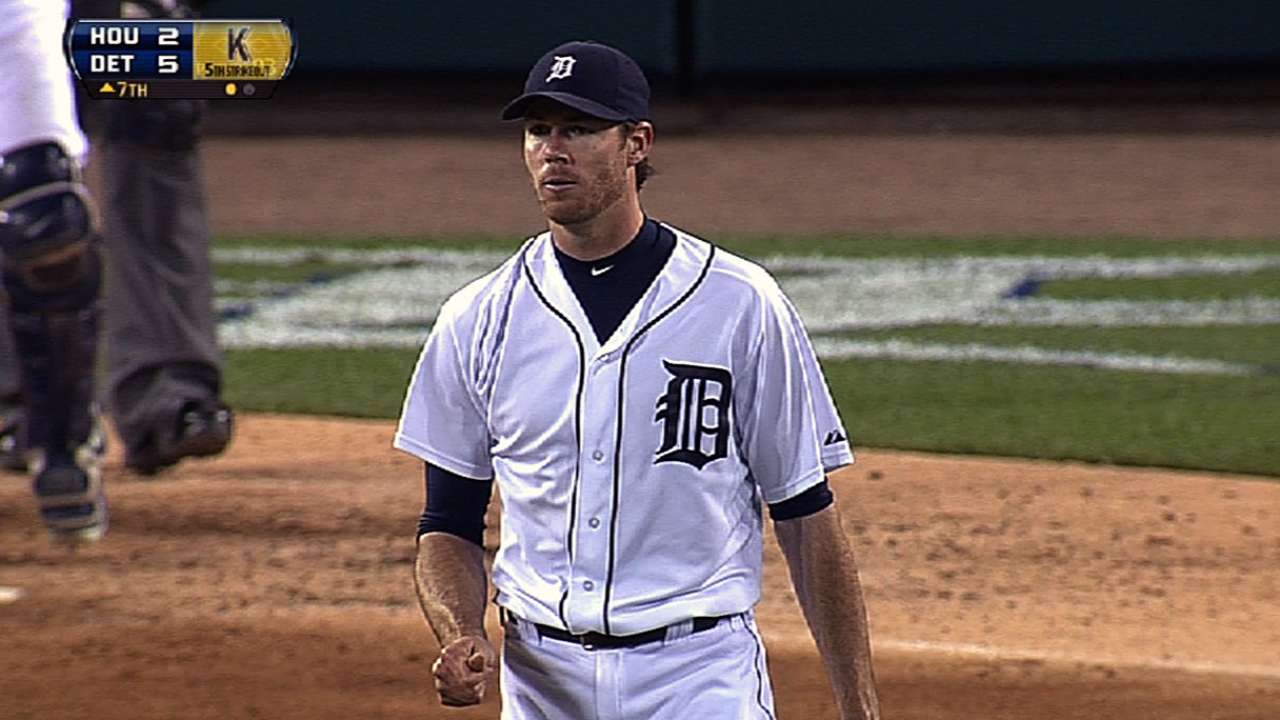 DETROIT -- Lucas Harrell baffled the Tigers for 4 2/3 innings and protected a two-run lead. By the time he got the third out of the fifth, he was down. By the time a Tiger was retired in the sixth, Harrell was out.
"He's a good Major League pitcher," manager Jim Leyland said after the Tigers' 6-2 win over the Astros on Tuesday at Comerica Park. "He got a little hyper there when he got in trouble, and we were able to take advantage of it."
This is what the Tigers can do to young pitchers. On this night, though, it was a few unlikely Tigers who helped turn a pitching duel into another win over Houston, with Doug Fister retiring 12 straight at one point and going seven strong innings to improve to 5-1.
"When you're a bench guy, any way you can contribute, you want to contribute," said Don Kelly, whose RBI single helped fuel a three-run fifth inning that changed the tone of the game.
By the time Miguel Cabrera sent a Hector Ambriz pitch halfway up the left-field seats for a seventh-inning solo homer and his 41st RBI, the margin left the Astros' early lead unrecognizable. Yet Detroit's sixth win in as many tries against Houston in two weeks marked the first time the Tigers trailed by multiple runs in any of them.
Houston's young hitters took advantage of Fister while he was trying to settle in early, and they built a 2-0 lead. Meanwhile, for half of the game, Harrell showed neither the inclination nor the mistakes to give it up, holding Detroit to a Torii Hunter infield single and two walks into the fifth while inducing eight ground-ball outs.
Not only was he an out away from qualifying for the win, Harrell had the bottom third of the order coming up. On this night, that included Kelly -- who has filled in the last three games for the injured Austin Jackson -- and Ramon Santiago, who was giving shortstop Jhonny Peralta a day off.
If Harrell could have kept rolling, he wouldn't have seen Cabrera and Prince Fielder again until the seventh. By the time Cabrera stepped up to lead off the sixth, the damage was done. Detroit's secondary hitters had gotten him. Omar Infante, for that matter, had arguably gotten in his head.
Normally, Infante does that from the ninth spot, setting up the top of the order. With Kelly and Santiago starting on Tuesday, Infante hit seventh. His two-out single in the fifth extended the inning for them. His ensuing stolen base changed the tone of it altogether and set up Harrell's demise.
"I think when Omar stole the base, it changed the whole inning," Leyland said. "I think all of a sudden now, [Harrell is] trying not to give up a run. I thought that was huge."
With a 10-30 team that has struggled mightily to plate runs at various times, it's a hard mentality to fault. More than a couple of Tigers pitchers went through that in 2003, when Detroit lost 119 games.
Infante has the green light to steal a base by default; it only changes if there's a big hitter up. With a 2-2 count, Kelly batting, Santiago on deck and Harrell seemingly focused on Kelly, Infante made it without a throw.
With a full count, Infante not only was in scoring position, he had the chance to take a running start off second.
"With two strikes, you're not trying to do too much at all," Kelly said. "You just want to stay within yourself and really put it in play. I mean, you're trying to still get a good pitch, but you want to be able to barrel the ball up and put it in play, which gives the team a chance to score. ...
"If he doesn't steal second there, it's [runners at] first and second, nobody's in. The steal was huge."
All Kelly needed was a liner to left for Infante to score easily. With Houston's lead halved to 2-1, Harrell never looked the same.
"He was working really fast, and later we got him out of rhythm a little bit," Santiago said. "We tried to [get him to] pitch a little bit slower, take some time outs, try to get the tempo down."
For that matter, Santiago's opposite-field double with authority looked different, too. He was just 4-for-26 on the season, and hadn't played since May 5 in Houston. He tried to keep his bat as fresh as he could taking early batting practice, but his approach was veteran.
"He gave me a sinker away and I didn't try to pull the sinker," he said. "You've gotta go the other way. We had a good approach that inning. That was big for us."
Andy Dirks, whose three-hit game fueled Monday's win, added another clutch hit with a go-ahead ground-rule double over the out-of-town scoreboard in right-center. Only a high hop off the warning track kept Dirks from third base and potentially scoring.
"He was making good pitches, wasn't leaving much over the plate, mixing it up pretty well," Dirks said of Harrell early. "And after you see a guy a couple times, usually you see what he's got and it gives you a little bit of an edge."
Harrell (3-4) ended the threat there, but he couldn't recover against the middle of the Tigers order in the sixth, exiting after Cabrera doubled and scored on a Victor Martinez single. Travis Blackley didn't allow a hit, but his wild pitch allowed Prince Fielder to score for a 5-2 lead.
"I felt like I was good all game," Harrell said. "I felt like the pitches that Santiago and those guys hit I felt like those were balls that, I don't want to say should've been caught, but I felt like that could've been close to being caught."
Jason Beck is a reporter for MLB.com. Read Beck's Blog and follow him on Twitter @beckjason. This story was not subject to the approval of Major League Baseball or its clubs.