Haren outdueled as Nats can't crack Kershaw
Without ailing Harper in lineup, offense held to five singles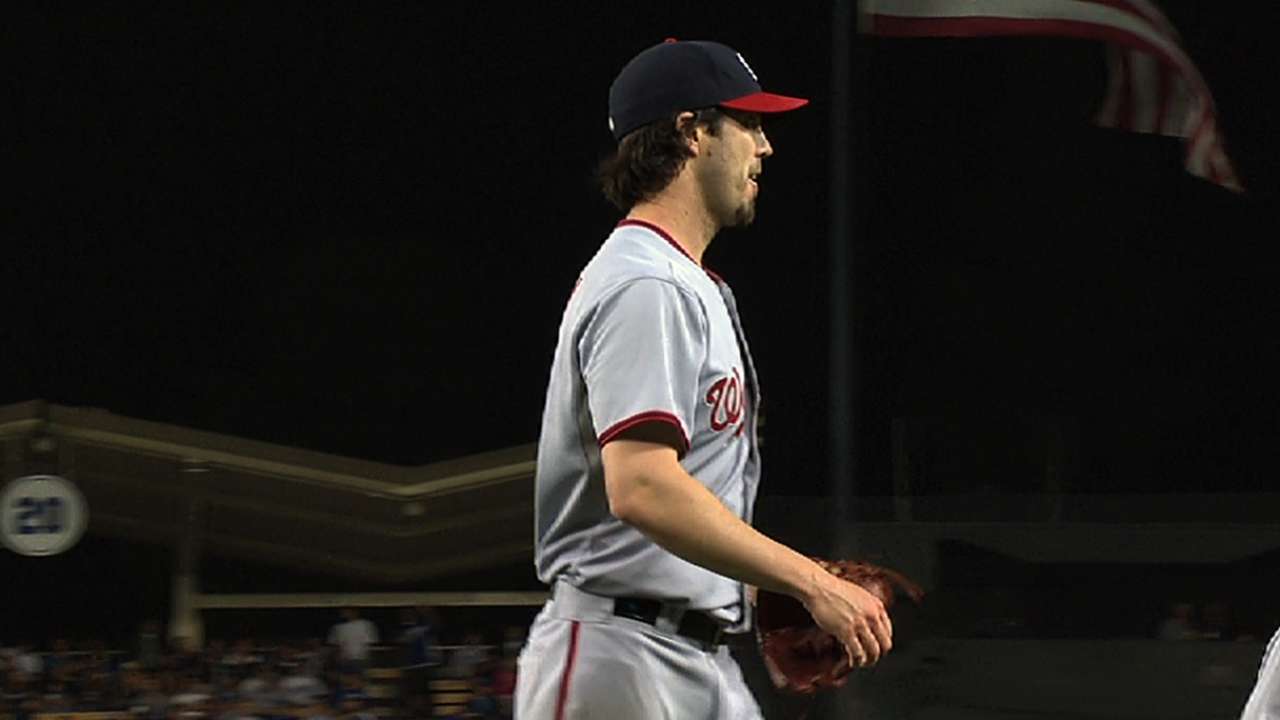 LOS ANGELES -- Left-hander Clayton Kershaw proved to be too much for the Nationals, who were blanked by the Dodgers, 2-0, in front of a sellout crowd of 51,729 at Dodger Stadium on Tuesday night.
Although Kershaw dominated throughout the game, Washington had the left-hander on the ropes in the first inning. After getting two quick outs, Kershaw allowed consecutive singles to Ryan Zimmerman and Ian Desmond. Adam LaRoche was the next hitter, and he walked to load the bases. Tyler Moore, starting in right field for Bryce Harper -- who sat after crashing into the wall Monday night -- followed and he struck out on four pitches.
"Overall, we had a chance to get him in the first and came up short," hitting coach Rick Eckstein said. "We were in the position to do some things and we didn't."
After Moore's at-bat, Kershaw struck out five consecutive batters before Zimmerman singled in the third inning. After the third inning, the Nationals collected two hits and had a runner in scoring position only once.
"I was waiting to get back in there against [Kershaw]," Desmond said. "I had three really good at-bats against him. I just had a hit to show for it. He is an unbelievable pitcher. He is the best in the game, in my opinion."
One has to wonder how concerned manager Davey Johnson is about his offense, which ranks 28th in the Major Leagues entering Wednesday's action.
Some of Johnson's hitters look overmatched at the plate, especially Moore and Danny Espinosa, who struck out a combined five times. Asked why they are struggling so badly, Johnson said, "Danny's best side is right-handed. Kershaw made some good pitches on him and he had some pitches to hit and I think he is trying to do too much.
"Tyler Moore is in a little bit of a funk, he had been kind of all year. He hasn't been himself. We are going to try to get him more at-bats to get him in a groove."
For the game, Kershaw went 8 2/3 innings, allowed five hits and struck out 11 batters.
Washington right-hander Dan Haren didn't pitch badly although it did appear that he suffered an injury in the fifth inning. Haren had a tough time running to first base on a groundout by Carl Crawford. It turned out that Haren's spike got caught on the mound and the pain traveled from his left ankle to his back. Haren said he is OK.
"I'm 100 percent fine," Haren said. "I got a little scare there. By the time [the trainer and pitching coach Steve McCatty] came out, I didn't need any warmup pitches to keep going. Obviously, I hurt my back before. It scared me at first. It didn't tighten up or anything. I was just as good in the seventh inning as I was in the first inning."
Haren lasted seven innings and allowed two runs on four hits. The two runs were scored in the bottom of the third inning. With runners on second and third, Johnson decided to pitch to Andre Ethier instead of walking him to face A.J. Ellis. Ethier singled up the middle, scoring Kershaw and Matt Kemp.
"Kershaw pitched a good ballgame. My guy pitched just as good as he did. Dan Haren pitched a heck of a ballgame," Johnson said. "I know a lot of people are going to ask why I didn't walk Ethier. I have a veteran pitcher and I have a base open. I know If he makes his pitches, he is not going to give him anything to hit. It's going to be out of the zone."
But Haren threw a strike over the plate and Ethier got a hold of it for a hit. Haren was confident he could get the left-handed-hitting Ethier out.
"You are going against a guy like Kershaw. You have to be perfect and I wasn't perfect," Haren said. "I made a few mistakes. Obviously, hitting Kershaw [with a pitch] and the base hit up the middle to Ethier. I really wasn't trying to throw him a strike. … I was trying to throw the ball more in the dirt, off the plate. It was a mistake and he made me pay. When you going up against a guy like Kershaw, you have to be perfect and I wasn't."
Bill Ladson is a reporter for MLB.com and writes an MLBlog, All Nats All the time. He also can be found on Twitter @WashingNats. This story was not subject to the approval of Major League Baseball or its clubs.