Merengue music latest addition to Rays' clubhouse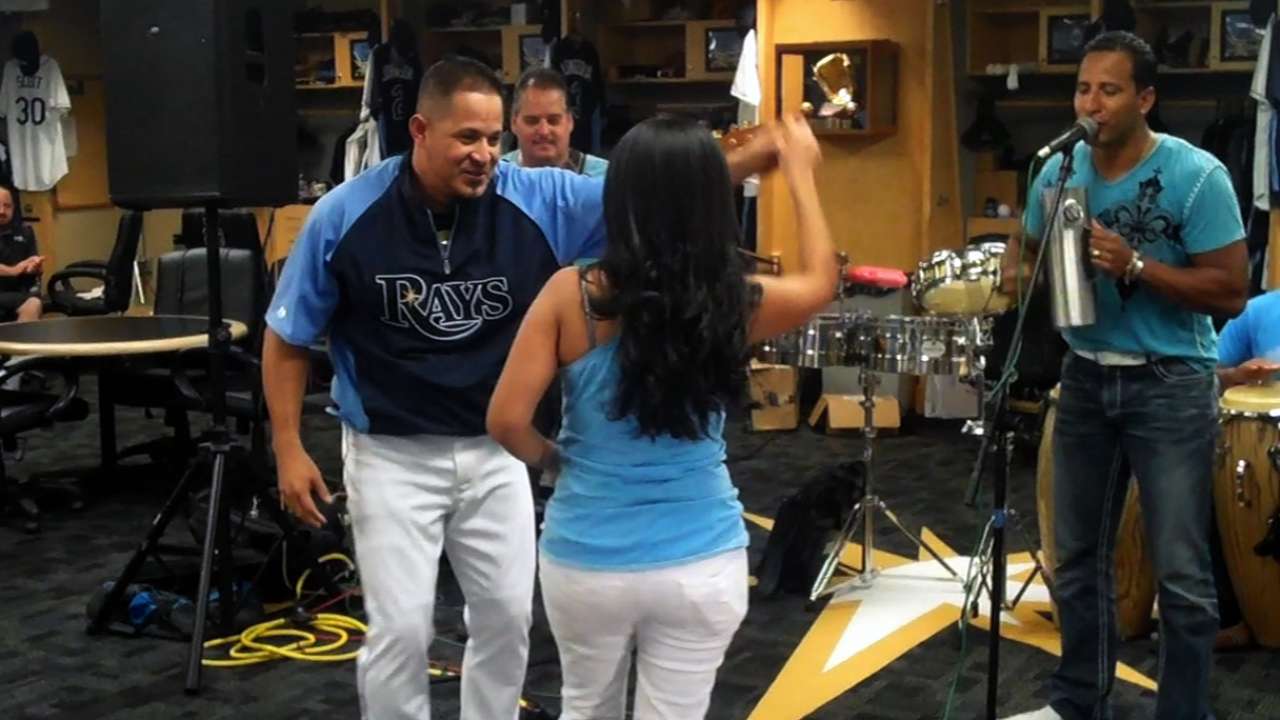 ST. PETERSBURG -- After seeing a steady parade of acts -- from a disc jockey, magician, penguin and cockatoo, in the Rays' clubhouse -- Joel Peralta took a stand for the Dominican Republic contingent.
The Rays reliever teased: "If [manager Joe] Maddon doesn't do something for us pretty soon, the Dominicans are walking."
The day Peralta sought came Tuesday when players arriving to the clubhouse found a band known as Sol Caribe playing merengue music and plantains hung above the lockers.
Some players enjoyed the music more than others, as Peralta decided to enlist as his dance partner Elisabeth Rodriguez, the band's drummer. He then proceeded to put on a dance clinic.
Afterwards, Peralta received an ovation from those watching.
The smiling Peralta downplayed how well he can dance by noting, "That's our culture."
"You learn from watching people doing it. ... I've been dancing like this since I was a kid," Peralta said. "It's pretty normal for a Dominican to dance to merengue."
The original intent of the clubhouse entertainment was to loosen up the players. Now they are used to having some kind of show when they get to the ballpark.
"It's just one of those things that we do here in Tampa," David Price said. "You probably don't see it a whole lot of other places, not at a time like right now, not during the season. But we've had that type of thing happen a couple times, and we all enjoy it. It just lightens the mood, and we all appreciate it."
Price wasn't totally out to lunch in regard to understanding Tuesday's lyrics, either.
"I was Spanish 2 student of the year in high school when I was a sophomore, so I can translate most of that -- 'yo soy' and stuff," Price said.
When asked about what kind of music should be played next in the clubhouse, he joked: "Spice Girls."
Bill Chastain is a reporter for MLB.com. Adam Berry is a reporter for MLB.com. Follow him on Twitter at @adamdberry. This story was not subject to the approval of Major League Baseball or its clubs.