Bullpen can't stop rally; Brewers fall in extras
Fiers allows walk-off HR to McCutchen; Segura stays hot with bat, glove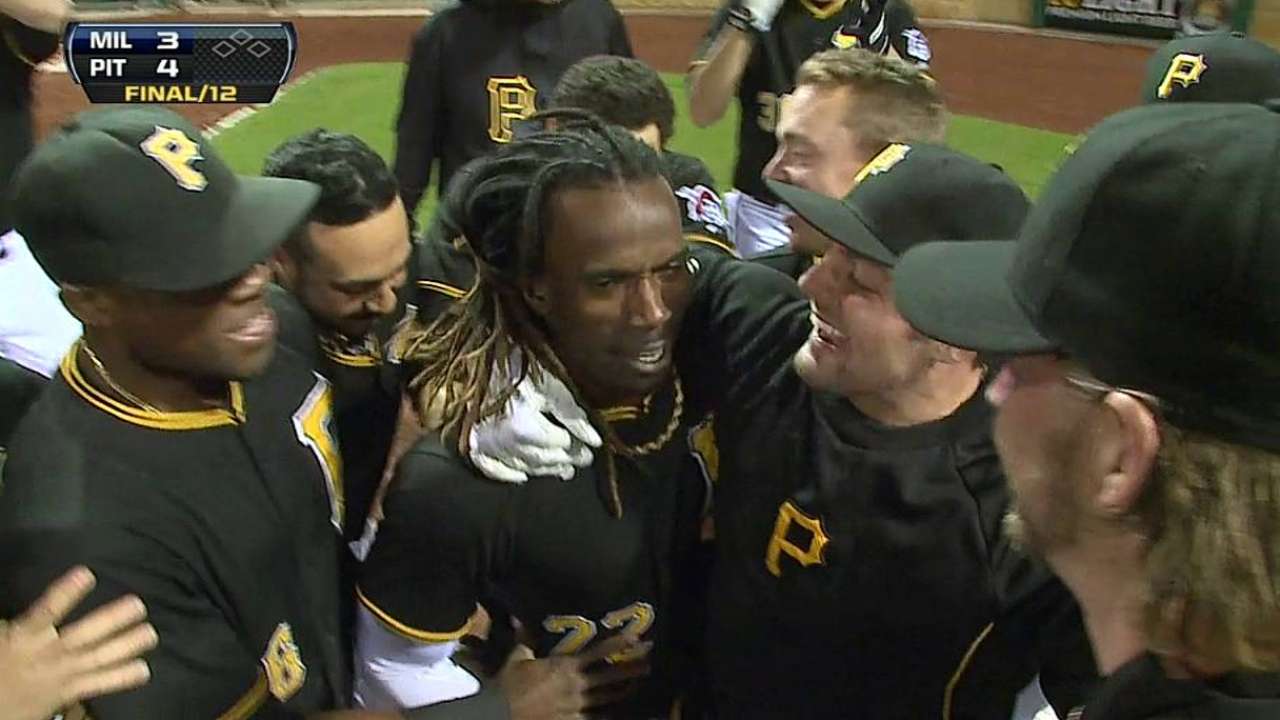 PITTSBURGH -- Andrew McCutchen delivered a 12th-inning walk-off homer off reliever Mike Fiers, lifting the Pirates to a 4-3 comeback win over the Brewers on Tuesday night at PNC Park.
It was the fourth walk-off shot of McCutchen's career and his fifth of the season.
"He's a good hitter and he hit a good pitch," Fiers said. "It was a fastball I guess not low enough, but low and away. He got the barrel on it and hit it out."
"Considering the previous two balls when I flew out to the wall -- I hit [them well], and they went nowhere," McCutchen said." So right off the bat, I did not know, I was telling myself, 'Try to get a triple out of it, maybe.' The ball just hasn't been traveling."
Brewers manager Ron Roenicke was disappointed with the tough defeat.
"Always tough when you have the lead going into the late innings and you give it up to tie it," Roenicke said. "And then can't score, we went a long time without scoring."
The Pirates tied the game at 3-3 in the eighth. Neil Walker singled off reliever John Axford. With one out, Russell Martin smacked a run-scoring double, sending home Walker.
"I think Axford has done well against those guys and we still have confidence that he is going to pitch well," Roenicke stated. "That we thought was a good option."
Axford was disappointed with the way the eighth inning unfolded.
"Two hits and it kind of comes down to one mistake, one pitch once again," he said. "The opening hit of the inning he got the bat on it enough to get it over third base, but it's not something to hang your head about. After that I made good pitches, threw some offspeed in counts and got some guys out, but like I said it just comes down to that one pitch again."
Brewers right-hander Kyle Lohse tossed 5 2/3 innings and allowed two runs on five hits and issued five walks. Lohse didn't get a decision.
"It wasn't one of my best nights, but a key for me when I'm having one of those nights is just not make the big mistake," Lohse said. "Not fall behind and leave a ball over the plate and try to stay out of trouble. It ends up being five walks, that's not pretty, but I was just trying to stay out of the middle of the plate."
The three runs were a luxury for Lohse. Coming into the game the Brewers were averaging two runs per game when Lohse started.
"Lohse still pitched a good game. We need to win some games for him when he pitches like this." Roenicke said.
Pirates lefty Jeff Locke worked six innings and surrendered three runs on seven hits. He also got a no-decision.
Reigning National League Player of the Week Jean Segura staked the Brewers to a 1-0 lead in the first inning when he launched a Locke offering into the left-field seats. It was Segura's seventh home run.
The Pirates came back to tie the score at 1-1 in the bottom of the inning. Starling Marte led off with a single. Jose Tabata followed with a single to right. Marte came around to score on an RBI groundout by Garrett Jones.
The Brewers got to Locke in the fourth. Ryan Braun doubled down the right-field line. Carlos Gomez stroked an RBI double, driving in Braun and giving the Brewers a 2-1 lead.
With one out in the fifth, Norichika Aoki's smash up the middle hit Locke in his left leg as Aoki legged out a base hit. Locke proceeded to toss two wild pitches, sending Aoki to third base. And he scored on a groundout by Segura giving the Brewers a 3-1 lead.
The Pirates cut into the Brewers' lead in the sixth. Walker drew a lead off walk. With one out, Martin doubled, putting runners at second and third. Walker scored on a groundout by Clint Barmes, slicing the Brewers lead to 3-2. With two outs and runners on first and third, Lohse was removed from the game. Right-hander Burke Badenhop came on in relief.
The Pirates used five pitchers, and right-hander Vin Mazzaro, who pitched a scoreless 11th and 12th, got the victory, upping his record to 2-0.
The Brewers used eight hurlers in the game. Axford was charged with his third blown save of the season. Fiers was tagged with the loss, falling to 0-2.
George Von Benko is a contributor to MLB.com. This story was not subject to the approval of Major League Baseball or its clubs.