Villanueva hit hard in loss to Rockies
Right-hander allows seven runs in five innings, including two homers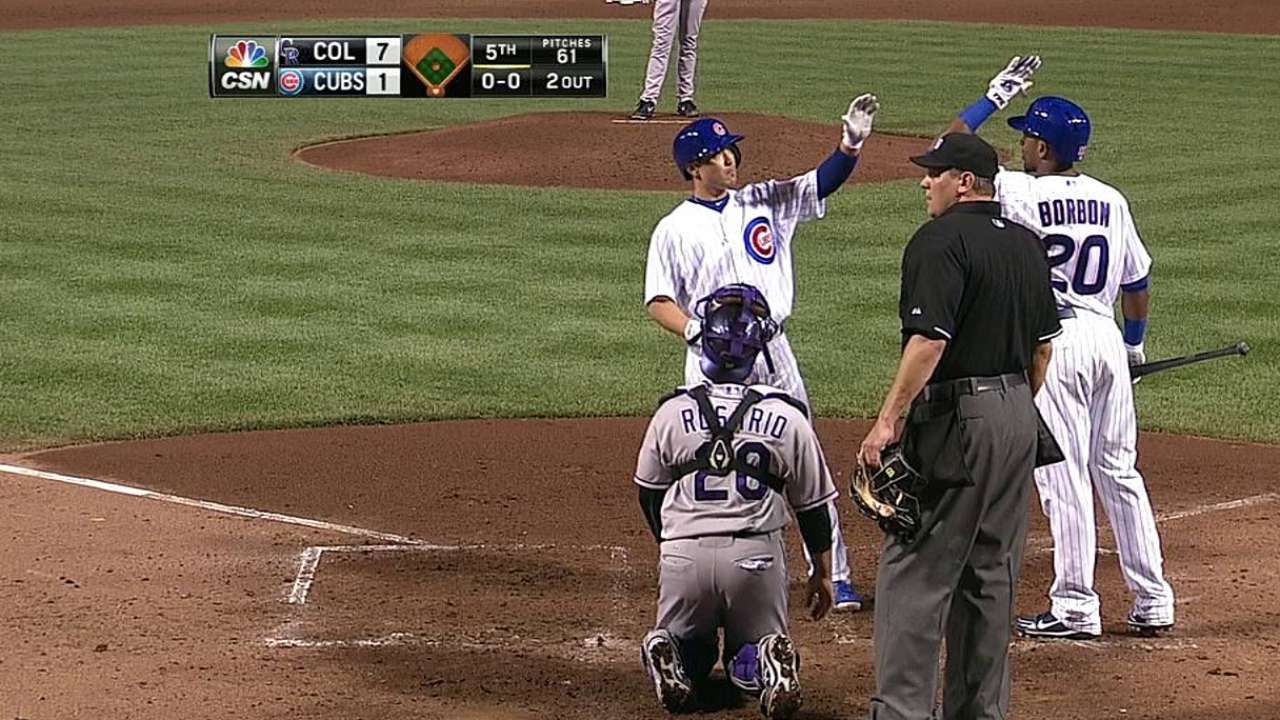 CHICAGO -- Carlos Villanueva didn't make a very good case to stay in the Cubs' rotation on Tuesday night.
Eric Young Jr. hit a two-run homer, and Carlos Gonzalez collected a career-high five hits, including two solo home runs, to power the Rockies to a 9-4 victory over Villanueva and the Cubs, evening the three-game series at Wrigley Field.
Darwin Barney smacked a solo home run in the fifth and added an RBI double in the ninth, but the loss ended the Cubs' winning streak at three games, which matched their season high.
Villanueva, who opened the season with four straight quality starts, had his shortest outing of the year, and set season highs for most hits (12) and runs (seven) allowed. But Matt Garza is close to returning from the disabled list. Garza will make his fourth Minor League rehab start on Thursday.
There is no animosity between the two pitchers. Their lockers are next to each other.
"I'm the first one who asks how he feels every day," Villanueva said. "He will improve our ballclub once he comes back. If I worry about him coming back, if I worry about somebody else's performance to somehow sway the decision, then I'm not focused on the task at hand. I can only do whatever I can do out there."
But that's easy to say. This season, the Cubs' starting five of Jeff Samardzija, Edwin Jackson, Travis Wood, Scott Feldman and Villanueva have compiled a 3.59 ERA, which ranks among the top three in the National League.
"It wasn't a tryout today or for anybody right now," Cubs manager Dale Sveum said. "We'll deal with that [decision] when [Garza] gets here. There's no reason worrying about anything right now, because we don't know when Garza will be back."
In Spring Training, Villanueva secured a spot in the rotation when Garza and Scott Baker, rehabbing from Tommy John surgery, were determined to not be ready.
"[Villanueva] has always been that guy who starts, a swing man," Sveum said. "He's got the ability to pitch late in a game because of matchups, because of the pitch mix he has. He's done it more than anybody else has."
Villanueva has said from the start that he knows his role as an employee.
"Obviously, I have my own opinions," Villanueva said. "Obviously, a move will be made. A night like tonight didn't help my cause. I'll take the ball whenever they need me to. I'd like to contribute and to win as many ballgames as we can. In the end, it really doesn't matter that much what I think. Whatever happens will happen and they'll make their decisions. We're professionals here and we'll handle it like professionals."
The game got off to a bad start for Villanueva as Young doubled to lead off, lining a ball past third baseman Cody Ransom, who had shifted to his left. One out later, Young scored on Gonzalez's single.
"A day like today, from the first hitter of the game, I threw a fastball two inches off the plate, and he lines it down the line," Villanueva said. "Even when I made some OK pitches, the balls went down the line both ways.
"You chalk it up to a bad day at the office. It's easy when you're out there to put your head down in a game like today, but for me, it was try to get out of it and try to stay in as long as I could. It's just a tough day all around."
The Rockies had runners at first and second in the second when Josh Rutledge singled to left. Alfonso Soriano threw out Todd Helton at home as he tried to score from second, and the runners moved up. Jeff Francis followed with a sacrifice fly, and Young drove a 1-1 pitch to straightaway center for his first home run of the season to open a 4-0 lead.
Gonzalez opened the third with his eighth home run, a laser that landed in the right-field bleachers. He notched his second homer of the game in the ninth off Shawn Camp. Gonzalez now has a career .427 average in 19 games against Chicago.
"It's not just the Cubs," Gonzalez said. "There are a couple of teams that I hit the ball against well. It's just one of those things that sometimes when you face a pitcher, every time you hit the ball, it doesn't matter how you hit it, it's going to be a hit."
Barney has been waiting to feel that way. The second baseman totaled three hits, and now has hit safely in four of his last five games. He's changed his approach recently, trying to be more aggressive at the plate. Rockies starter Jeff Francis made it tough on a night when the warm weather and southeast wind favored hitters.
"Sometimes a guy like Francis isn't the guy you want to face on a night like this," Barney said. "He was on the corners and effective with his offspeed pitches. We had some pretty good at-bats and fought up there but unfortunately, they came out and swung the bats a little better. It was just one of those days."
Villanueva knows that feeling.
Carrie Muskat is a reporter for MLB.com. She writes a blog, Muskat Ramblings, and you can follow her on Twitter @CarrieMuskat. This story was not subject to the approval of Major League Baseball or its clubs.