Correia runs out of gas in eighth, while bats can't rally
Twins righty outdueled by White Sox's Peavy, gives up go-ahead run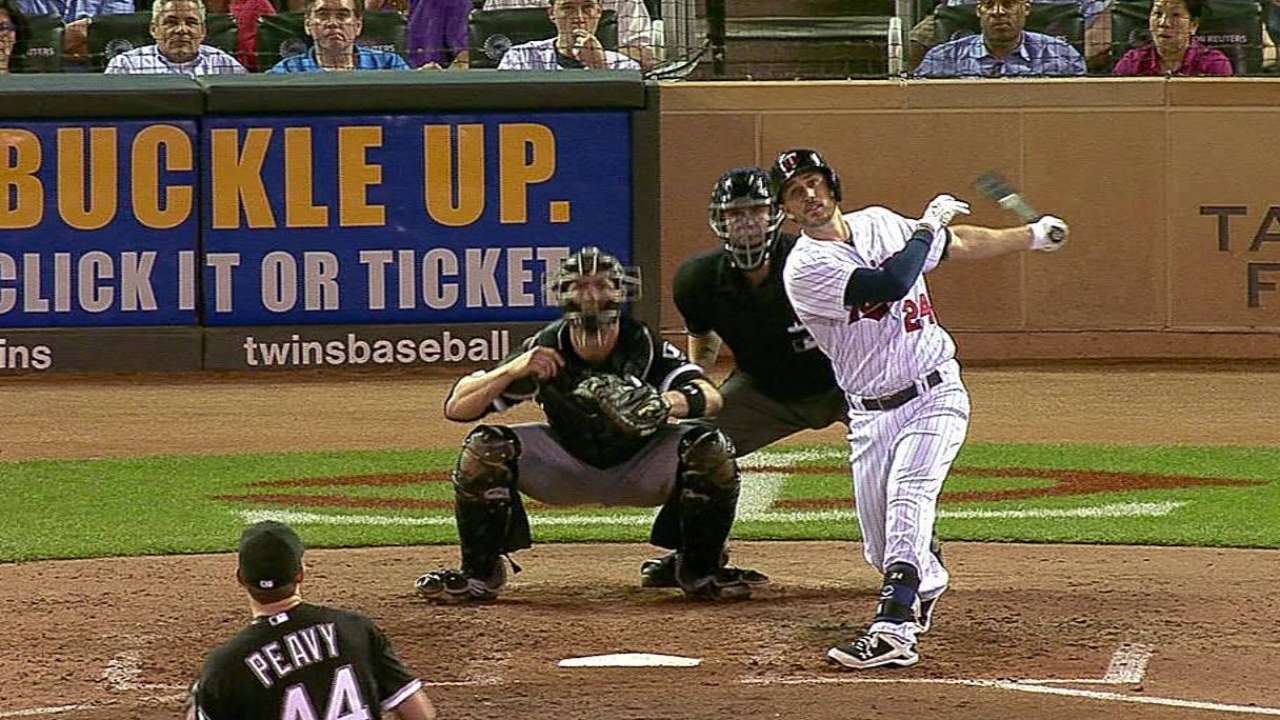 MINNEAPOLIS -- The decision on whether to take out an effective starting pitcher is never easy.
Right-hander Kevin Correia was pitching well against the White Sox -- giving up just two solo homers in the second inning -- heading into the eighth with the game tied.
Twins manager Ron Gardenhire decided to stick with his starter, but the choice ultimately didn't work out, as Correia promptly gave up back-to-back doubles to open the eighth to hand the Twins a 4-2 loss to the White Sox on Tuesday night at Target Field.
But Gardenhire didn't second-guess the decision, as he felt Correia was strong heading into the inning, having thrown 94 pitches to that point.
"He had 92, 93 pitches and was doing just fine," Gardenhire said. "He was cruising through everything. It's easy to sit and say, 'Oh, he might've been tired,' but that wasn't the case."
Correia, who has been the club's most consistent starter this year, pitched into the eighth for the third time in eight starts this season. But Correia didn't last long that inning, as he promptly gave up the doubles to Dewayne Wise and Tyler Flowers to give the White Sox the lead.
Reliever Casey Fien replaced Correia and couldn't quite limit the damage, as he allowed a one-out RBI single to Alexei Ramirez to give Chicago an insurance run. It also denied Correia a quality start, as the right-hander surrendered four runs on nine hits and a walk over seven-plus innings.
"I felt good," Correia said about the eighth. "I threw a first-pitch split down and away and I was surprised he drove it so good to the gap. I thought I threw a decent pitch on the 3-1 pitch on the next double. I think they were just on to my pattern at that point."
Correia was hurt by the long ball in the second, as Adam Dunn launched a homer on a 1-0 fastball to lead off the inning. And just two pitches later, Dayan Viciedo crushed a blast on a 1-0 slider that landed in the third deck in left field.
The four runs were enough for right-hander Jake Peavy, who outdueled Correia. Peavy scattered five hits over seven innings, giving up two runs while striking out six to get his fifth win while facing his former teammate, as the pair played together with the Padres in 2009.
"I know Jake and I've pitched with him and against him in the National League for a long time," Correia said. "He's as big of a competitor as you're ever going to face. So it is fun going against him. So you better pitch as good or better than him to get a win."
The Twins didn't score until the fifth, as Justin Morneau started off the frame with a double to extend his hit streak to 10 games. He came around to score on an RBI single from Oswaldo Arcia, but replays showed he was tagged on the shoulder by Flowers before touching home. White Sox manager Robin Ventura came out to argue with home-plate umpire Jordan Baker to no avail.
Minnesota tied it in the seventh on a two-out RBI single from Trevor Plouffe to score Josh Willingham, who opened the inning with a double off the wall in right-center field.
But the Twins were held scoreless over the final two innings by relievers Jesse Crain and Addison Reed to drop the second game of the three-game series after Monday's 10-3 win and fall back to .500 at 18-18.
"The boys played great defense tonight behind me after struggling a little bit," Peavy said. "We swung the bat, got some timely hitting, big homers early. It was a good team win. I think everybody contributed tonight against some adversity. I felt like some calls that should have gone the other way didn't go our way."
Rhett Bollinger is a reporter for MLB.com. Read his blog, Bollinger Beat, and follow him on Twitter @RhettBollinger. This story was not subject to the approval of Major League Baseball or its clubs.