CarGo homers twice, gets five hits in Rox win
Francis allows one run on three hits with seven strikeouts in six innings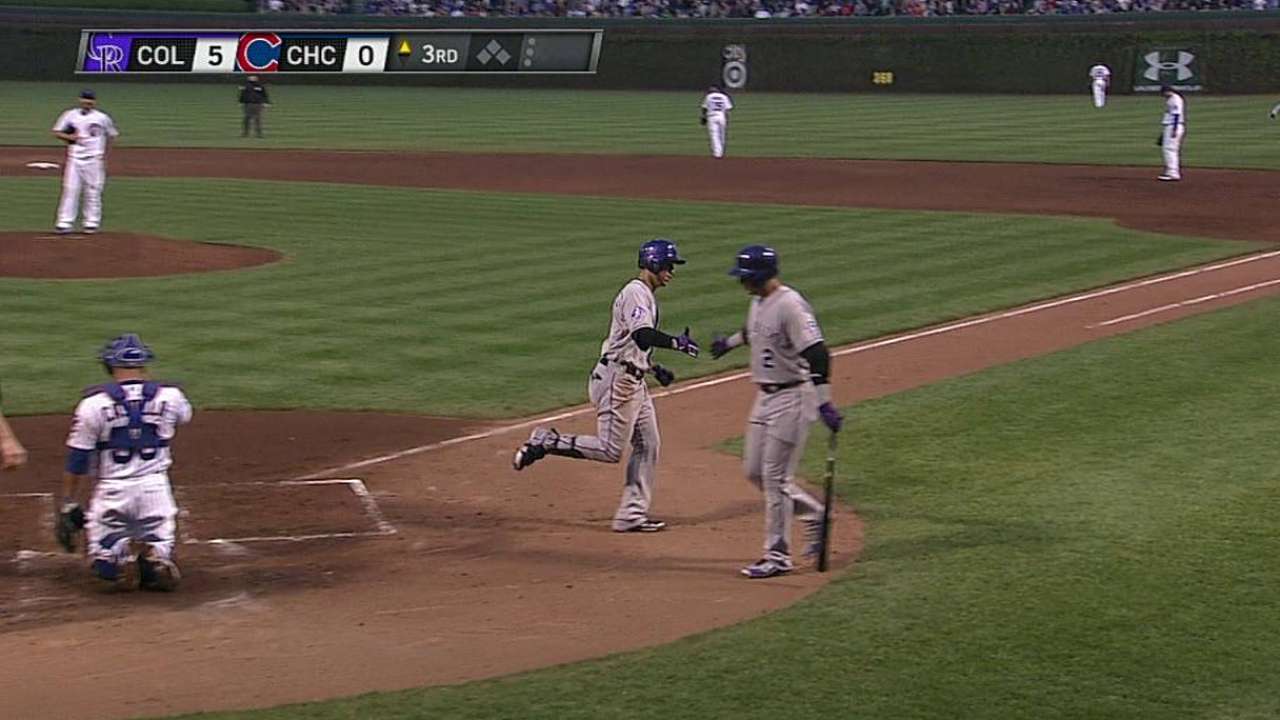 CHICAGO -- Carlos Gonzalez has had many memorable games. Still, there are enough games he'd rather forget that allows him to appreciate performances like Tuesday night.
Gonzalez homered twice among his career-high five hits in as many at-bats, and the Rockies lashed 17 hits in a 9-4 victory over the Cubs on a gorgeous night at Wrigley Field in front of a crowd of 38,123.
The victory was just the Rockies' second in the last seven games, and the team's talented offense has been more off than on in the last three weeks. Gonzalez has been one of many symbols of the struggles. He entered Tuesday's game 2-for-14 on the current road trip and 8-for-38 with 16 strikeouts since May 3.
"That was a bad stretch," Gonzalez said. "We weren't able to score runs. I wasn't able to help the team. The pitchers did a tremendous job every single game, but it's a strain when you're not able to put runs on the board -- not even put guys in scoring position."
But on Tuesday night, Gonzalez ran his homer total to a team-leading nine and lifted his batting average 25 points to .313. Troy Tuolwitzki doubled twice among his three hits and Eric Young Jr. had a two-run homer.
It's only natural to think the Rockies (21-17), who hit both at home and on the road while grabbing the lead in the National League West in April -- only to drop to third in May -- have broken out of their funk. They put up eight runs on Sunday at St. Louis, so that's two of the last three games of hitting dominance.
But they also were shut out twice in St. Louis over the weekend and needed a Josh Rutledge ninth-inning homer to avoid being blanked at Wrigley on Monday night. Yes, the offense is good at accomplishing feats, such as having every starting position player manage at least one hit, it did Tuesday. But it's better to relish it than count on it.
"You're not going to bang the ball around every night in this league -- it's just not possible," Rockies manager Walt Weiss said. "We have a lineup that can explode at any time. We've got a lot of offensive talent. We've had to grind through this tough time for the last week or so, but I always feel like we're capable of busting out."
Despite their three low-output losses, the Rockies can finish the road trip at .500 with a victory Wednesday night. Then they will play seven at home in the NL West -- four against the first-place Giants and three against the second-place D-backs.
"Maybe this game will get us going again, the way we know we like to, and carry over to tomorrow," said Young, whose homer was his first of the season.
Left-hander Jeff Francis (2-3) struck out seven and gave up three hits in six innings. He was removed when he irritated a sore right knee when he slid into second trying to break up a double play, and Weiss exercised caution by shortening his outing.
Two of Francis' previous starts were pushed back a day because of snow, and the games were played in bitter cold. The postponements forced him to pitch on three days' rest at one point. In his last start, a home loss to the Yankees, he gave up two runs in four innings before a rain delay ended his outing.
Never did he use the weather as an alibi, but he enjoyed Tuesday's 70 degrees even more than the fans who wore T-shirts and shorts and left jackets at home.
"That's probably as perfect as it could be out there tonight," Francis said. "It was the first time I'd really felt a sweat in a while. It was a good night for baseball."
Cubs hitters didn't enjoy the evening as much.
"His curveball was a lot different than it looked on video," said the Cubs' Darwin Barney, whose two hits off Francis included a fifth-inning solo homer. "On video, it looked like a pitch he might try to get over early, and it was much sharper [live] than it looked.
"A few of us swung at a couple that didn't get to the plate. He was crafty tonight. He mixed in pitches here and there. He didn't throw as many changeups as we thought. His curveball was working tonight."
The return of Francis' changeup, however, was important. He lost the feel for the pitch early in the season, and that made those cold nights more frigid. On Tuesday, he used the pitch for weak contact. As a result, he lowered his ERA nearly a run, from 6.90 to 6.00.
"They come out swinging," Francis said. "For me to have a pitch I could take a little off of, that I could throw in the strike zone, is big."
Big performances are the norm for Gonzalez against the Cubs. His .427 career average against them includes a cycle on July 31, 2010, at Coors Field, and he has seven home runs and 16 RBIs in 19 meetings.
It's not just the Cubs," he said. "There are a couple of teams that I hit the ball against well. It's just one of those things that sometimes when you face a pitcher, every time you hit the ball, it doesn't matter how you hit it, it's going to be a hit."
Thomas Harding is a reporter for MLB.com. Read his blog, Hardball in the Rockies, and follow him on Twitter @harding_at_mlb. This story was not subject to the approval of Major League Baseball or its clubs.