A's rally in 10th comes up short vs. Rangers
Smith's double closes gap before Oakland falls in extras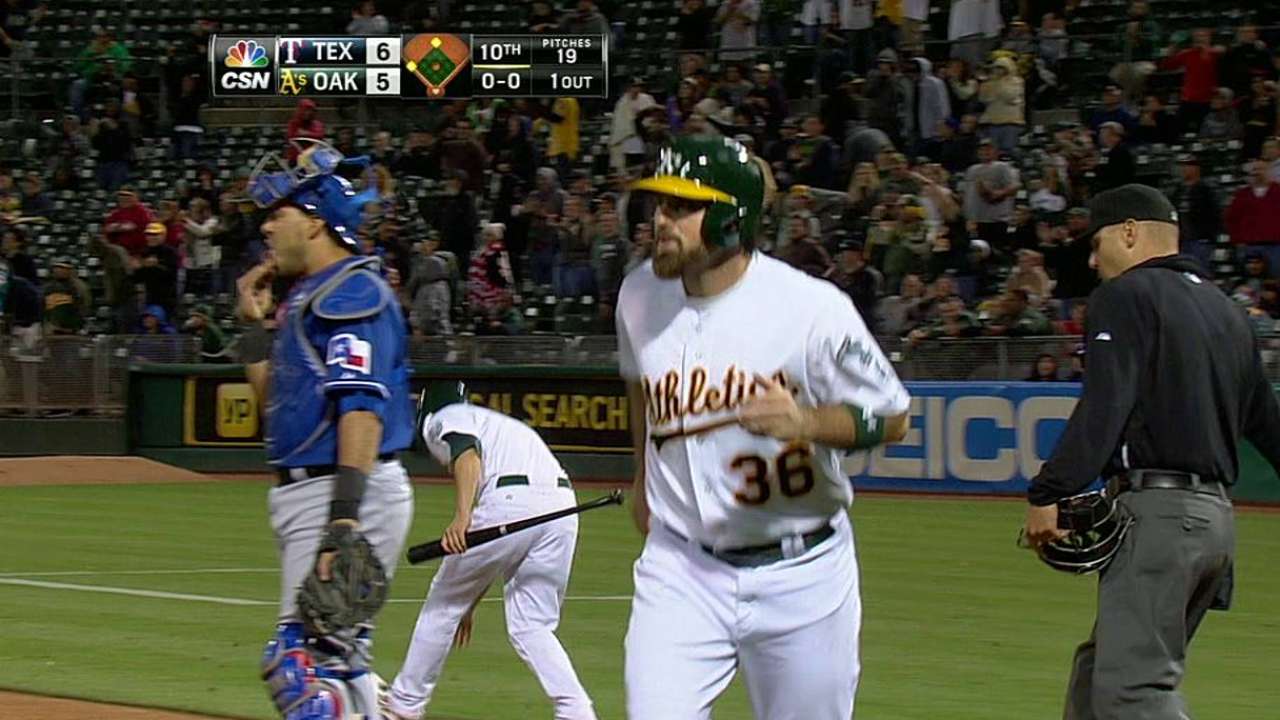 OAKLAND -- Rarely, it seems, do the A's walk away from extra innings without a win in hand.
Dating back to last year, Oakland had notched 14 extra-inning wins in 19 tries. So odds were that the 20th attempt would result in a victory, too.
Though staring down a two-run deficit heading into the bottom of the 10th inning, the A's did their best to ensure themselves of this, with Seth Smith blooping a one-out RBI double into the outfield off Joe Nathan, who then intentionally walked Brandon Moss to load the bases for Daric Barton.
Barton struck out on seven pitches, and pinch-hitter Eric Sogard only needed one to end the game on a groundout, the A's falling a run short of tying a Rangers club that exited with a 6-5 win, evening the series.
"We always feel like we have the capability to win at any time, especially when it's late in the game and we're at home," said Josh Donaldson, who tied a career high with four hits. "We definitely gave ourselves a chance to win it, but just came up a little short today."
Oakland's 10th-inning comeback attempt wasn't its only one of the night, as the A's had overcome an early three-run deficit, posting a pair of runs in the fifth and sixth, before Ryan Cook surrendered a game-tying hit in the eighth and Chris Resop offered up two home runs in the top of the 10th.
The right-handed Resop, who had surrendered just one home run over his first 17 innings, has now allowed 12 runs in his last 11 outings, after allowing no earned runs over his first 7 appearances.
"This game can be crazy," said Resop. "You see hitters that can't get an out and then can't get a hit. Pitchers, you get eight line drives to gloves, and then they fall. It's nothing I'm doing differently. I'm going after guys the same way. My stuff is the same."
Resop began the inning by inducing a groundball from Lance Berkman, bringing up Adrian Beltre with one out in a 4-4 game. Beltre ran the count to 3-0, and he did not hesitate to swing on the next pitch, a fastball that went over the left-center-field wall to untie the contest.
"That's not a guy you want to fall behind," Resop said. "It'll happen. I was just trying to throw a strike to get myself back in it, since it was 3-0. It wasn't where I wanted it necessarily."
As for Moreland, who hit his second homer of the day and third of the series to center field, Resop said, "I tried to elevate on him and didn't elevate enough."
"It's tough. I'm not going to sit here and lie," he said. "Really, these guys played 10 innings tonight and lost by one run, and you hate to be the guy that let your team down. It feels terrible."
"I think he's just going through a bad stretch," said manager Bob Melvin. "He's put in a little bit of a different position there than he's usually in tonight out of necessity. You gotta throw a strike there. Good call on their side, 3-0 swing and Beltre hits a homer. Then Moreland, whose been swinging the bat pretty well, hits another one."
Melvin wasn't in the dugout to witness either long ball leave the park, as he had been ejected for the third time this season in the eighth, when he argued a close call at first base with umpire D.J. Reyburn, who deemed Barton out on an inning-ending groundout.
Oakland's extra-inning loss was its first of the season, as the A's entered the night 3-0 when playing past the ninth inning. The club had also won each of its past five contests against the Rangers at the Coliseum.
The A's had trouble getting the bats going against Rangers lefty Derek Holland, but back-to-back singles off the bats of Smith and Nate Freiman to start the fifth finally shook Holland, who proceeded to walk Michael Taylor to load the bases for Adam Rosales.
Rosales grounded into a double play that brought in a run, and Jed Lowrie followed with an RBI double to bring his club within one of the Rangers, who received a two-run homer from Moreland off Bartolo Colon in the fourth.
Freiman gave the A's the lead in a two-run sixth by way of an RBI double, and Sean Doolittle pitched a scoreless seventh, before Cook surrendered a run in the eighth that led to the 10th-inning dramatics.
Jane Lee is a reporter for MLB.com. Read her blog, Major Lee-ague, and follow her on Twitter @JaneMLB. This story was not subject to the approval of Major League Baseball or its clubs.