Nathan navigates tense 10th as Rangers edge A's
Moreland, Beltre homer in extras to set up closer's gritty save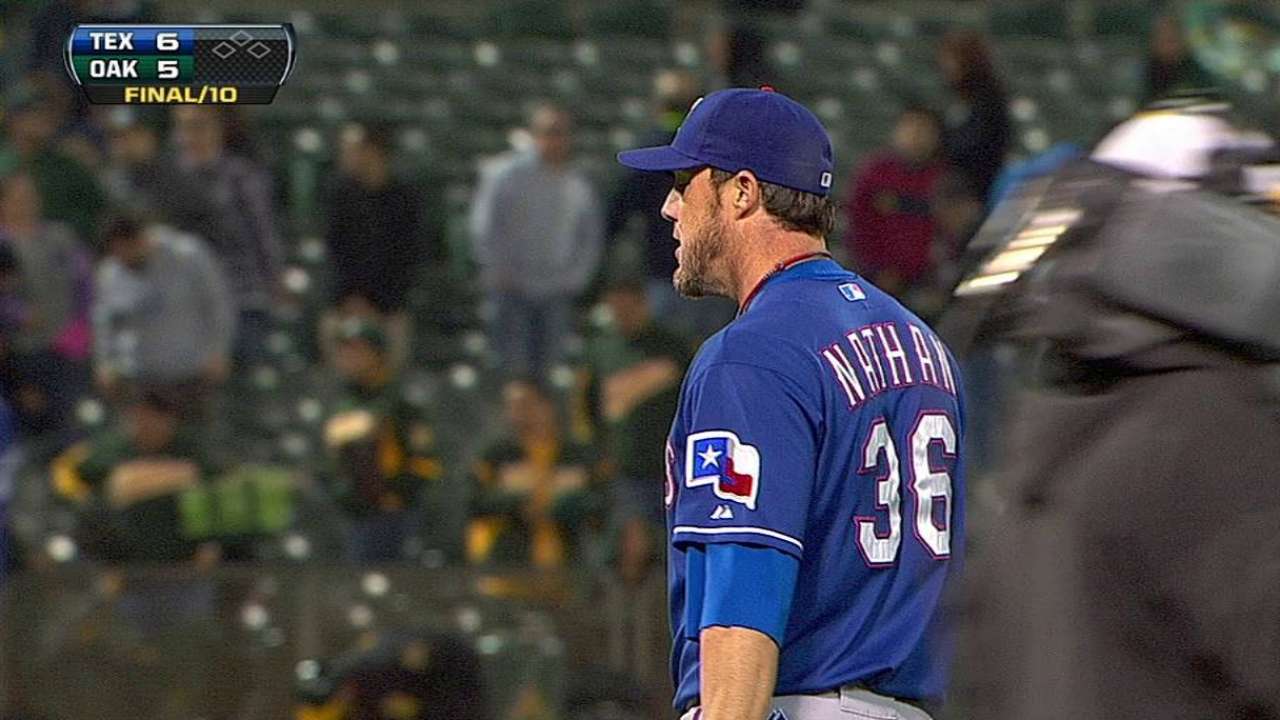 OAKLAND -- Rangers manager Ron Washington, sitting in his office in the visitors clubhouse at the O.co Coliseum, was asked what the bottom of the 10th was like for him on Tuesday night.
"It was relaxing ... very relaxing," Washington said with a straight face.
What?
"I had all the confidence in the world that Joe [Nathan] would get us the three outs," Washington said. "That's my closer. I was sitting there relaxed, waiting for him to get three outs, and he did."
Then the manager flashed a big smile, one that was equal to the Rangers' heart-thumping 6-5 victory over the Athletics at the Coliseum. The Rangers, after letting a 3-0 lead slip away in the middle of the game, had taken the lead in the top of the 10th on home runs by Adrian Beltre and Mitch Moreland.
But the victory wasn't secure until Nathan, after giving up a run and loading the bases with one out, struck out Daric Barton and retired Eric Sogard on a ground ball to end the game.
"That's the nature of the beast," Nathan said after his 310th career save tied him for 19th all-time with Hall of Famer Rich Gossage. "That's why closers get paid big money. That's what it's all about. That's why the late-inning guys have the pressure on them. You don't want to put yourself in that position, but they always find a way to make it interesting."
"An amazing win, dude," said Nelson Cruz, who drove in two runs with sacrifice flies, including one in the eighth that forced extra innings.
The victory snapped the Rangers' four-game losing streak to the Athletics -- all at the Coliseum -- going back to last year.
"We weren't thinking about how many games we had lost here," Washington said. "We were only thinking about the game tonight. We can't worry about that. We're a good ballclub, and they're a good ballclub, and we won tonight."
Beltre already had two big hits in the game when he came to bat in the top of the 10th against Athletics reliever Chris Resop. He worked the count to 3-0, got the green light from Washington and crushed a fastball over the left-center field wall to give the Rangers a 5-4 lead.
"I was being aggressive, looking for something over the heart of the plate," Beltre said. "He threw one there, down in the zone, and it was a good pitch to hit."
Moreland, with two outs, then crushed one to deep center to give the Rangers a two-run lead. It ended up being just as big as Beltre's home run. Moreland's difference-making shot was his second of the night, giving him five multihomer games in his career. He has nine on the season and five in his last nine games.
"I tried to elevate on him and didn't elevate enough," Resop said.
That left it up to Nathan after Tanner Scheppers had pitched two scoreless innings in relief.
"A great job by Scheppers," Washington said.
Nathan started the bottom of the 10th by getting Josh Donaldson on a fly to center but walked Derek Norris and John Jaso. The walk to Jaso came on a full-count breaking ball that Nathan clearly thought had hit the outside corner for strike three, but home-plate umpire Vic Carapazza decided otherwise. Nathan grumbled only briefly and then went back to work.
"I said my piece," Nathan said. "Obviously that's a tough game to call. It's a close call and I've seen it called before. Obviously I want the pitch, and they want the walk. It was a close pitch, and it's your competitive nature to obviously want the call."
Seth Smith also worked the count full and then lined a double to left-center. Norris scored and Jaso went to third. Brandon Moss was walked intentionally to load the bases. Nathan then struck out Barton and Sogard, pinch-hitting for Adam Rosales, grounded out in the right side hole to second baseman Ian Kinsler to end the game.
"I was fortunate to get the strikeout," Nathan said. "We were looking for the double play, and I was trying for a grounder. I lost a beat on that last ground ball. I thought in my mind it might get through, but that was a great jump by Ian to get there."
Nathan has now saved 12 straight, and the Rangers remain the only team without a blown save this season.
Rangers starter Derek Holland allowed four runs in 5 2/3 innings. He had a 3-0 lead going into the fifth before the Athletics scored two that inning and two in the sixth to take a 4-3 lead. Singles by Elvis Andrus and Beltre, and a sacrifice fly by Cruz tied it in the eighth.
"A great win," Beltre said. "They battled back, but Nathan was able to calm it down in the 10th when they tried to make it exciting."
Sure, another nice, calm, relaxing win for the Rangers in Oakland.
T.R. Sullivan is a reporter for MLB.com. Read his blog, Postcards from Elysian Fields, and follow him on Twitter @Sullivan_Ranger. This story was not subject to the approval of Major League Baseball or its clubs.