Cards' blasts punctuate Gast's debut victory
Beltran, Jay go deep to back left-hander's solid effort at Busch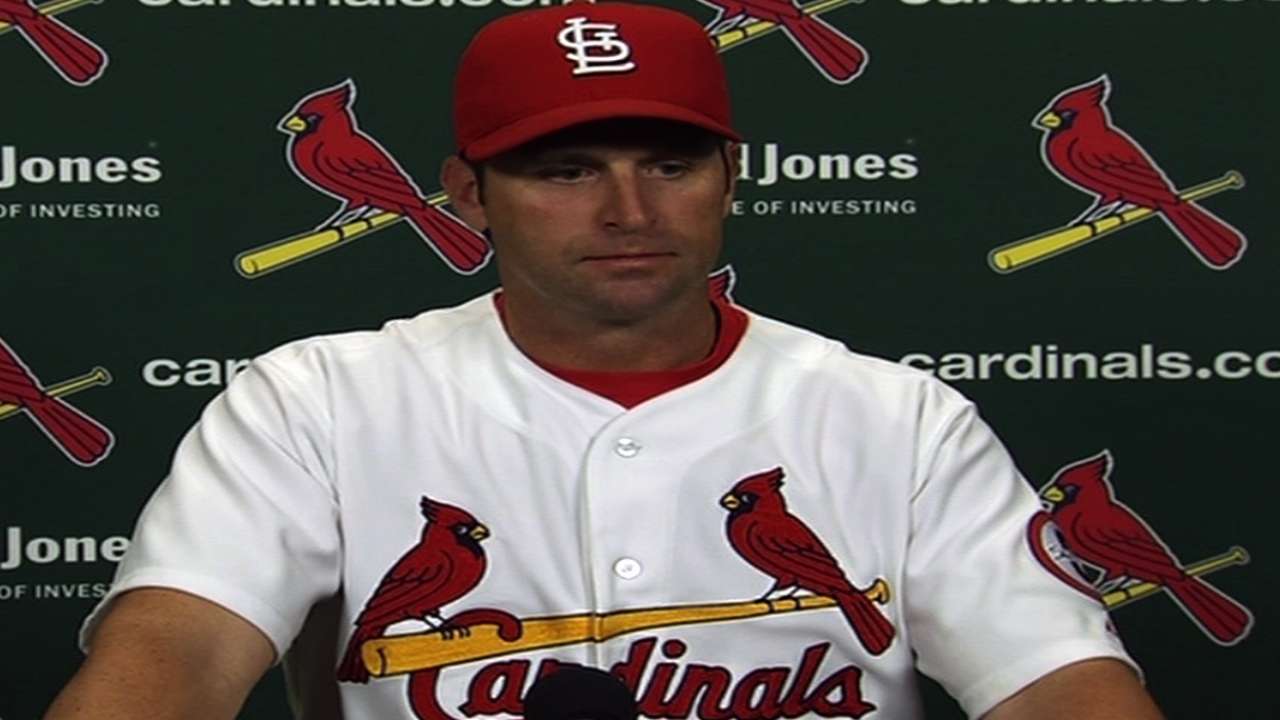 ST. LOUIS -- For all the attention and praise poured upon the Cardinals' rotation over the first six weeks of the season, John Gast and his rookie company provided a reminder Tuesday that the talent pool is much deeper than the team's Opening Day starting five.
Promoted from Triple-A for what is expected to be a pair of spot starts in place of Jake Westbrook, Gast gave St. Louis its first look at yet another piece in the pitching stockpile that have the Cardinals so seemingly well set up for the long term. The parade of arms didn't end there, either, as the two starters-turned-temporary-relievers to follow Gast had plenty of their own promise to showcase.
It provided the backdrop in the Cardinals' 10-4 routing of the Mets. The victory, which also featured a four-RBI night from Carlos Beltran, came in front of a Busch Stadium crowd of 37,460 fans.
"It's incredible," Matt Carpenter said of the plethora of Major League-ready young pitchers. "The talent we have is a testament to our Minor League system and the product that they continue to develop. ... They seem like they can always find the guys who can come up here and compete and give us a chance to win games."
On Tuesday, that was Gast.
After beginning the Minor League season with a scoreless streak of 32 innings, Gast held the Mets without a run through the first five. And though he allowed four sixth-inning runs before his night ended, he was good enough to earn the victory.
The first Cardinals left-hander to make his debut as a starter since Rick Ankiel in 1999, Gast is now the first to lefty starter to win a debut since Allen Watson in 2002. Asked how the long-time dream measured up to reality, Gast answered: "It was pretty close."
The Mets' offense found no rhythm against him the first two times through the batting order, having particular trouble with Gast's changeup. Of the first 11 he threw, eight resulted in an out.
Gast did not allow a ball hit to the outfield until the fourth. He did not let a baserunner reach second until the fifth. At the close of that inning, the lefty had thrown merely 50 pitches. And behind him, the Cardinals had built up a nine-run lead.
"Obviously his command was outstanding with all his pitches," Mets manager Terry Collins said. "He worked both sides of the plate with his fastball, used his changeup very effectively."
Gast did stumble in the sixth, allowing three straight batters to reach with one out. A botched rundown later extended the inning long enough for Marlon Byrd to connect for a two-run homer. But maintaining his poise, Gast closed his outing with a strikeout -- the same result with which he had opened his night.
"They just come here and they feel comfortable," Carlos Beltran said. "They don't look intimidated at all. They look like they belong here. They look like they want to be out there."
Beltran wasn't speaking only of Gast. His comments were meant to also include rookie right-handers Seth Maness and Carlos Martinez, who contributed scoreless relief appearances.
They preceded Gast as summoned help from the Minors, moved out of Minor League rotations in order to help stabilize a wobbly bullpen. Since Martinez followed Maness to the Majors on May 3, the Cardinals' bullpen has the league's lowest ERA.
That depth the Cardinals have touted over the last few years has been integral in leading the club to the baseball's best record.
"Hats off to our system and some of the things that they have done as far as the draft goes and development to give us some guys who are ready," manager Mike Matheny said. "How that plays long term? There's a lot of time between now and long term. Right now, they're contributing and they're helping us, and we couldn't ask for anything more."
"Being able to replace a guy who throws hard with another guy who throws hard, imagine that?" added Beltran. "When I see those guys coming in, I'm just looking forward to seeing what they're going to do. They throw hard, but they throw hard under control. That's the beauty of watching these guys pitch."
Beltran, a 16-year veteran, was asked if he's seen such a surplus of talented young pitching in an organization.
"I've never seen this," he responded.
Maness and Martinez, along with Gast, represent three of the top nine pitching prospects as ranked by MLB.com in the organization. That group of prospects doesn't even include the likes of Shelby Miller, Trevor Rosenthal and Joe Kelly, whom have graduated out of consideration after making their first Opening Day rosters.
"The list goes on and on," added Maness. "The Cardinals, it speaks a lot for them and the guys upstairs getting this good talent here. It's fun to be along in the ride with them and to keep developing and move on."
On this night, the Cardinals' offense made it easy for the rookie hurlers, banging out 11 hits en route to pushing the Cardinals toward their 11th win in 13 games. Allen Craig keyed a three-run first inning. RBI singles from Pete Kozma, Carpenter and Beltran doubled the lead in the third.
Beltran then blasted a towering three-run, 437-foot homer into Big Mac Land in the fifth,; Jon Jay delivered his fourth home run of the season an inning later. It marked the fifth time this season that the Cardinals have scored at least 10 runs in a game.
Carpenter and Beltran -- hitting in the top two spots in the order -- combined to reach base eight times.
"We have guys who are tough outs," Carpenter said. "If pitchers make mistakes and get behind in counts and we can turn it on, those are the kinds of nights that we can have."
Jenifer Langosch is a reporter for MLB.com. Read her blog, By Gosh, It's Langosch, and follow her on Twitter @LangoschMLB. This story was not subject to the approval of Major League Baseball or its clubs.