Gee's start goes south early in Mets' defeat
Offense heats up too late, with Byrd's blast capping four-run sixth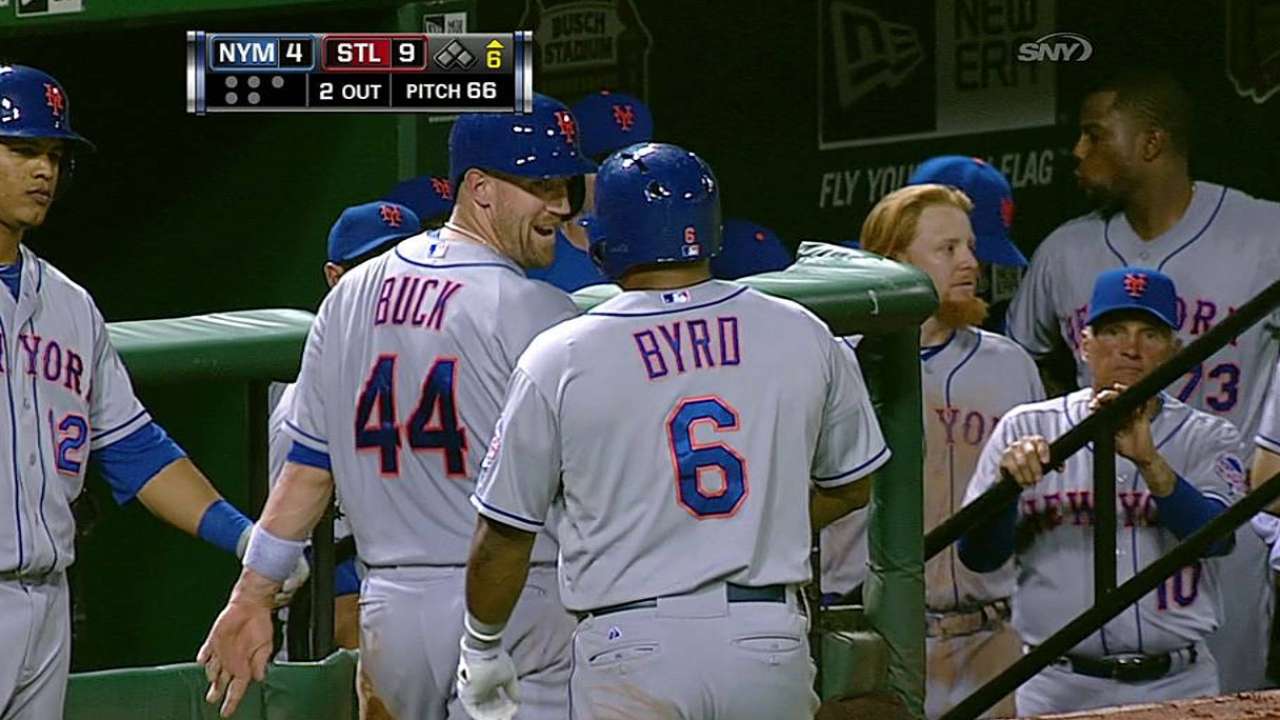 ST. LOUIS -- Mets manager Terry Collins was preparing to defend one of his players, Jordany Valdespin, for the umpteenth time Tuesday afternoon when he stopped, sighed and made a pointed observation.
"To be honest, one of the things that's caused this is that we're not playing very good," Collins said. "There's nothing else to deal with."
Losing, as Collins noted, breeds questioning. Blame seeps through cracks in the clubhouse walls. Tempers flare. Players walk around on edge.
These are some of the obstacles the Mets have faced throughout their five-game losing streak, which included Tuesday's 10-4 defeat to the Cardinals at Busch Stadium, their 13th loss in 17 games.
"We've gone through a bad streak, and it's been two weeks long," Collins said. "And we can't sit there and hide the fact, or try to make anything positive out of it.
"For us to be successful, we've got to pitch and we've got to score some runs, help our pitcher out," the manager continued. "We haven't done either. Our bullpen's taxed. We haven't caught the ball at times. So it's everything. It's all departments. We've got to play better, we've got to coach better, we've got to manage better. We're not going to point fingers at anybody. We've just got to play better. We've got to do a better job."
As in several of their recent losses, the Mets thrust themselves into an all-but-inescapable early hole. Starter Dillon Gee walked the first batter he faced before giving up Matt Holliday's RBI double and Allen Craig's two-run single in the first. Additional clumps of offense came on a trio of RBI singles in the third inning, as well as Carlos Beltran's three-run homer off Robert Carson in the fifth. By the time Jon Jay drove a solo shot over the center-field wall in the sixth inning, the Mets had effectively lost the game.
"I don't know what's going on," said Gee, who considered his previous start one of his best of the season. "I don't even know what to say, really. I didn't feel all that bad tonight. I'm a ground-ball guy, and I think seven ground-ball hits got through. I don't know what else to do."
Collins was a bit more critical of his starting pitcher.
"I've never seen him throw the ball so much up here," the manager said, raising his hand parallel to his chest. "That's just not where he pitches."
Unlike in several of their recent defeats, the Mets did battle back with four runs in the sixth off Cardinals starter John Gast, highlighted by Marlon Byrd's two-run homer.
It was hardly consolation for a team that had not scored more than three runs in a game since May 5.
"We have to take that inning's approach into the whole game tomorrow," Byrd said.
The Mets have spent the past week losing every which way, from inadequate starting pitching to derisory relief work to an utter lack of offense. They have shaken up their lineup, shuttled players back and forth from Triple-A Las Vegas and even acquired a veteran bat, Rick Ankiel. None of it has altered their results.
Though chemistry breeds winning, the opposite may be even truer. And the Mets have done little winning of late.
Their season began with a decent amount of promise, including two consecutive victories and five in their first seven games. As recently as April 24, they were above .500.
But since that time, few of the Mets have held up the bargain. Matt Harvey has been sublime and David Wright his steady self, while several of their teammates have provided flashes of adequacy.
Other bright spots have been few and far between, which is why the Mets ended Tuesday's play with the second-worst record in the National League. Nor will things become any easier going forward, with two of baseball's hottest pitchers scheduled to oppose them in their next two games. Last time through the rotation, Cardinals starters Shelby Miller and Adam Wainwright combined for 18 shutout innings of three-hit ball, striking out 20 and walking one.
Consider that the next challenge for the challenged Mets.
"We're learning on the job with some of these guys," Collins said. "We've got to continue to move forward and try to get them to understand what it's going to take and try to keep their attitudes up. Certainly they're down because of the way things are going, and they can't be. It's hard up here. This is a tough league, and you can't get down. You've got to just look at tonight, go look at your films tomorrow and figure out what you've got to do better."
Anthony DiComo is a reporter for MLB.com. Follow him on Twitter @AnthonyDicomo. This story was not subject to the approval of Major League Baseball or its clubs.