Kazmir not on his game; sluggers stymied in Philly
Brantley's second-inning single drives in both Indians runs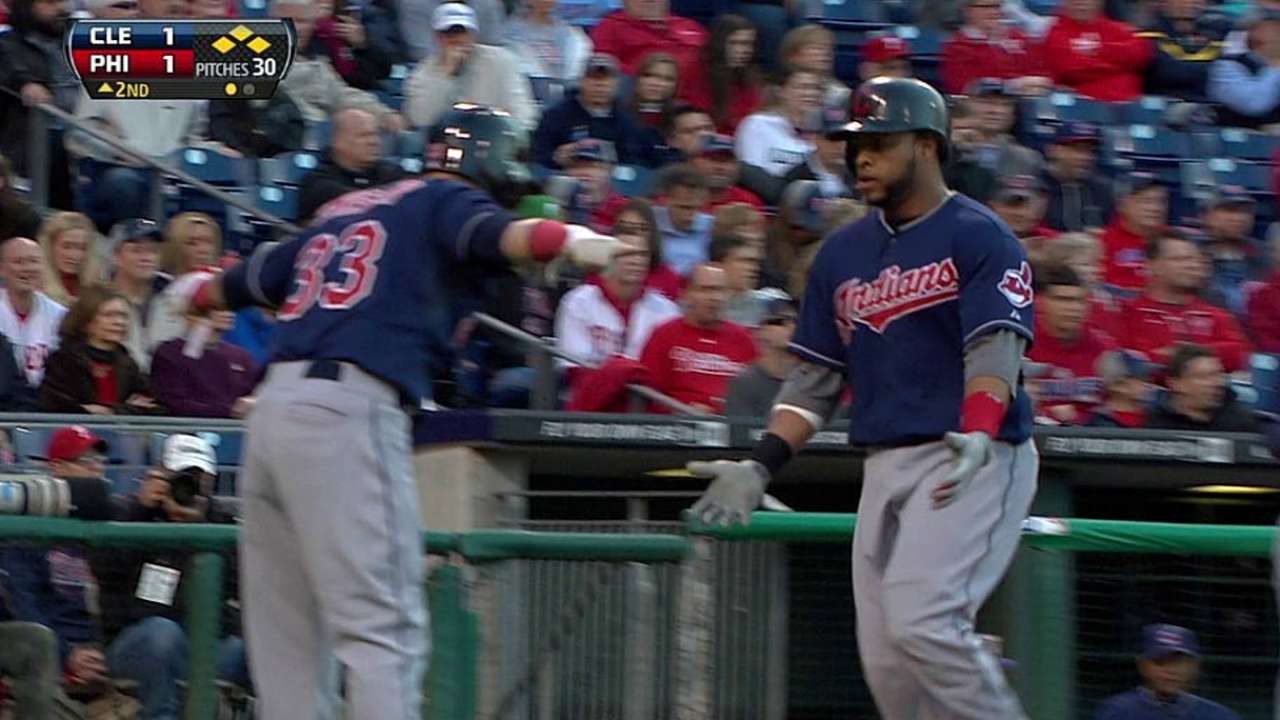 PHILADELPHIA -- The Indians came to Citizens Bank Park a confident group, and it's hard to argue the point. With wins in 13 of 16 games, the Tribe had every reason to feel good with the resurgent Scott Kazmir on the mound against a struggling Phillies offense.
"As a team, we've been pretty hot," Indians manager Terry Francona said. "It was one of those games where I thought if we hang around here, that at one point we'd string a long inning together and we never did."
As Kazmir battled his command for five-plus innings, the Indians (21-17) failed to support him with much offense in a 6-2 loss in the first of two Interleague games between the two teams. It's the first time the Indians have lost back-to-back games since they lost three straight from April 24-28.
Kazmir allowed four runs -- two on a pair of home runs to Kevin Frandsen and Dominic Brown -- and struck out just three. The first home run by Frandsen came on a slider in the first inning and in turn, Kazmir went away from the pitch he worked hard on in Spring Training and has been a big element in his recent success.
"I was pretty much fighting myself the whole game," Kazmir said. "I never got into a rhythm.
"[The slider] wasn't good in the first inning, and then we just abandoned it. That's something that you know I'll get more confident in as I pitch. It won't happen anymore. Even my last two starts, it was effective especially as a strikeout pitch."
Meanwhile, the Indians offense did little against Phillies rookie Jonathan Pettibone, who allowed two runs in 6 2/3 innings of work.
"I thought he did a good job, unfortunately," Francona said. "When he needed to, he got a double play. He kept us off balance. We didn't square up on a ton of balls. I thought he pitched a pretty good game.
"He had good control of his fastball," said former Phillies outfielder Michael Bourn, who went 1-for-5 on the night. "He mixed it in and kept it away from us. He kept us off balance. We had chances to score but they held us.
"I know here, this kind of atmosphere is not easy to pitch in. He got in a couple of jams and got out of them, kept them in the game and that's how they beat us."
Down 1-0 in the first inning after Frandsen's second home run of the year, the Indians opened the top of the second with a leadoff single to left by Nick Swisher. Carlos Santana followed with a double down the left-field line that put runners at second and third. After a popout, Michael Brantley singled up the middle to drive in both runs and give the Tribe a 2-1 lead.
It's not like the Indians didn't have their chances. In the third, a one-out walk to Jason Kipnis and a pair of hit batters loaded the bases with two outs, but Pettibone got Mark Reynolds to pop out to end the threat.
"I was kind of flying open, a couple cutters slipped, trying to go too far in," Pettibone said. "I was able to kind of fix it and stay in line a little better. It helped out.
"It's big escaping with no runs, especially after that second inning giving up two."
In the fourth, Brown led off with a single. After a walk to Carlos Ruiz, John Mayberry hit a Kazmir offering into the left-center gap and the Phillies (19-21) retook the lead at 3-2.
Brown's homer gave the Phillies a two-run lead in the sixth, and Mayberry and Freddy Galvis added RBI singles in the eighth.
The Indians kept clawing, but even as they got their leadoff hitter on in each of the final four innings, including a leadoff triple by Asdrubal Cabrera in the eighth, they failed to score a run after the second.
"They jumped us when we went over there," said Frandsen, recalling 14-2 and 6-0 losses in Cleveland at the start of May. "Obviously, against them you want to see how they do coming from behind, because we obviously saw what they did ahead. That's a [heck] of a ballclub over there. They have some good pitching and they obviously have some great depth in the lineup. It's always good to get ahead of anyone early, especially this team."
Michael Radano is a contributor to MLB.com. This story was not subject to the approval of Major League Baseball or its clubs.