Pettibone cruises in strong start; homers pace Phils
Frandsen, Brown go deep; Mayberry chips in three RBIs on 3-for-4 night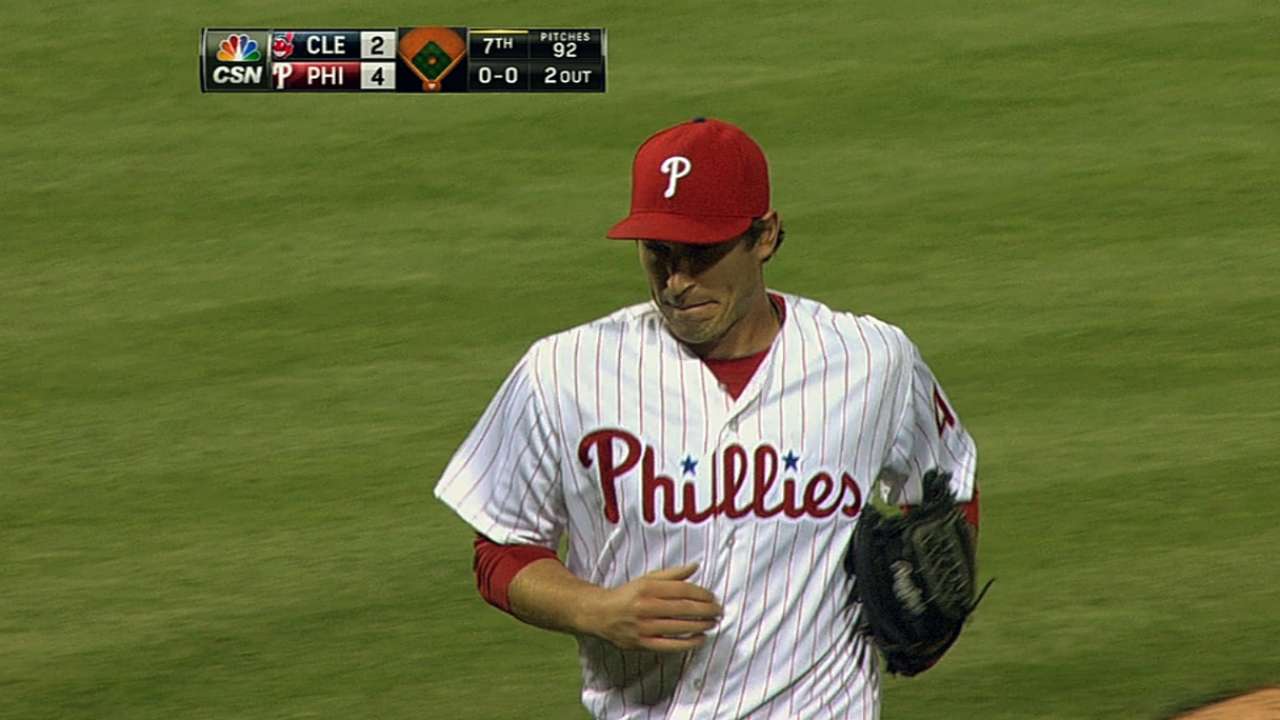 PHILADELPHIA -- Cliff Lee suggested the Phillies show a little more pride in their work following a brutal trip to Cleveland a couple weeks ago.
"They really took it to us," Phillies second baseman Kevin Frandsen said following a 6-2 victory Tuesday over the Indians at Citizens Bank Park. "They just kicked our butt. You would hope the guys would realize that, and I feel like we did. The last thing you want to do in any sport, it doesn't matter if it's baseball, basketball, hockey, you don't want to get embarrassed. I feel like maybe we got embarrassed over there."
The Phillies were outscored in that two-game series at Progressive Field, 20-2, and they tried to make amends with a few clutch hits, more quality pitching from Jonathan Pettibone and a few nice performances from the bullpen.
Things started quickly when Frandsen hit a solo home run to left field in the first inning to give the Phillies a 1-0 lead. Frandsen, who started in place of Chase Utley, is hitting .467 (7-for-15) with one double, two home runs and four RBIs against lefties this season. He hit .400 (26-for-65) with six doubles, two triples and two RBIs against left-handers last season.
Maybe Phillies manager Charlie Manuel will find a way to get Frandsen into the lineup more often against lefties.
The Phillies had runners on first and second with one out in the fourth when John Mayberry Jr. ripped a double to center field to score Domonic Brown and Carlos Ruiz to hand the Phillies a 3-2 lead. Mayberry started in center field in place of Ben Revere, as Manuel inserted a couple of right-handed hitters in the lineup against Indians left-hander Scott Kazmir.
The moves worked.
Brown smacked a home run to right field in the sixth to make it 4-2. It was Brown's seventh homer of the season, which pulled him into the team lead with Utley. Brown is hitting .314 (11-for-35) with one double, three home runs and seven RBIs against lefties.
But Pettibone came up just as big as Frandsen, Mayberry and Brown. He allowed two runs in the second to give the Indians a 2-1 lead, and he appeared to be on the brink of disaster in the third when he walked Jason Kipnis, then hit Nick Swisher and Carlos Santana to load the bases with two outs. But he got Mark Reynolds to pop out to Frandsen to end the inning.
Pettibone retired 11 of the final 13 batters he faced.
"It's big escaping with no runs, especially after that second inning giving up two," Pettibone said.
Pettibone allowed four hits, two runs, two walks and struck out three in 6 2/3 innings, the longest outing of his short big league career. He improved to 3-0 with a 3.41 ERA in five starts.
"I thought he did a good job, unfortunately," Indians manager Terry Francona said. "When he needed to, he got a double play. He kept us off balance. We didn't square up on a ton of balls. I thought he pitched a pretty good game."
Pettibone's composure has impressed Phillies manager Charlie Manuel and his teammates.
"Beyond anything," said Frandsen, when asked about Pettibone's poise.
Frandsen recalled working out in Clearwater, Fla., during a 50-game suspension in 2011. He got to watch three of the Phillies' top pitching prospects at the time: Jarred Cosart, Trevor May and Pettibone.
"The first thing I said when I came back to [Triple-A] Lehigh [Valley] is that kid [Pettibone] was the best of the three," Frandsen said. "They talked about the big three. He was 19, 20 at that time. That's different, especially in A-ball where if you have good stuff, you can go for the strikeout all the time. He was worried about going deep in the game."
Manuel pulled Pettibone with two outs in the seventh for left-hander Antonio Bastardo, who got out of the inning. But after Bastardo put runners on the corners with one out in the eighth, right-hander Justin De Fratus, who was called up from Triple-A over the weekend, got Reynolds to pop out. Left-hander Jeremy Horst then struck out Michael Brantley to end the inning.
"I said a couple of days ago in Arizona that those are the spots that you want to be in as a reliever," De Fratus said. "You want to go out there and attack the zone and hope for the best."
Todd Zolecki is a reporter for MLB.com. This story was not subject to the approval of Major League Baseball or its clubs.