Dome-field advantage: Joyce's quirky hit lifts Rays
Moore surrenders three runs to notch AL-leading seventh victory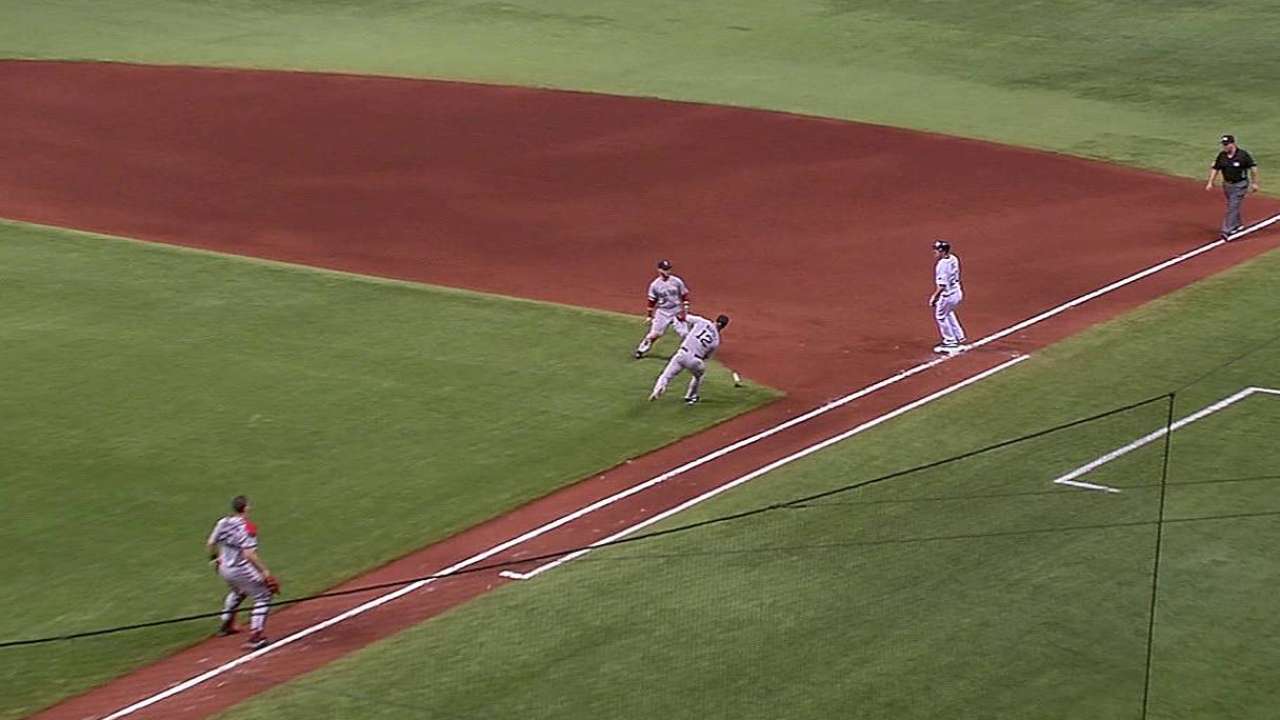 ST. PETERSBURG -- Since the beginning of the season, Rays manager Joe Maddon has talked about the pendulum action of baseball luck. At times it swings your way, other times it does not.
On a Tuesday night that saw Matt Moore notch his American League-leading seventh win, few could dispute the fact that the pendulum is finally swinging in the Rays' direction after Matt Joyce's Roman-candle single proved to be the difference in a 5-3 win over the Red Sox.
The Rays had already scored three in the fourth to tie the game when Joyce stepped to the plate to face John Lackey with two outs and runners on second and third. After falling behind 0-1, Joyce swung at a fastball and skied a vertical shot toward Tropicana Field's Teflon roof.
"I hit it on the barrel, I hit it really well," Joyce said. "I just hit it really high, and here at the Trop, everybody knows that anything can happen with that roof, and the color that it is."
Unlike similar struck balls in the past history of the Rays' home stadium, Joyce's did not strike a catwalk. Instead, the crowd of 15,227 watched as Red Sox first baseman Mike Napoli converged on the ball dropping toward the field.
"My first read was stay back and then I started running in and overran it," said Napoli, who said he saw the ball and allowed that he should have made the play.
The ball fell to the turf and both runners scored while Red Sox second baseman Dustin Pedroia alertly waited to see if the ball would roll foul. It did not and the Rays had a two-run lead.
"He's a baseball player," Joyce said. "He has a very high baseball IQ. He just knows how to play the game, so something like that most guys would try to catch it or whatever. ... Obviously he was going to try and let it go foul. He was smart, man. … For me, I thought it landed in a good spot, and obviously I was excited that it was a hit and stayed fair."
By winning their sixth consecutive game, the Rays moved to 20-18 on the season with two games remaining with the Red Sox to finish out the current homestand.
Moore experienced a rough beginning after hitting Jacoby Ellsbury to start the first. One out later, Pedroia doubled off the third-base bag and then David Ortiz followed with his fifth home run of the season to give the Red Sox a 3-0 lead.
The pitch "was supposed to be down and away," Moore said. "I don't know what I did to make it find his barrel like that in the middle of the plate, but it was a bad pitch. That's what he does with those. As soon as he hit it, it was kind of one of those things you don't have to look."
Moore managed to minimize the damage and did not allow the Red Sox to score again in his six-inning stint. The lefty allowed just three hits and fanned eight batters to become the first starter in Rays history to begin a season 7-0.
"It's one of those things where in the first inning we're down three, it wasn't as heartbreaking as you would think it would be just because of how well we've been swinging the bats," Moore said.
Lackey held Tampa Bay scoreless through three innings before the Rays batted around in the fourth.
Evan Longoria and James Loney singled to start the inning. Luke Scott followed with a check-swing double to left to drive home Longoria, and Jose Molina's one-out single drove home two more in advance of Joyce's quirky game-winning hit.
"The thing about [that inning], is we've had some things go against us," Joyce said. "And a lot of other teams have had bloop hits and what not. It's good karma, and I think we've been playing good baseball, so I think we've earned it."
In the Rays' past 25 games, they lead the Major Leagues with 141 runs scored, a .283 batting average and a .352 on-base percentage.
Protecting a two-run lead, Tampa Bay had to clear one final hurdle in the seventh when Jake McGee gave way to Josh Lueke with two outs after walking two. Shane Victorino then lined out to first to end the threat. Joel Peralta retired Pedroia, Ortiz and Napoli in order in the eighth in advance of Fernando Rodney striking out the side in the ninth to preserve the win while earning his seventh save.
The Rays' bullpen has not allowed an earned run in its last 16 2/3 innings.
"Up and down, a real nice, team win," Maddon said. "Overall, pretty much a team win tonight."
Bill Chastain is a reporter for MLB.com. This story was not subject to the approval of Major League Baseball or its clubs.