Whiteout: Missed popup extends Sox's losing skid
Ortiz hits three-run homer, but then Boston's offense held in check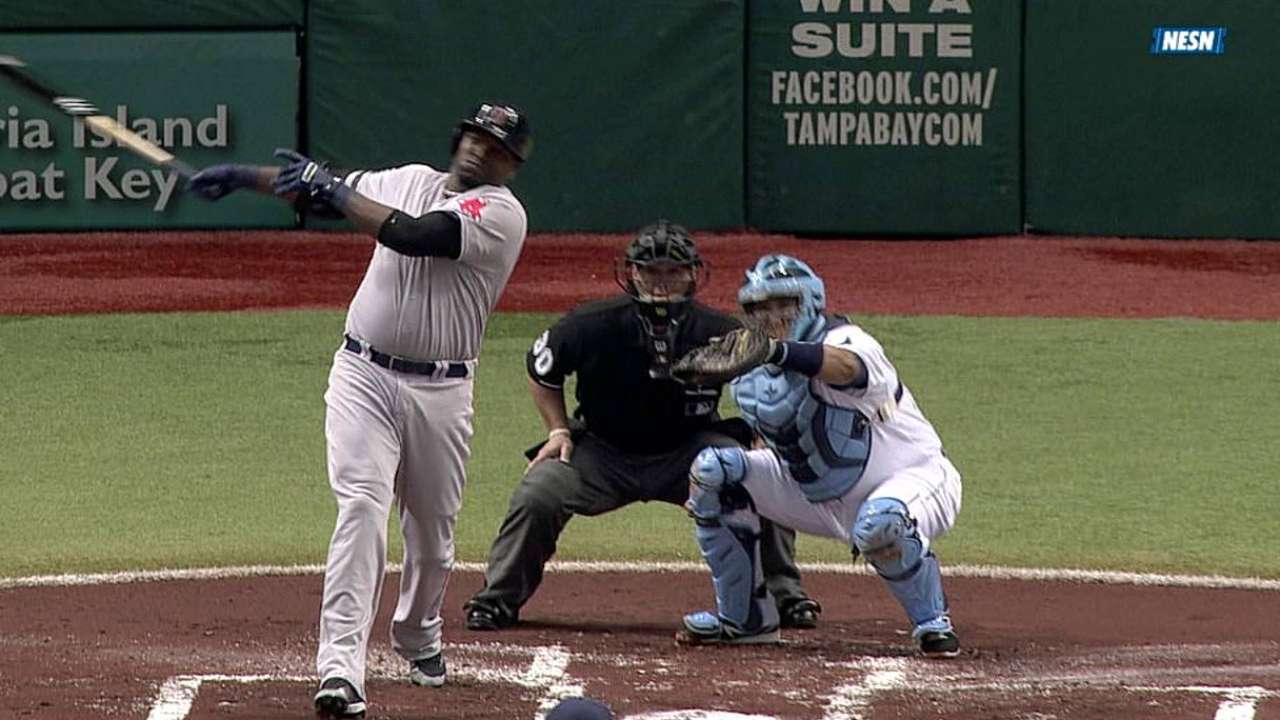 ST. PETERSBURG -- Mike Napoli wouldn't have been the first visiting infielder to blame a missed popup on the white roof of Tropicana Field, but after the reeling Red Sox suffered a 5-3 loss to the Rays on Tuesday night, Napoli placed the blame squarely on himself.
The towering popup that Matt Joyce lofted above the first-base line in the bottom of the fourth inning was in Napoli's sights. He just misjudged it. By the time Dustin Pedroia tried to recover for his teammate, it was too late.
It fell in for a two-out two-run single that snapped a tie and sunk the Red Sox, who have lost three in a row and nine of 11.
"Yeah, I didn't make the play. I saw it up [there] and overran it," Napoli said. "My first read was stay back and then I started running in and overran it."
Perhaps it's simply the case of a former catcher who is in his first season of playing first base full-time.
If Pedroia could have done it over again, maybe he calls his teammate off and takes immediate charge on the play.
"It was up there a while," Pedroia said. "I've played a lot of games at this field. I ran to it and took my eye off it and tried to find it again, and I couldn't find it. It's probably an easier play for me than Nap because it's a left-handed hitter and I had a better angle. I just took my eye off it. I know better than to do that. We lose it. It just drops."
That's just the way things are going for the Red Sox of late.
"That's a long way for [Pedroia] to run," said Napoli. "That's a play I should've made and I didn't. Felt bad, because [John Lackey's] out there, he got the guy to pop up, and if it's a tie ball game, he probably would've pitched a little longer. Just overran the ball and didn't make the play."
The dropped popup wasn't the only misfortune Lackey and the Red Sox felt in the Rays' five-run fourth.
After Evan Longoria and James Loney opened the inning with singles, Luke Scott actually checked his swing and came away with an RBI double down the line in left.
"That was an odd inning to say the least," said manager John Farrell. "Check-swing double by Scott the other way, and then with two outs and the tie score, a popup that looks at the time seemingly harmless and just in that white roof, it looked like Mike just overran it a little and didn't get a good read on it. The ball ends up staying fair for the two runs and the difference in the game tonight."
Early on, this looked like it might be a breakout night for the Red Sox.
David Ortiz cranked a three-run homer to right against Rays lefty Matt Moore in the top of the first.
"It was supposed to be down and away," said Moore. "I don't know what I did to make it find his barrel like that in the middle of the plate, but it was a bad pitch. That's what he does with those."
As it turns out, that pretty much was Boston's offense for the entire game.
"It's frustrating, very frustrating, especially when we score three in that first inning and didn't do much after that," said Pedroia.
Moore settled down brilliantly to earn the win and improve to 7-0 on the season.
"Well after the three-run homer in the first, he did start to settle down," Farrell said. "The number of strikeouts started to pile up. We didn't create too many opportunities until that seventh inning where once again, first and second, two outs, [Shane Victorino] is putting up a great at-bat, lines out to first base, you tip your hat to a guy that settles in and puts up a number of zeros consecutively."
Lackey gave up nine hits and five runs over 4 1/3 innings. He walked one and struck out three, throwing 84 pitches.
"I felt pretty good for the most part," Lackey said. "I thought my stuff was pretty good. I felt good overall. I really thought I pitched better than what's going to show."
Much like many of Boston's recent losses, this one was not on the pitching staff.
"We've got to keep going, keep adding on, be relentless as an offense," said Pedroia. "Our pitching has been great. We've got to do a better job of swinging the bat and coming up with a big hit."
Ian Browne is a reporter for MLB.com. Read his blog, Brownie Points, and follow him on Twitter @IanMBrowne. This story was not subject to the approval of Major League Baseball or its clubs.