Zimmermann first in Majors to seven wins
Harper hurt in hard collision with wall; Zimmerman drives in three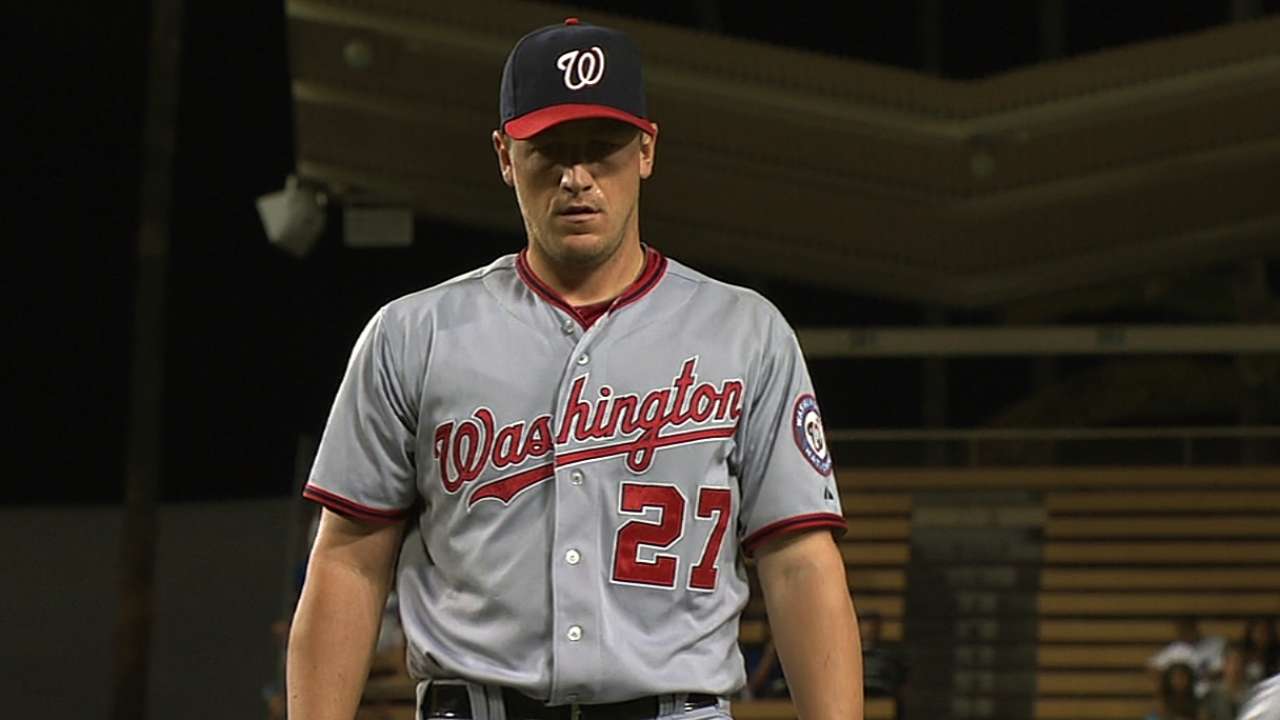 LOS ANGELES -- Right-hander Jordan Zimmermann showed once again why he is the best pitcher on the Nationals. He pitched 7 2/3 innings and helped the Nats defeat the Dodgers, 6-2, at Dodger Stadium on Monday night.
Zimmermann (7-1) allowed two runs on nine hits and struck out five batters. He threw 101 pitches while becoming the Majors' first seven-game winner. It looked like Zimmermann was going to complete his third game of the season. He had 83 pitches after seven innings, but grew tired by the eighth.
"He just kept attacking the zone," Dodgers catcher A.J. Ellis said. "He was getting himself in good counts, and it's a good way to pitch, ahead in the count. He did a great job tonight of that."
Zimmermann didn't have a good breaking ball, so he stuck with his fastball throughout the game.
"I just wanted to put the ball in play and the defense played great all night," Zimmermann said. "I wasn't thinking [a complete game]. By the eighth inning, I got a little winded. I left the ball up a little bit and I wasn't able to finish the game."
The fifth inning was the first time the Dodgers scored off Zimmermann, and it was in that inning that the Nationals received a scare when right fielder Bryce Harper left the game with an injury.
Manager Davey Johnson announced that Harper jammed his left shoulder and had 11 stitches under his chin. Harper, who did not suffer a concussion, is not expected to go on the 15-day disabled list. Johnson said he should be all right in a day or two.
The Nats were leading, 6-0, when Ellis led off for the Dodgers and hit a fly ball to right field. Harper lost sight of the ball. As the ball hit the bottom of the wall, Harper crashed into the wall face-first and was shaken up on the play. Ellis ended up with a triple.
"The ball was curving, so it was a tough play," Johnson said. "I was more worried when he wasn't moving too much. I thought he had a concussion. But fortunately, he was all right."
Harper was on the ground for several minutes as Johnson, center fielder Denard Span and head athletic trainer Lee Kuntz came to his aid. By the time Harper got up to leave the game, blood was visible under his chin.
"He didn't want to come out of the game," Johnson said. "He was bleeding all over the place. ... He is a tough guy. He will be all right."
Harper has a Pete Reiser-type attitude when it comes to playing the outfield all out. Harper is not worried about running into walls. He just goes all out 100 percent.
Besides, Harper is not an expert at playing the outfield. He spent most of his college career as a catcher. Harper didn't become a full-time outfielder until after he was selected as the first overall pick in the 2010 First-Year Player Draft.
"He is not worried about the wall or anything. He should know that he is on the warning track and back off a little bit, but that is not his nature," Johnson said. "I don't want to change him. I feel sorry for the wall if he keeps running into it."
Ellis would later score on a groundout by Skip Schumaker.
Before Harper left the game, the Nationals showed signs of life at the plate and were able to score four runs -- two earned -- against right-hander Josh Beckett. It started in the first inning, when Span scored on a groundout by Ryan Zimmerman.
Two innings later, Washington scored three more runs off Beckett. The bases were loaded when Zimmerman doubled to right field, scoring Zimmermann and Steve Lombardozzi.
"I'm starting to get back into the groove now," Zimmerman said. "I'm starting to feel better at the plate."
Adam LaRoche then grounded out to first baseman Adrian Gonzalez, but Harper scored on the play.
Beckett was gone after three innings and in came right-hander Javy Guerra, but he didn't fare any better. In the fifth inning, the Nats added two more against Guerra. With runners on first and second, Zimmerman hit a comebacker to Guerra, who threw the ball into the outfield for a two-base error. Lombardozzi scored on the play and runners were on second and third.
LaRoche then singled to right field, scoring Harper.
After Zimmermann left the game in the eighth inning, relievers Tyler Clippard and Drew Storen blanked Los Angeles the rest of the way.
With the victory, the Nationals snapped their two-game losing streak and improved their record to 21-17.
"It's a challenging road trip and we look forward to those types of challenges," said Zimmerman about the Nats' 10-game West Coast road trip.
Bill Ladson is a reporter for MLB.com and writes an MLBlog, All Nats All the Time. He also can be found on Twitter @WashingNats. This story was not subject to the approval of Major League Baseball or its clubs.