Beckett injured, has short night vs. Nationals
Right-hander pitches three innings, strains left groin muscle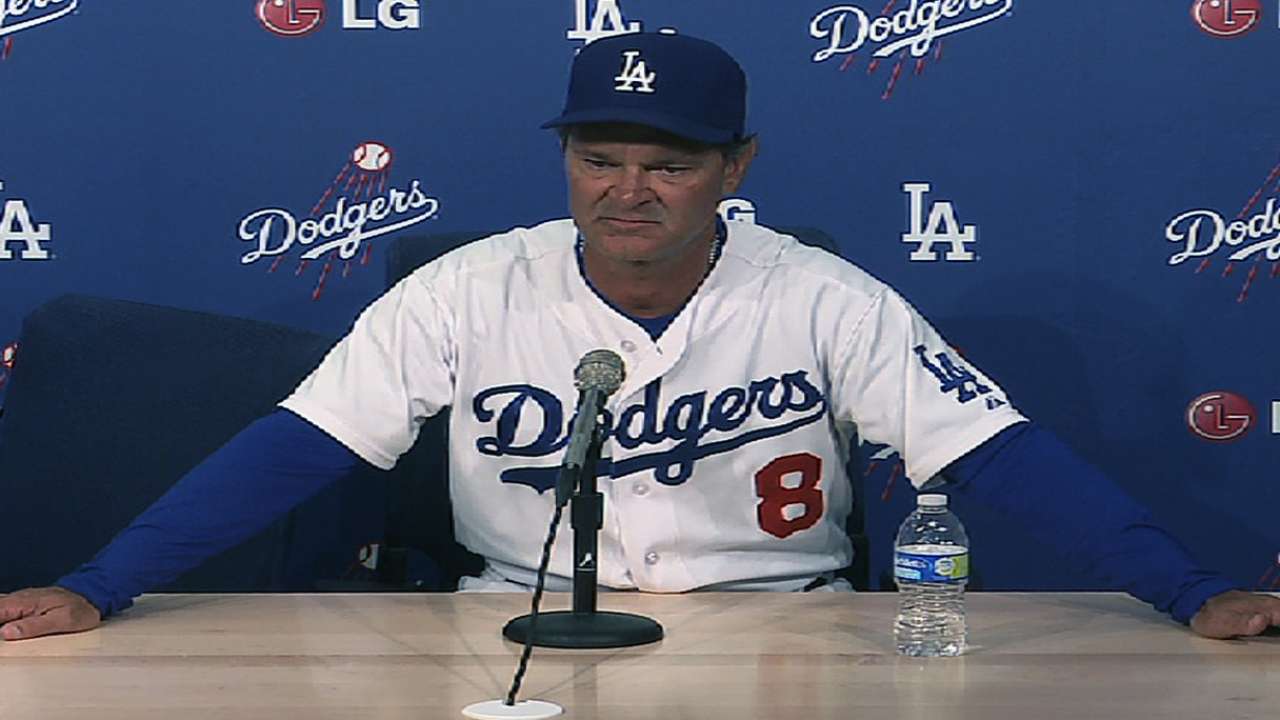 LOS ANGELES -- Josh Beckett is winless and wounded.
After a three-inning start that turned into a 6-2 Dodgers loss to the Nationals on Monday night, manager Don Mattingly revealed that the right-hander suffered a strained left groin muscle that contributed to his early removal, as did a four-run deficit.
Beckett downplayed the severity of the injury.
"I'm healthy enough to pitch," said Beckett, who confirmed that he "tweaked" his groin covering first base on Adam LaRoche's groundout in the third inning but insisted it hadn't been bothering him until then.
Mattingly hinted at other "things" Beckett has been dealing with, but the manager wouldn't elaborate and the pitcher brushed off a follow-up question. In any event, Beckett left six innings for the bullpen to pick up.
Clayton Kershaw starts Tuesday night and he's believed to be healthy. Zack Greinke is healed enough from a broken collarbone that he's probable Wednesday night. The Dodgers have danced around announcing Greinke as the starter, but they've been concealing the identity of starting pitchers all season.
Now after a two-game winning breather against the Marlins, the last-place Dodgers suffered their ninth loss in the last 11 games. If Beckett goes on the disabled list, his will be the eighth DL injury to a Dodgers starter, and 10th to a pitcher, in six weeks.
Monday night's pitching matchup didn't look good for the Dodgers even if Beckett was healthy. He came in 0-4, while Nationals starter Jordan Zimmermann was 6-1. Now Zimmermann leads the Major Leagues with seven wins and Beckett is 0-5 with a 5.19 ERA.
The Nationals did have a serious scare when phenom right fielder Bryce Harper tried to run through a wall chasing A.J. Ellis' triple. Harper did a full-speed face-plant into the chain-link fence protecting the scoreboard embedded in the wall.
Harper bounced off the fence and landed on the warning track. He was there for several minutes before leaving the game under his own power with a jammed left shoulder and a gash under his chin that needed 11 stitches to close. Ellis then scored on a groundout by Skip Schumaker.
Beckett said the groin wasn't bothering him while the Nats were building their lead, with a first-inning run and three-run (two unearned) third inning. He said whatever other ailments Mattingly alluded to have not been a factor in his poor start to the season, after going 7-14 last year with Boston and Los Angeles.
"I've been healthy enough to pitch and that's what I've been telling them," he said. "If you tell them you're healthy enough to pitch, you're healthy enough to go out there and give your team a chance to win. I don't feel like I'm doing a good job of that. I've just got to make better pitches right now. I really don't feel like the mental side of that part is where I'm struggling. It really just boils down to making pitches."
Beckett struck out five, but walked Zimmermann to start a three-run third inning. Two of the runs were unearned because of an error by first baseman Adrian Gonzalez, whose injured neck has stiffened his body so he can't make the plays that earned him three Gold Gloves.
Washington scored in the first inning and Harper was in the middle of it with a one-out hit-and-run single that sent Denard Span to third base. Ryan Zimmerman then grounded to the right side, but Schumaker had no play except at first base as the run scored.
Nick Punto led off the bottom of the third with a single and Beckett was lifted for pinch-hitter Luis Cruz, who grounded into a double play.
The Dodgers also failed to score in the fourth, even though Dee Gordon singled, stole second and went to third on catcher Kurt Suzuki's throwing error with no outs. But Gonzalez popped out, Matt Kemp struck out and LaRoche stayed with a bad hop off Andre Ethier's bat to end the inning.
The top of the fifth was another mess for the Dodgers as Javy Guerra threw away a double-play comebacker for an error that led to two more runs.
The Dodgers finally chased Zimmermann with two outs in the eighth inning on singles by Carl Crawford, Gonzalez (he has a 10-game hitting streak) and Kemp (12-game hitting streak).
Ken Gurnick is a reporter for MLB.com. This story was not subject to the approval of Major League Baseball or its clubs.