Former mates sting D-backs in loss to Braves
Upton, Johnson combine to hit two HRs and drive in five runs for Atlanta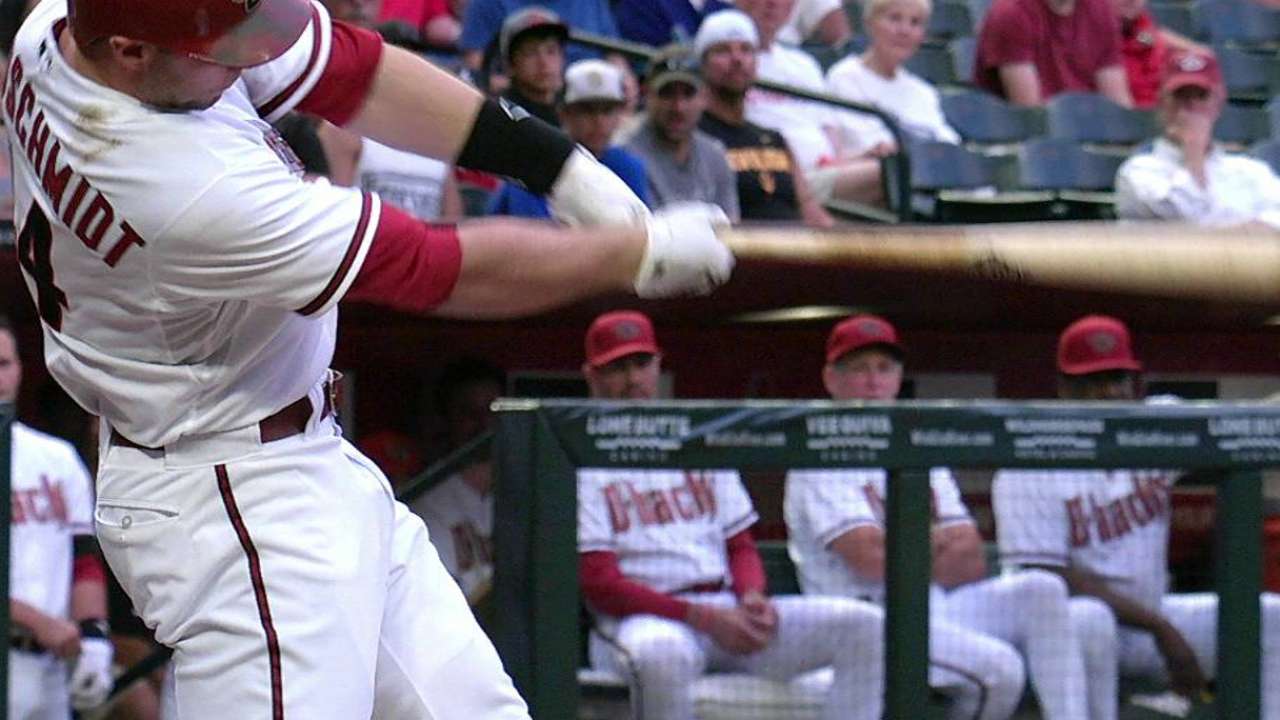 PHOENIX -- For much of the days leading up to Justin Upton's return, the D-backs tried their best to downplay the occasion, insisting the game was just one of 162 and too much was being made of it.
But after watching what their former franchise player did against them on Monday, there was no avoiding the subject.
In his first game back to Arizona since being traded in the offseason, Upton powered the Braves past the D-backs on Monday, 10-1, finishing a triple shy of the cycle in front of 25,052 fans at Chase Field, a place he used to call his home.
"He looked like he always does," D-backs first baseman Paul Goldschmidt said. "He's a very good player, one of the best in the game. He had a good game tonight, he's been having a good year. I'm sure that will continue, just hopefully not until they leave town, because when he's going good, he's a tough out."
Upton was certainly going good on Monday.
After grounding out in his first at-bat following a mixed reception of cheers and boos, Upton went on to smack four straight hits the rest of the game, including a two-run blast to center field off D-backs starter Wade Miley, upping his MLB-leading total to 13 on the year.
"It was a little different," Upton said. "But it was a fun game."
Even though D-backs manager Kirk Gibson said he didn't have a chance to catch up with Upton on Monday, the skipper was back to analyzing his former player's swing, coming away impressed with what he saw.
"It looks like he flattened his bat out a little bit, it's really quick right now," Gibson said. "The home run he hit was a changeup over the middle of the plate -- that's certainly not where you want it -- and as he's been doing this year, he got it."
While Upton received most of the attention, he wasn't the only player sent to Atlanta in the offseason trade who hurt the D-backs on Monday. Chris Johnson, who played 44 games for Arizona last season, also hit a long ball and finished a triple shy of the cycle as part of a three-hit evening.
Combined, the former D-backs went 7-for-9 with two doubles, two homers and five RBIs, sending Arizona to its third straight defeat after the club won its previous five.
Batting in the three-hole -- the spot Upton hit in for the majority of his time in the desert -- Goldschmidt provided the only offense for the D-backs off Braves starter Mike Minor, collecting two extra-base hits, including his 10th home run of the season.
Martin Prado, the D-backs' key acquisition in the trade with the Braves, also tallied a pair of hits and reached base three times, but he committed a costly error that began a three-run Atlanta fifth.
In all, Arizona produced 10 hits Monday, but couldn't figure out how to turn them into runs. Continuing its recent woes with runners in scoring position, the team was hitless in six such at-bats Monday. Since beginning their homestand Thursday, the D-backs are just 2-for-33 with RISP in their last five games.
"It's only a couple days, guys are playing hard, we've had some opportunities, but we haven't come through," Goldschmidt said. "We'll keep battling and find a way to score more runs."
Equipped with an early lead after Goldschmidt's solo blast in the first, the D-backs appeared poised to tack on in the fourth inning, putting runners on the corners with no outs. But while trying to tag up and score on a Wil Nieves flyout, Prado was thrown out at home by B.J. Upton for a rally-killing double play. In the sixth inning, the D-backs recorded another out at the plate when Cody Ross tried to score from first on a Prado double.
Following the momentum shift, the Braves took control of the game in the fifth, plating three runs on just one hit to pull ahead, 3-1.
"We didn't play a very good game tonight, not a good game at all," Gibson said. "It was a team thing and it's my responsibility that we don't do that, so it's on me."
Miley cruised through the first four innings Monday, but in the sixth, the wheels completely came off his outing. The first five Braves in the frame reached base, plating three runs, including two on Upton's homer, before Gibson went to the bullpen.
"I got frustrated and started over throwing," Miley said. "I started missing up; early in the game I was hitting spots, pitching down in the zone. They were just able to capitalize on my mistakes. They hit balls hard if you do that. That's on me."
Miley was charged with seven runs (six earned) on six hits while issuing a pair of free passes, upping his season total to 19 walks in just 48 innings. In 194 2/3 innings last season, the 26-year-old walked just 37 batters.
"You don't want to walk people period, it's uncharacteristic of him," Gibson said. "We'll have to work with him and clean it up."
Tyler Emerick is an associate reporter for MLB.com. This story was not subject to the approval of Major League Baseball or its clubs.