Upton homers in Arizona return as Braves cruise
Outfielder and fellow former D-back Johnson finish triple shy of cycle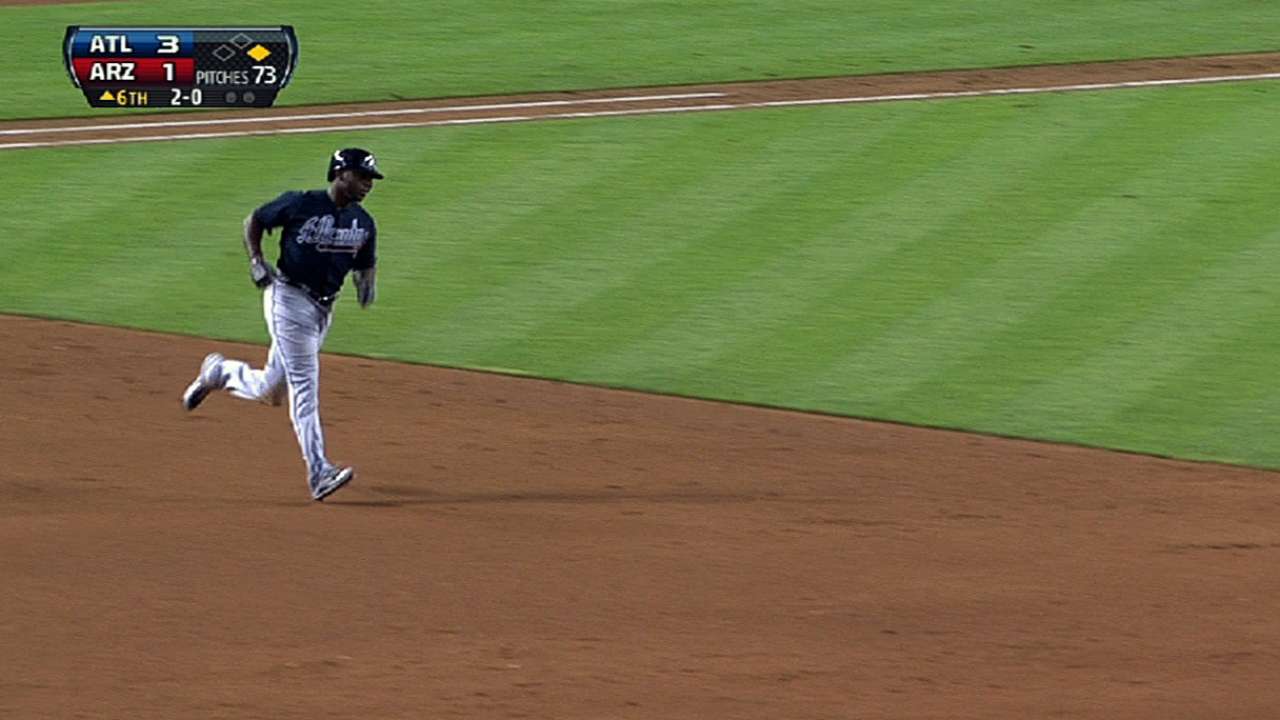 PHOENIX -- Justin Upton has chosen to take the high road whenever asked about the frustration he felt as the D-backs consistently discussed the possibility of trading him over the past few years. But when given the opportunity to remind his former team of what they lost, he allowed his bat to speak much louder than his words.
Within most discussions surrounding the trade that sent Upton to Atlanta in January, Chris Johnson is often a forgotten figure. But Johnson also took advantage of his chance to show D-backs fans why Braves fans have celebrated this trade through the season's first six weeks.
Upton and Johnson both hit two-run home runs and each finished a triple shy of the cycle while enjoying a successful homecoming and helping the Braves snap a three-game losing streak with Monday night's 10-1 win over the D-backs at Chase Field.
"I wasn't here too long," said Johnson, whose stint in Arizona consisted of last season's final two months. "Tonight was the Justin show."
While Johnson highlighted his three-hit performance with a decisive two-run home run off D-backs starter Wade Miley in the fifth inning, this night certainly belonged to Upton, who heard a mixture of boos and cheers before his first at-bat and then celebrated his highly anticipated homecoming with his ninth career four-hit performance.
"I have a feeling when he heard a couple of boos, it was kind of on his mind," B.J. Upton said of his younger brother. "But I didn't say anything to him. I just let him go out and be himself. That's what you got."
Upton put an exclamation mark on his return when he absolutely crushed Miley's 2-0 changeup and sent it over the tall center-field wall in the four-run sixth inning. The impressive shot, which increased his Major League-leading home run total to 13, came immediately after his older brother had been hit in the left shoulder with a fastball.
"He plays hard, he played hard when he was here, that was never an issue," D-backs manager Kirk Gibson said. "It looks like he flattened his bat out a little bit, it's really quick right now."
Instead of saying he was exacting revenge on Miley or sending a message to Kevin Towers, the Arizona general manager who had included him in numerous trade talks over the past few years, the often mild-mannered Braves outfielder simply said he was happy to end his season-long homerless streak at 46 at-bats.
"I've been searching for that swing throughout the month of May," Upton said. "To square one up and for it to carry for me was nice."
Although Upton had hit .196 in his previous 16 games, his impressive return was not necessarily surprising. There has been some sense that he would release the frustrations that had built over the past couple of years once he had a chance to play against his former team.
"I think that's your natural instinct," B.J. Upton said. "He never brought it up to me. But I know him and I know it was in the back of his head."
Johnson exited April with a .369 batting average and then went hitless in his first 17 at-bats this month before beginning his three-hit performance with a third-inning single. His decisive home run came after the fifth inning began with Evan Gattis reaching on a throwing error committed by Martin Prado, the centerpiece of the package the Braves provided in exchange for Upton and Johnson.
Prado recorded two of the eight hits Mike Minor surrendered as he limited the D-backs to one run in 6 2/3 innings. But the beloved former Brave was also victimized by the strong defensive effort the Braves provided in support of Minor, who has compiled a 2.40 ERA in his last 23 starts.
B.J. Upton made a tremendous throw to the plate that retired Prado as he attempted to tag and score on Wil Nieves' flyout in the fourth inning. Andrelton Simmons got into the act when his pinpoint relay throw to the plate denied Cody Ross' attempt to score from first on Prado's double in the sixth inning.
"It was a fun night," Justin Upton said. "We've been fighting for wins the whole road trip. To come out here and put together some hits and get a win is a nice feeling."
After totaling four runs while losing the final three games of this past weekend's four-game set in San Francisco, the Braves began this three-game series by showing the offense's potential. Dan Uggla snapped a 0-for-14 skid with an eighth-inning double, and Brian McCann hit his third home run in his past four games.
But all of these offensive contributions were overshadowed by the message Upton delivered in his return to Arizona.
"He's a really, really good player," Johnson said. "Any night like this is kind of what you expect from him every night. When he doesn't do it, you're like, 'What happened?' He's a special player."
Mark Bowman is a reporter for MLB.com. This story was not subject to the approval of Major League Baseball or its clubs.