A's maintain O.co stranglehold on Rangers
Oakland earns ninth win in last 11 home games vs. Texas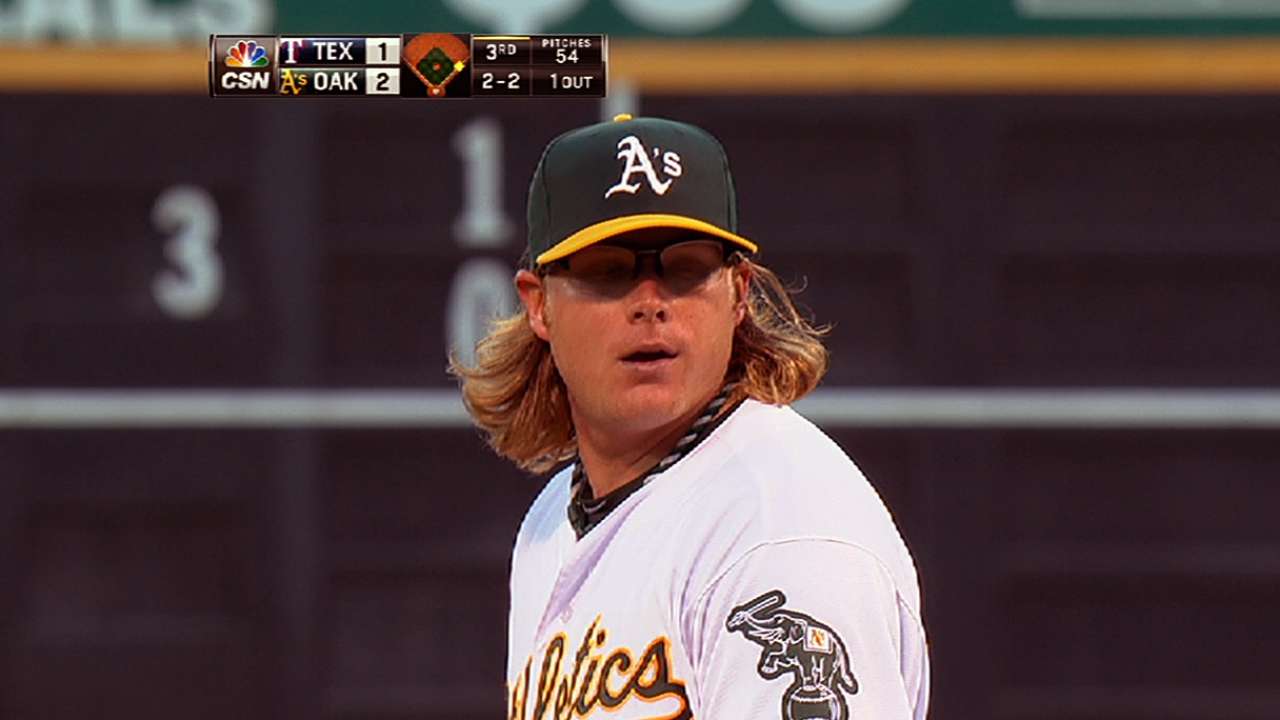 OAKLAND -- So much talk at the Coliseum before Monday night's contest centered on the past, when all the A's really wanted to do was make good on the present in an effort to ensure themselves of a contending future.
They took in all of the questions about their playoff-clinching performance over the Rangers last year, having to reflect on Games 160, 161 and 162, with Texas coming into town for the first time since those fateful days. The A's responded simply by beating the Rangers again, this time in Game 40.
It was a 5-1 decision that saw the best out of righty A.J. Griffin, who tied a season high with eight strikeouts in seven dominant innings. He had quite the supporting cast behind him, too -- highlighted by Yoenis Cespedes and Brandon Moss, who hit back-to-back home runs in the third inning. Moss had struck out in his previous six at-bats.
"It was welcomed, certainly," said manager Bob Melvin. "We hadn't been swinging the bat all that well. Just felt like we were back in sync here at home. Good pitching performance, a couple long balls. Good things happened today."
A change of scenery surely helped an A's club that fell victim to a 3-7 road trip, its previous 23 games resulting in 16 losses.
Oakland has now won five straight over the Rangers at the Coliseum and nine of its last 11.
"This early in the year, there are not many must-win games," said reliever Sean Doolittle, "but we were really looking to put that road trip behind us, get home and press reset, and get back to the way we played last year, having fun, playing as a team. I think you saw that tonight.
"You saw guys playing with passion and energy again. It was really fun, and it was an important win for us."
"We just need to get on a roll and start playing a little bit better, and hopefully this is the first sign of that," Melvin said. "It didn't matter against who, but just the fact that they are the team leading the division and playing well right now, that lends some confidence for us. You don't want to put too much importance on particular games but there are certain games during the course of the season that are a little more important than the others, and this was a good game for us to play well."
It was almost fitting that Griffin was on the mound for this one. He was handed the ball for Game 162 last year and didn't get out of the third inning, his teammates ultimately bailing him out in a dramatic comeback victory that made them division winners.
Griffin not only made it past the third inning but completed seven with just six hits allowed, his lone mistake coming in the second by way of a solo shot to Mitch Moreland.
Otherwise, the righty was outstanding, facing just three over the minimum in his time on the mound, while his teammates went to work at the plate against right-hander Justin Grimm.
"Command-wise, I'd say it's my best start in the Major Leagues," said Griffin.
"He was terrific," Melvin said. "We've seen him pitch a lot of games in that fashion. Keeps the ball down, mixes his pitches on both sides of the plate, slow curveball and his fastball plays better because of it. All those things."
Back-to-back RBI singles off the bats of Eric Sogard and John Jaso in the second erased a one-run Texas lead, and consecutive solo shots from Cespedes and Moss in the third -- both to center field -- extended Oakland's lead to 4-1. Derek Norris made it a four-run game in the sixth with an RBI double.
Later in the eighth, Doolittle kept the thrill alive by striking out the side, with Ryan Cook finishing off the Rangers in the ninth.
"It was about contributions from every guy," said Doolittle. "There was just kind of a sense that we needed to get back to playing the way we played last year, with that energy and guys stepping up with those two-out hits and the home runs and the starting pitching setting the tone for the whole game."
Added Moss: "When you go through bad stretches you forget what you're capable of and what you do best as a team. To go out tonight and get behind and come right back and add on was huge."
Jane Lee is a reporter for MLB.com. Read her blog, Major Lee-ague, and follow her on Twitter @JaneMLB. This story was not subject to the approval of Major League Baseball or its clubs.