Texas' Oakland woes continue
Rangers take ninth loss in last 11 games at Coliseum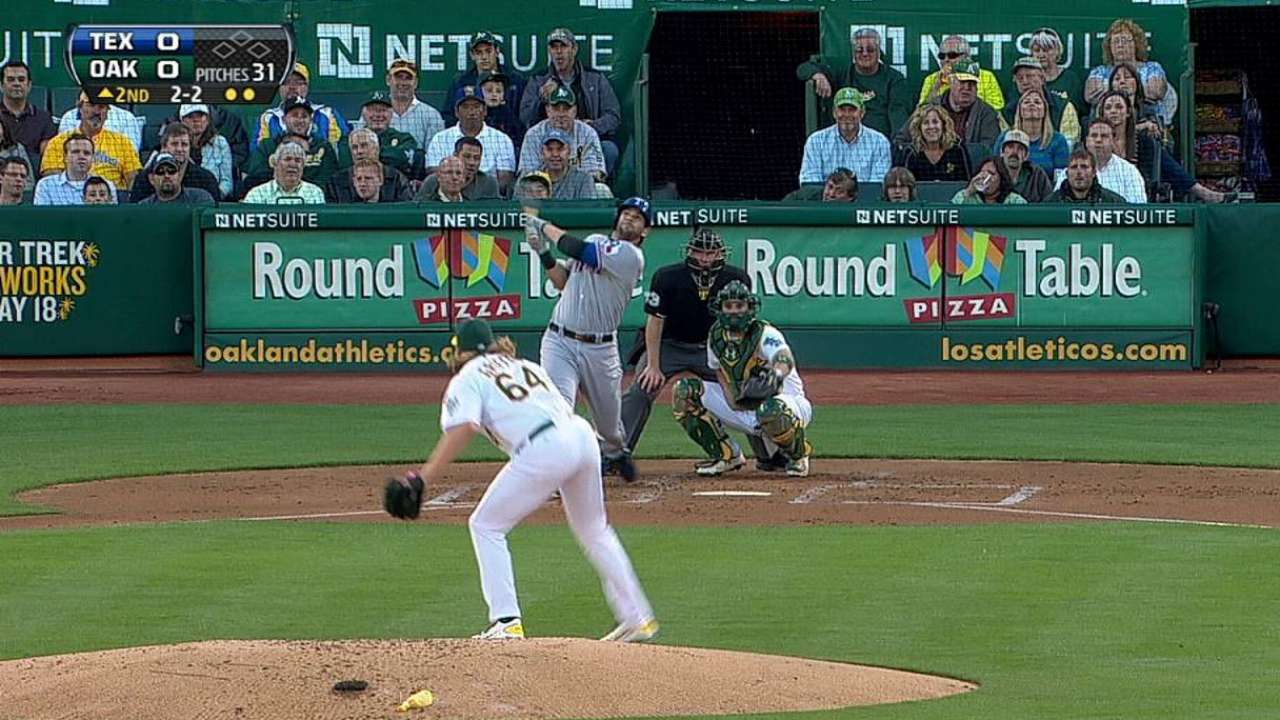 OAKLAND -- The Rangers have been hot, and the Athletics have been struggling. That didn't seem to matter on a cool, crisp night at the O.co Coliseum.
This place has not been kind to the Rangers lately, and that continued on Monday with a 5-1 loss to the Athletics. This was the first meeting between the teams this season, but they'll play five more times in the next nine days. The next two will be at the Coliseum, where the Rangers have lost five straight and nine of their last 11.
"They did a great job tonight," shortstop Elvis Andrus said. "They beat us tonight. They played better than us. We just have to come back ready to go tomorrow."
Rangers starter Justin Grimm, who was the American League Rookie of the Month for April, took his third straight loss in May. Grimm went five-plus innings and allowed five runs on seven hits, two walks and one hit batter while striking out three. He is now 2-3 with a 4.28 ERA after six starts and has a 7.02 ERA in his last three.
"April was a lot more fun, especially between starts," Grimm said. "I just have to keep my head high, show up tomorrow and get my work in and turn the corner. It's a lot more fun when things are going good for you. You've got to stay mentally strong when things aren't going good for you."
Athletics right-hander A.J. Griffin, who was 1-3 with a 5.11 ERA in his last four starts, earned the victory by holding the Rangers to one run over seven innings. He gave up six hits, did not walk a batter and struck out eight. The Rangers struck out 11 times on the night and six were called third strikes.
There were more than a few Rangers hitters who went back to the dugout barking over their shoulder at home-plate umpire Lance Barksdale. Craig Gentry was especially demonstrative, slamming down his helmet and tossing his bat after getting called out on strikes in the eighth.
"It is what it is," second baseman Ian Kinsler said. "The game is over and we lost. ... We're always frustrated when we don't do what we expect to do. Tonight we didn't do what we expect to do."
The loss snapped the first-place Rangers' four-game winning streak and allowed the Athletics -- who had lost 16 of their previous 23 games -- to move within five games.
"More just a good win for us, as opposed to a statement game," Oakland manager Bob Melvin said. "We just need to get on a roll and start playing a little bit better, and hopefully this is the first sign of that. It was just as much for us just to play a good game. It didn't matter against who, but just the fact that they are the team leading the division and playing well right now and had a nice little winning streak coming into the game, that lends some confidence for us."
The Rangers did strike first, as Mitch Moreland gave them a 1-0 lead with his seventh home run of the season. But that turned out to be the only extra-base hit of the seven knocks the Rangers had off Griffin and relievers Sean Doolittle and Ryan Cook. The Rangers also didn't hold the lead very long.
In the bottom of the inning, Josh Donaldson singled with one out and was forced at second on Daric Barton's weak grounder. Then Grimm extended the inning by walking Derek Norris on four pitches.
"I guarantee you that's the one he would want to take back," manager Ron Washington said.
Perhaps because Eric Sogard, hitting at the bottom of the Oakland order, and leadoff hitter John Jaso followed with a pair of two-out, run-scoring singles to give the Athletics a 2-1 lead. Then in the fourth, Yoenis Cespedes and Brandon Moss hit back-to-back home runs, both clearing the wall in deep center field.
"I left a couple of fastballs over the plate, and those guys hit it well," Grimm said. "They did their job. I was trying to go inside on the fastballs and left it over the plate."
Grimm's outing ended when he hit Barton with a pitch to lead off the sixth. Joseph Ortiz took over and gave up a double to Norris to bring home Barton. By then, the Rangers' offense was shutting down for the night. They had three singles in the last five innings and did not advance a runner past first base.
"We could only score one run," Washington said. "That was it right there."
T.R. Sullivan is a reporter for MLB.com. Read his blog, Postcards from Elysian Fields, and follow him on Twitter @Sullivan_Ranger. This story was not subject to the approval of Major League Baseball or its clubs.